I'm starting a plaid version of the Granville shirt soon. It'll be perfect for fall, for layering under warm cabled sweaters and wearing under jackets.
What's cool about plaid fabric is the lines. Cutting pieces on the bias turns these into diagonal lines, which adds visual interest and can draw attention to different parts of the garment. Bonus: if you turn plaids on the bias, you don't have to match the seam! (That's if there is a bias piece sewn to a straight grain piece.)
So the first question to ask before cutting, if you plan to cut some pieces on the bias and some on the straight grain, is this:
What goes on the bias?
Here's an idea: why not print out a copy of the line drawing, and draw in the planned plaid lines? Our Granville Shirt photo gallery includes line drawings as well as photos, so you can do this at home too. Just right-click and save a copy of the image, then print it out!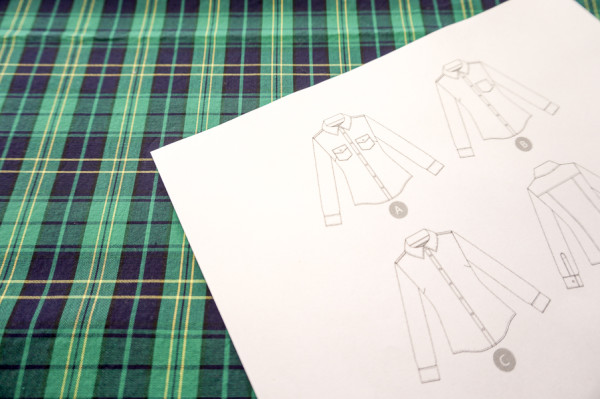 Here's my little coloured-in sketch, trying out different plaid directions.. It doesn't have to be fancy! I didn't colour or draw plaid lines across the whole shirt, just the parts that I wanted to envision on the bias. I also drew the cuffs both ways, on the bias and on the straight grain.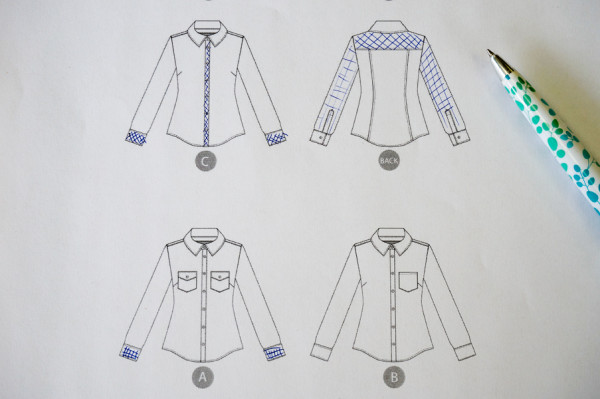 Here are some thoughts on what parts you might want to cut on the bias, for a plaid Granville Shirt!
Button Band: I really love the look of a bias button band. It's a little trickier to sew, since it will stretch, but it adds interest to your shirt.  If you do a bias buttonband, you could do bias cuffs as well, to balance it out. How much fabric you have will help you decide, too. Bias uses more fabric than cutting on the straight grain.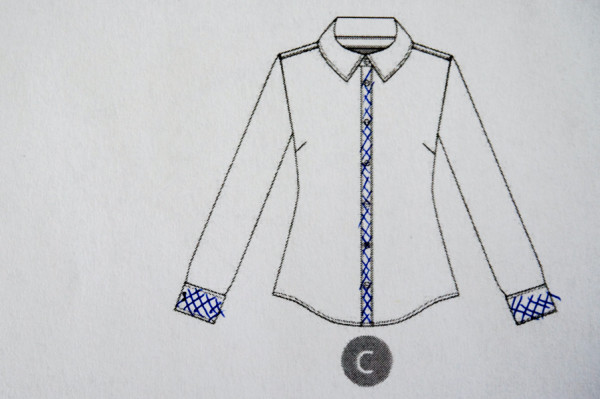 Yoke: This is another place where I think bias plaids look fantastic. So do we cut the inner yoke on the bias as well? You could cut it on the straight grain for more stability. Or, you could cut both on the bias so both layers stretch and give the same. There are pros and cons for both decisions.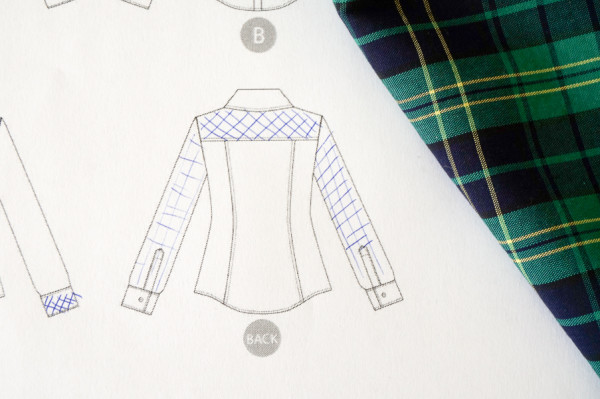 Pockets: They look cool on the bias. They don't have to match, if they were cut on the straight grain I'd be trying to line them up with the shirt front so they looked invisible. (This isn't impossible, and I'll probably do it on a future shirt, but it does make them disappear.)
Flaps: I thought it would be odd to have bias pockets with straight flaps.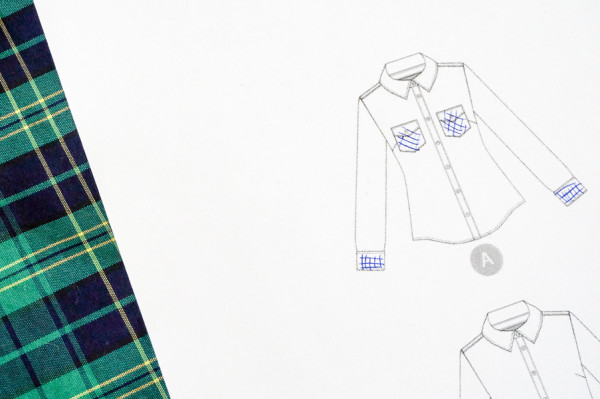 Once you've decided, keep your drawing handy when cutting, so you remember your plans! Cut slowly and carefully, and double-check each piece as you go. (And don't answer the phone.)
Here's a look at the fabric I'm using. You can see it's not perfectly symmetrical, the navy boxes are rectangular rather than square, and even the green stripes aren't the same width on the length and width.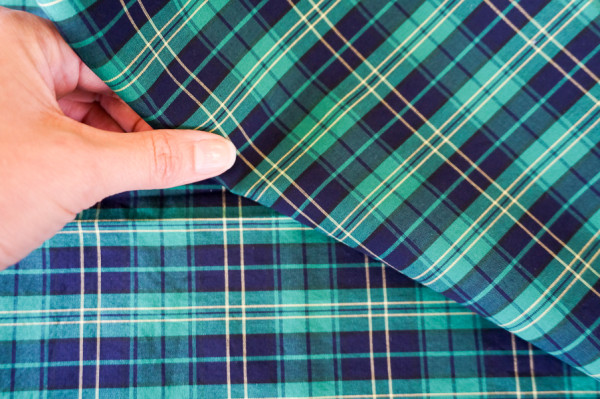 More posts on sewing with plaids here: Matching Plaids: A Step-by-Step Guide and a peek of how to match plaids by cutting single layer here: Plaid Flared Skirt: Burda 9/2014 #104
Next up: more progress on the plaid Granville shirt! See all posts related to shirtmaking and sewing the Granville Shirt here.