Hi everyone! Today I'm going to talk a little bit about how you could line your Gabriola skirt. We've had some readers mention that they want to use fabrics that are a bit on the lighter side, so some techniques for lining the skirt will be useful!
I've been experimenting with making a chiffon version! Why? Because I like to torture myself. Just kidding, hah! No really, I thought it would be fun to see how a sheer maxi would look. Of course it needs a lining, and I decided to do a partial lining that will hit me above knee length. The chiffon has given me a bit of trouble (more on that later), but it won't stop me from demonstrating a great technique for adding a lining to the skirt. Tasia used this same method for lining her red Simplicity 3965 dress here.
So let's get started! With this method, I am attaching the lining to the skirt before we insert the zipper. It's going to give us a nice clean finish for our zipper opening.
So we have the skirt shell, up until step 10. All of our seams are sewn, our center back seam is also sewn below the circle marking, and the center back seam is pressed open. Zipper opening is also pressed under by 5/8″ (1.5cm).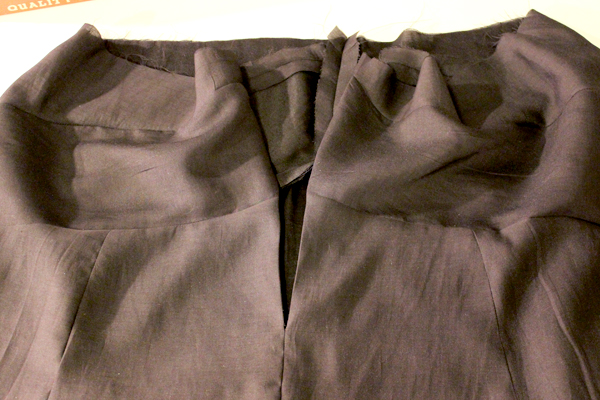 I cut the same pieces out of lining fabric, and sewed them up in the exact same way!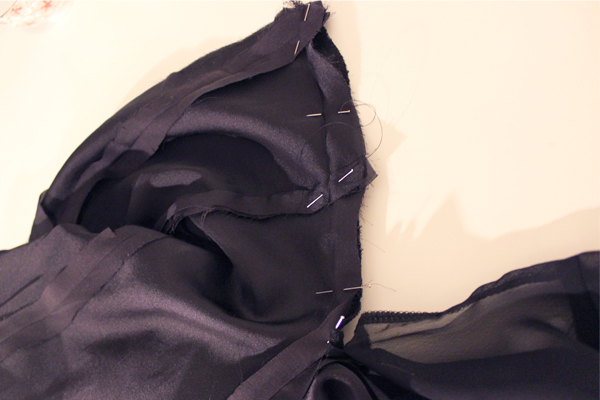 We are going to attach the lining to the skirt shell, along the zipper opening edge. So let's work one side at a time. First I pinned my lining to my skirt shell along the left side of the zipper opening, right sides together.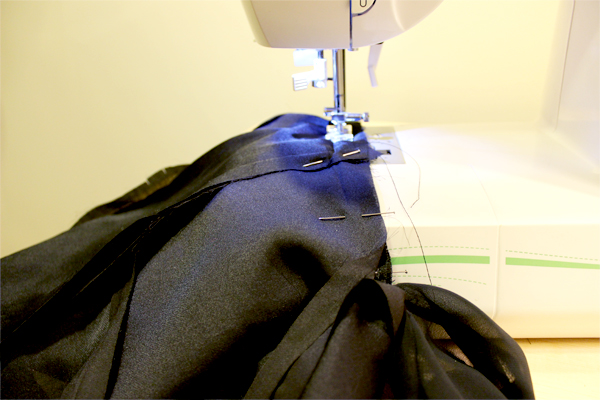 Sew along this seam at 5/8″ (1.5cm). We are going to stop right where the zipper opening ends.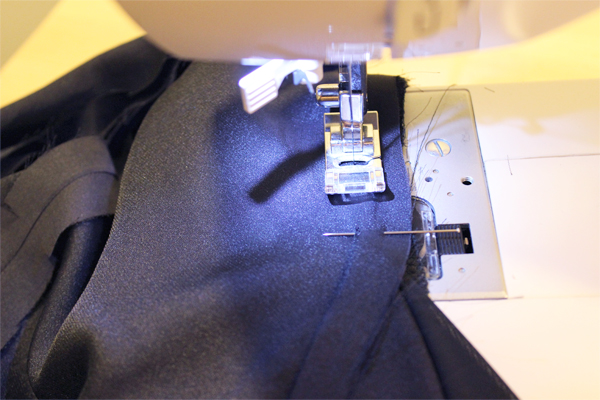 Here's a close up of my stitching. I am going to stop sewing right where my pin is. This is the bottom of the zipper opening and it's where my center back seam begins.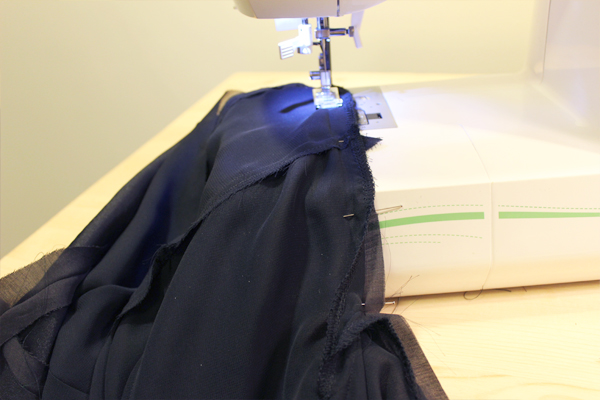 Pin and repeat the exact same thing for the other side.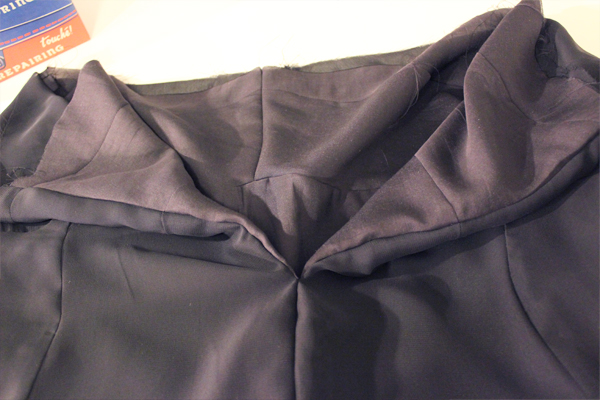 When I turn my skirt lining in, it looks like this! Just needs a good press and I am ready to pin my zipper in place.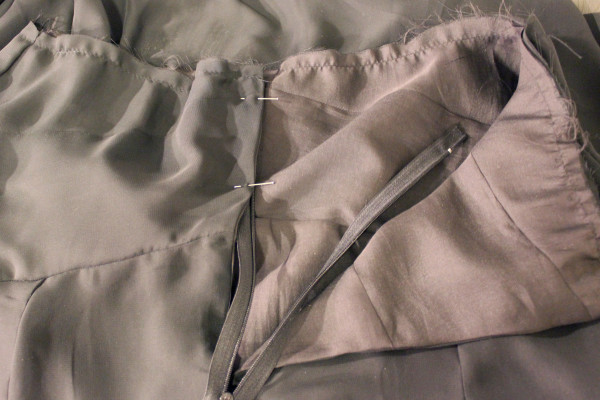 There we go. You can see here I have basted my lining and shell together along the waistline. This will prevent them from stretching out and allows me to treat the two layers as "one piece" when I attach the waistband later. I'm ready to start pinning my zipper in place!
With this method, the zipper is exposed on the inside of the skirt. If you would prefer your zipper to be enclosed in the lining, then you can prepare your lining in the same way, but hand sew it to your skirt after the zipper has been attached. Press under the seam allowance on your lining zipper opening edge, and then slipstitch it in place around the zipper opening.
It is yet to be determined if my chiffon maxi will look cool, but it's given me the chance to try out some different seam finishes and fabrics for this skirt. Honestly, sewing chiffon isn't a party! I've used chiffon many times in the past but only for really simple designs without too many seams. I'm not sure I would recommend it for this particular pattern yet – chiffon frays like crazy and overlocking the seams just chews up the fabric most of the time. So I have had to zig zag most of my seam allowances on my yoke pieces which does not really stop the fabric from fraying, it just protects it from not fraying too far. I did french seams to connect the skirt panels, which worked out beautifully. I found this article really useful, especially the part about directional sewing. Leimomi suggests:
Use directional sewing:  sew from the hem, up to the waist.  If you sew down a seam you sew into the grainline, and stretch it.  If you are using French seams, be sure to use directional sewing for both seams.
There are a lot of bias seams on the Gabriola skirt, and I have found that sewing them from the bottom up has prevented any warping or stretching in my seams. So yay for that!
I'd love to hear about your experience with sewing chiffon and if you have any good seam finishing techniques or tips!
Back to the sew-along tomorrow, where we'll be putting in our zippers. Happy Sunday everyone!