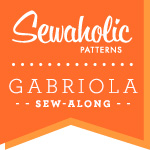 Happy Monday! Did everyone have a nice weekend? Can you believe it's already the last week of March? I am excited for some nice spring weather, to say the least. I'm ready to wear my new maxi skirt already! So let's get moving!
You can click the badge to the left to catch up on all things Gabriola Sew-Along, and here is everything we've covered so far:
Gabriola Skirt: Styling Inspiration
Gabriola Sew-Along: Let's Talk Fabric and Supplies!
Gabriola Skirt: Grading Between Sizes
Tips for Adding Lining to the Gabriola Skirt
Gabriola Sew-Along #1: Waistband and Yokes
Gabriola Sew-Along #2: Assembling Skirt Panels
Gabriola Sew Along #3: Attaching Skirt and Yoke Pieces, Preparing for Zipper and Waistband
Today: Sewing Center Back Zipper
Wednesday, March 26th: Attaching Waistband to Skirt
Friday, March 28th: Finishing Inside of Waistband
Monday, March 31st: Hemming Skirt, Attaching Button or Hook and Bar
So today we are going to get our zipper on!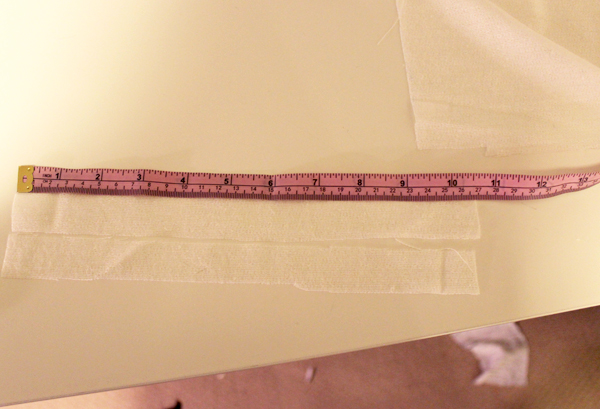 Here's a little trick I like to use when I am inserting a zipper with really lightweight or delicate fabrics. If your fabric is strong or stiff enough, like a linen or cotton, go ahead and skip past this step. I am going to reinforce my zipper area with a couple of strips of fusible interfacing. We are going to be inserting a 9″ (22cm) zipper, so I'm cutting two strips of interfacing, 10½" by 1″ wide (that's about 27cm by 2.5cm).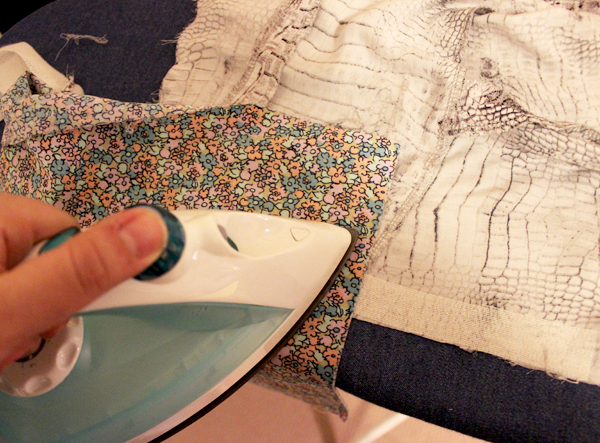 So now let's iron on these strips of interfacing, right on the edge of our center back, where the zipper will go.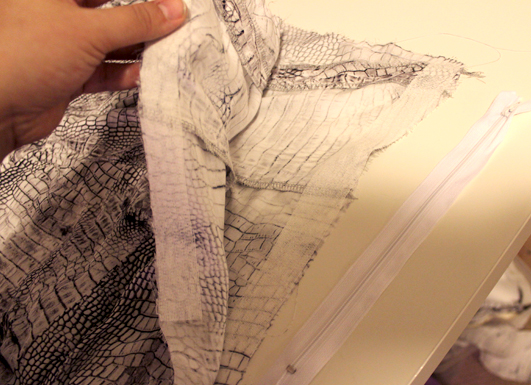 There we go! Now all of us with more delicate fabrics will have a nice strong section where our zipper will be inserted. Onwards…!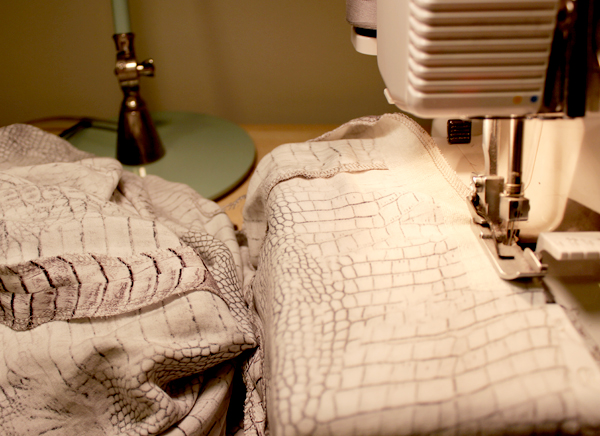 Next let's finish the edges of our center back back opening.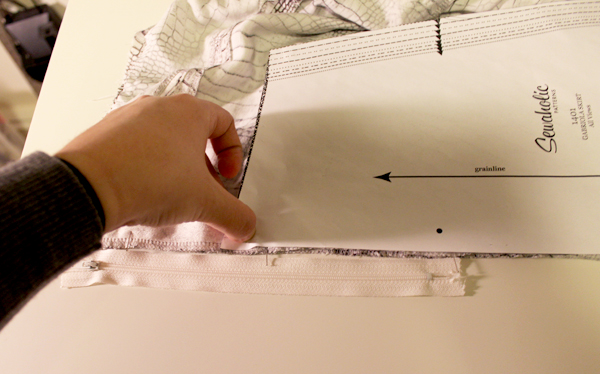 Okay so now we want to transfer the small circle marking from our pattern. Why not a notch? Good question. A notch in our fabric will create a weak spot, with the potential for our fabric to fray over time and washing, in a spot that may get a lot of stress. We want to avoid this, so we skip the notch and instead use the circle as a guide to mark our fabric with chalk. So line up your pattern piece with your center back panel, be sure to overlap the seam allowance, and mark your circle! This is where we will start sewing our center back seam. Always a good idea to check with our zippers too, to make sure the circle hits just below the zipper stop.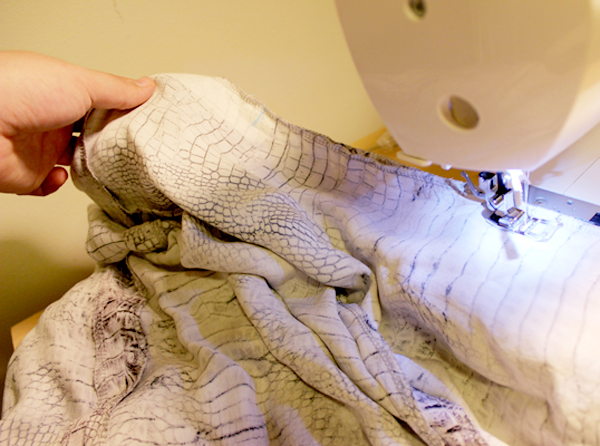 Now let's sew our center back seam, you can faintly see my blue marking at the top there!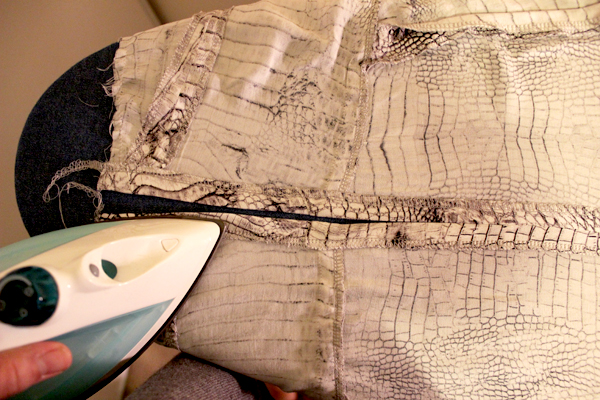 And now we're going to press this seam open, continuing to press under your zipper opening edge at 5/8″ (1.5cm).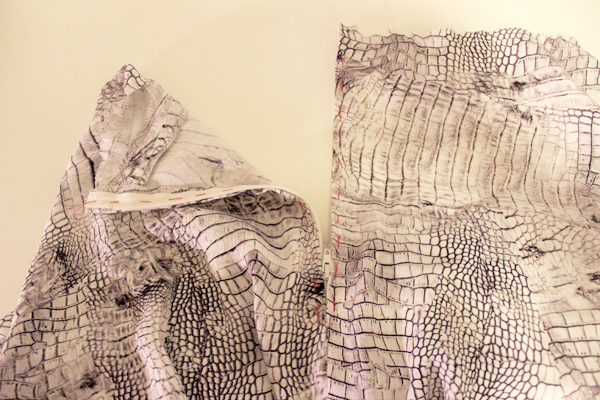 Now here is where we want to pin our zipper into the opening, lining up our zipper teeth with our opening edge. I went the extra mile here and basted my zipper into place, because my fabric is delicate and slippery and frankly I always manage to mess up my zipper on the first go. Basting gives us a bit of extra security and keeps things in place when we are sewing, but it's by no means necessary.
Let's use our zipper foot, and begin sewing around our zipper at 1/4″ (6mm) from opening edge. When you get close to your zipper pull, insert your needle into the fabric, lift up your foot to give yourself room to pull up your zip. Once you pull up your zipper past your foot, you can push your foot down again and continue sewing.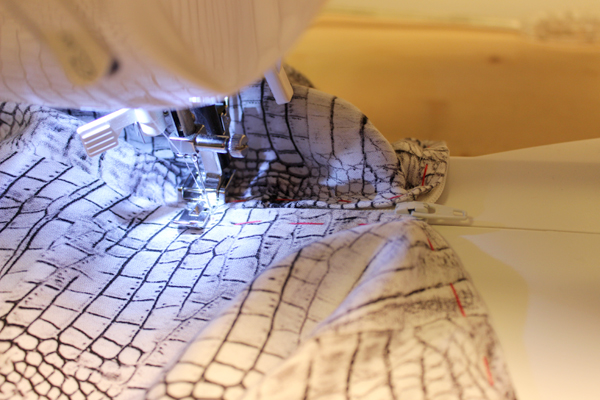 Pivot around the bottom end of our zipper…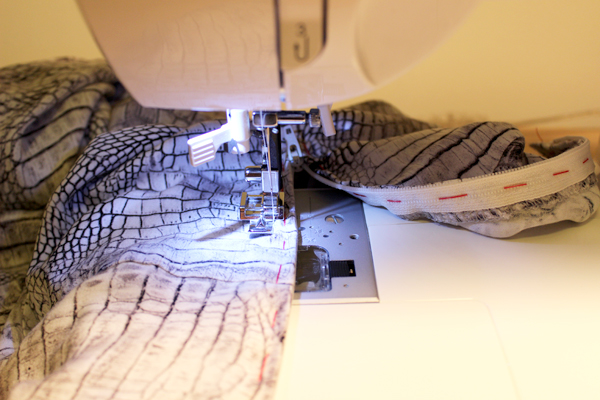 And continue up the other side! Once again when we get close to our zipper pull, we're going to insert our needle, lift the foot, pull down our zipper, lower our foot, and continue up.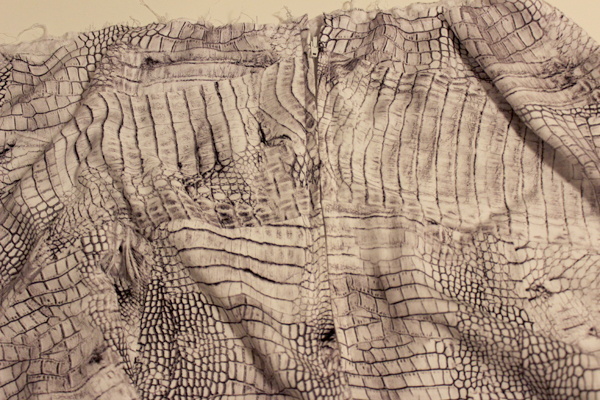 Here we are, a nice finished zipper, after I've pulled out my red basting thread. I'm realizing that it's a bit tough to see the stitching on the right side of my fabric, sorry about that! I hope you guys get the idea here.
That's it for today! On Wednesday we are going to be attaching our waistband, so if you haven't already interfaced that piece, now is the time.
Have a wonderful beginning to your week everyone!