Hi everyone! I have a fun pattern modification to share with you today!
A while back I saw Lauren's red skinny thurlow trousers and I really loved the way they came out. I have made a ton of Thurlow shorts but I had not yet made a full length pair because the flare leg is not my style. But I love the fit of the Thurlows in the parts that count – hips, waist, crotch. And we all know it's not easy to find a good fit in these areas! So why not do a simple mod to the fit of the leg to make them work for me?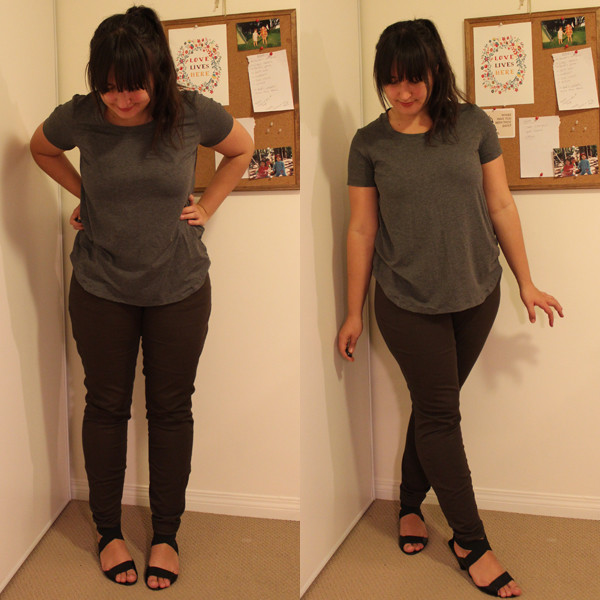 They turned out great! The fit I went for isn't skin tight – I wanted them to be skinny but not make my legs look like they were being suffocated. A nice "relaxed" slim fit. I think I achieved it. So let's talk about how I adjusted my pattern!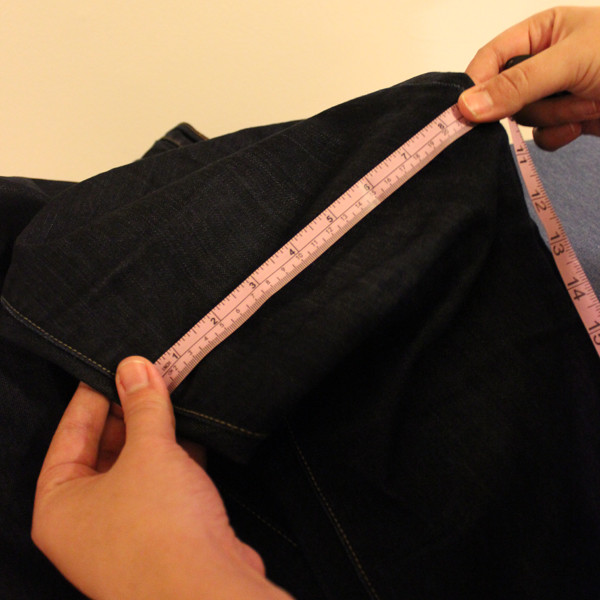 I decided to use my favorite pair of RTW jeans as a guide. They are definitely my most "lived in" jeans. I wear them all the time and I know I like the fit through the leg. So I started by measuring at 4 different points through the leg, and recording the measurements for front and back. You can see in the picture above. I am measuring the front, from seam to seam. Be sure to measure straight across, perpendicular to the grainline of the fabric.
The most important points to measure are the ankle, calf, knee, and crotch. You can mark these points with a pin at the side seam of your pants so you are sure you're using the same point for both front and back. For the crotch, I didn't measure right at the crotch point, I went about 12.5cm (5 inches) below it. Remember you will have to add seam allowance (times two) to these recorded measurements.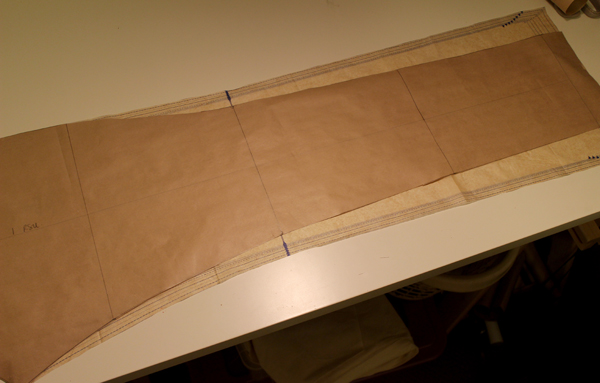 Here is what my front skinny pattern piece looks like compared to the original tissue pattern. First I traced the original piece into kraft paper. I transferred all my markings. Make sure that you are tracing your grainline exactly where it is, it's right in the middle of the leg and we are using this as a guide when we transfer our measurements.
Next I traced my lines across the leg. Then we want to transfer our measurements. You want the grainline to be the center line along your pattern. So when you adjust the leg fit, say you want the knee point to be 20cm wide on your front piece, then you mark at 10cm on each side of the grainline. Makes sense?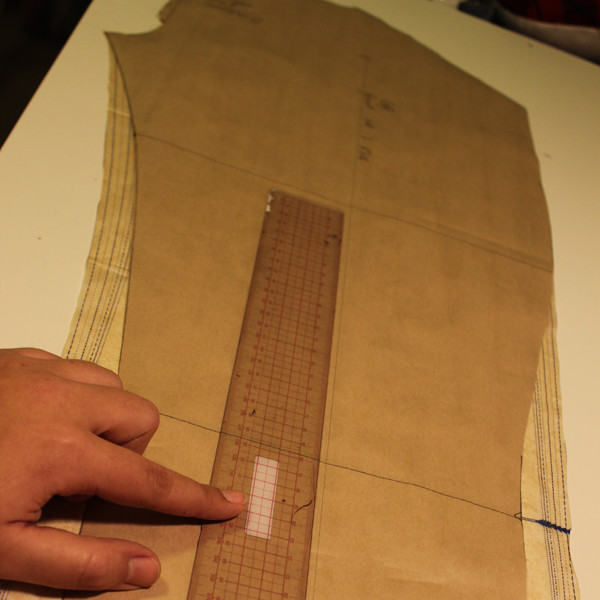 When you are connecting your markings, think about the curves of your legs. Going from your crotch to your knee, you want your line to be a nice concave curve that tapers in towards the knee. But from the side seam, it will be a convex curve that then tapers to the knee.  You can see this in the photo above.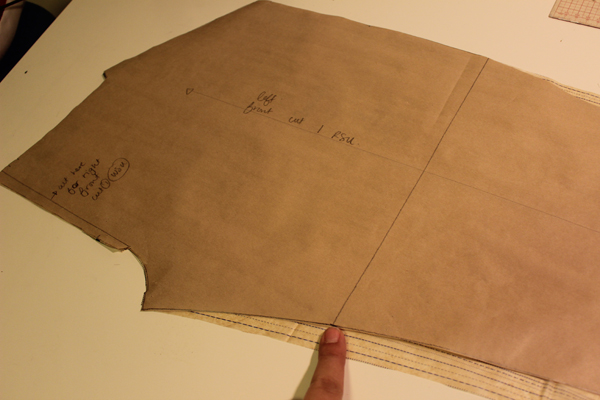 Based on my measurements, I tapered it in at my inseam from the crotch. That's okay, since I'm slimming the fit I don't need that extra room in there.
When I sewed my trousers, as soon as my leg seams were sewn up, I tried the pants on. I ended up tapering them in even more from my calf to my ankle, because they weren't quite as slim as I wanted. If you wait to finish your seam allowance along your side seams and inseams, you can easily adjust the fit a bit after your first try-on!
Voila! That's how I achieved my slim Thurlow trousers!
You could use this same method to adjust the leg fit however you'd like. For my next version, I'm picturing a bit of a looser cigarette trouser style with a nicely pressed front crease. Or how about a super wide leg? These are all really easy adjustments that will help us to make the most of our pattern. I dig that!