Here's a quick post on sewing the pockets, including making pocket templates, for the Granville Shirt! This is the fabric I chose: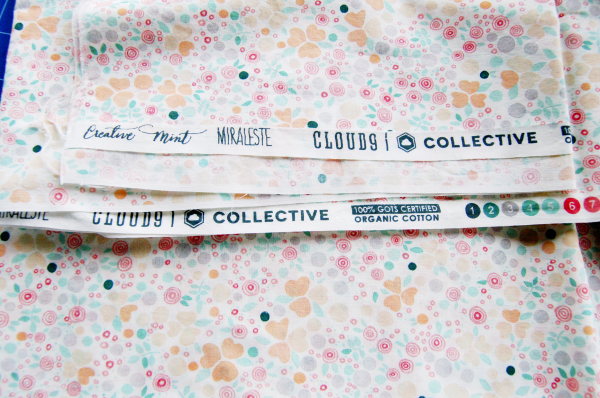 It's a beachy, summery printed cotton voile. It's from Spool of Thread, bought last summer, with the intention to make a shirt for the summer. At least I'm ready for this summer instead! I made this shirt a little while back, around the release of the Granville pattern.
Since I skipped the pockets back when I made my Liberty Granville Shirt, I thought I'd talk about the pockets on this version. I plan to make many of these shirts, so I spent a little extra time making pocket templates for this pattern.
Here's how to make pocket templates
First, trace off the pocket piece on a piece of card stock. I like to use old file folders, they're a good weight, plus I like to reuse things around here. Draw in the seam allowances.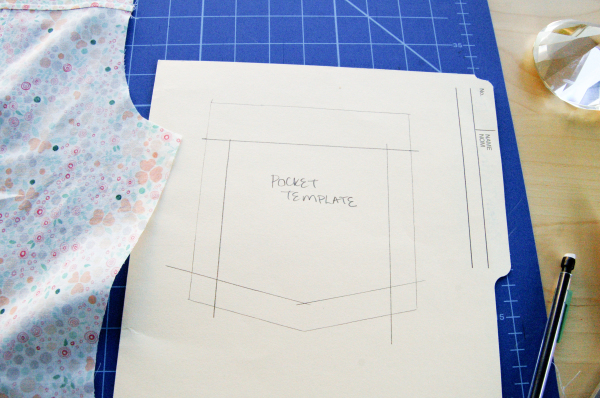 Cut out the template along the seam allowance lines.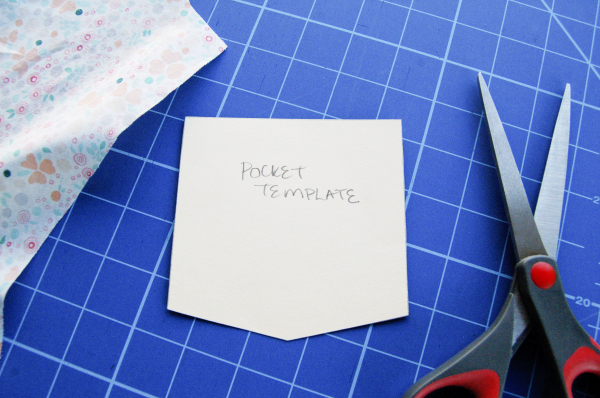 Here's how to use them
Now, what is this for? It's a great tool for pressing your pocket. Wrap the edges around the template and press. This will also ensure that both pockets are exactly the same!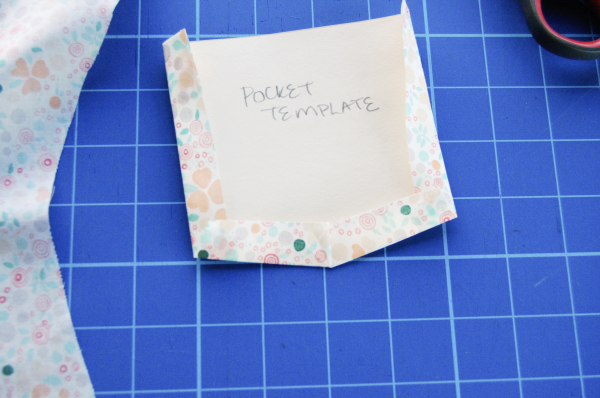 What I liked was the chance to get the bottom corner in the right spot, with the seam allowances tucked evenly on both sides of the point. Normally I'd press one side of the bottom edge, then the other. Try this on your pockets to see what I mean – the template helps!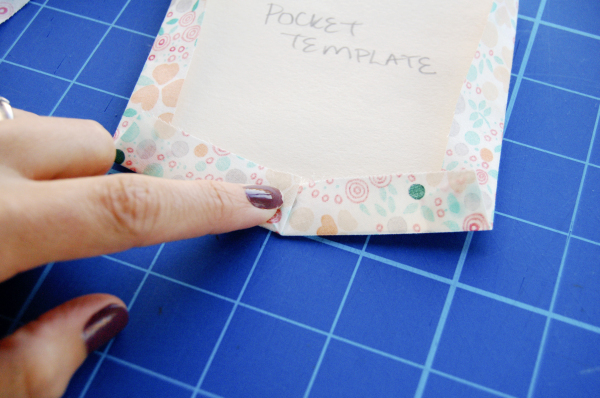 Nice, square pockets.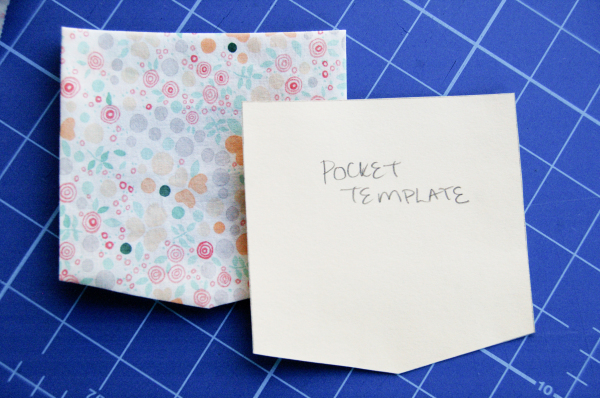 Ok, what else can you use a template for? Make one for the pocket flap!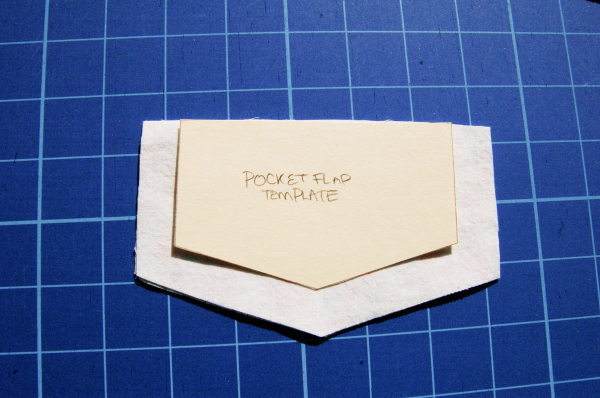 Same as the pocket template, trace off the pattern piece and remove the seam allowances. For the pocket flap, leave the seam allowances along the top edge.
I used this template to trace the stitching line on the pocket flap. This ensures that the pocket flap is the right size, and also ensures that the left and right flaps are identical. I find this more accurate than sewing a 5/8″ (1.5cm) seam allowance because what if the cutting isn't perfect? This makes the finished flap exactly the right dimensions.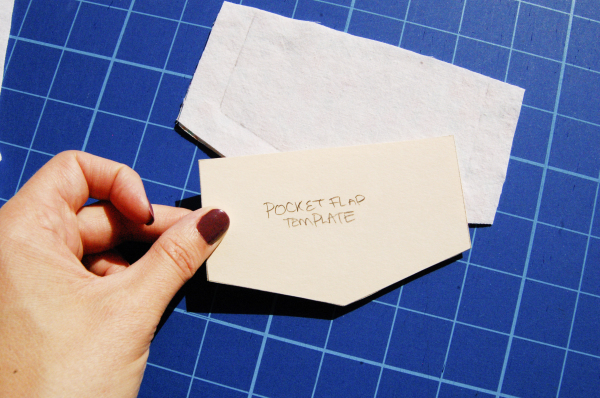 This is especially helpful on my Bernina without any seam guides. (I did add a seam guide later.)
Here is the finished pocket!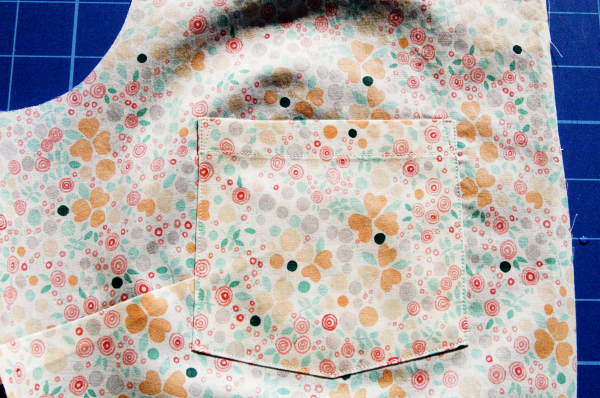 And here are a few quick shots of the finished shirt.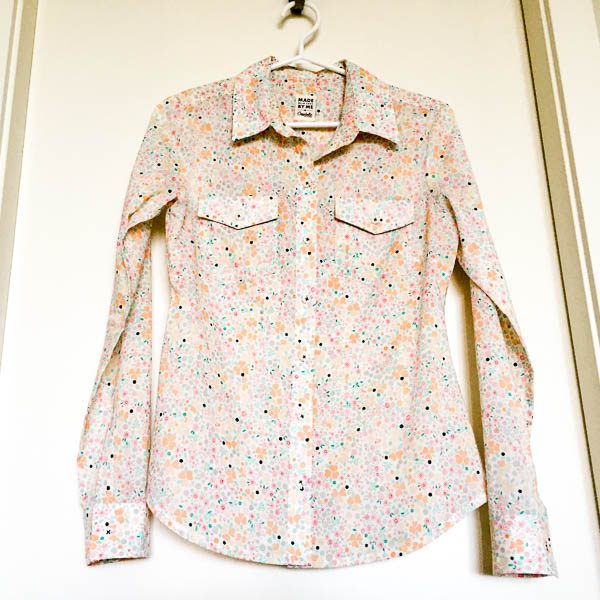 Close-up of the finished pockets: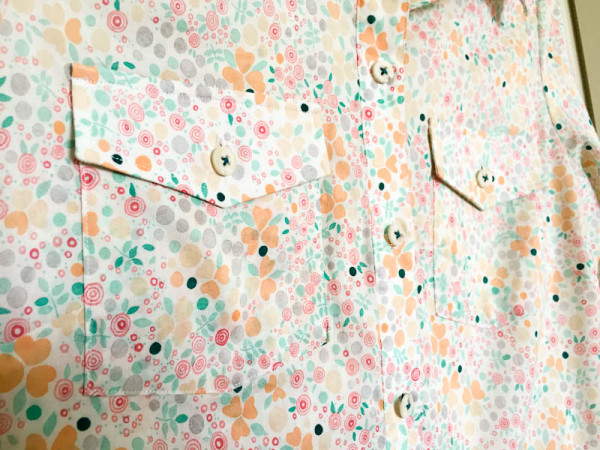 Looks pretty even!

What do you think: is it worth the time making a pocket template? I'd say it is most useful if you plan to use the same pattern several times, if you need to make two identical pockets, or if the pocket is unusually shaped.
ps. Check out all our posts on shirtmaking here!