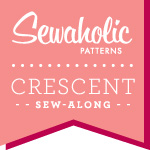 Hi everyone! Here's the next installment of the Crescent Sew-Along. I've decided to post little bite-sized Sew-Along updates, so it's easy to refer to them later. This way I can give them better titles that are easier to search for!
Plus, if you only have a short period of time to sew, you'll be able to make progress on your skirt, one little post at a time.
All right, I'll admit it: I ran out of time! I was working on my progress reports for school, and they took a really long time to complete. How's everyone doing? Do you need time to catch up, or are you waiting breathlessly for the next sewing post every time?
Need to catch up? Here are all the previous posts!
Our next sewing step, after sewing the pockets, is to reinforce centre front. Mine is marked with a pin, a lazy marking technique but it works! (As long as it doesn't fall out.) We'll stitch through this circle marking with very tiny stitches in this step.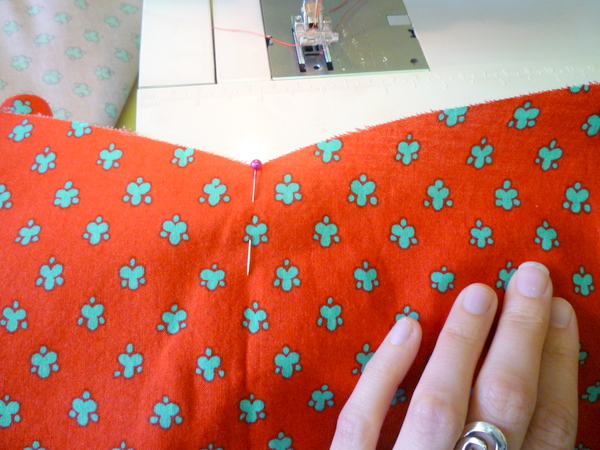 Why do we do this? It's so that we can clip at centre, and push each side of the seam allowances apart, to get a better 'V' on our waistbands. If we didn't reinforce, our clip could pull and fray and end up way lower than we want it to be!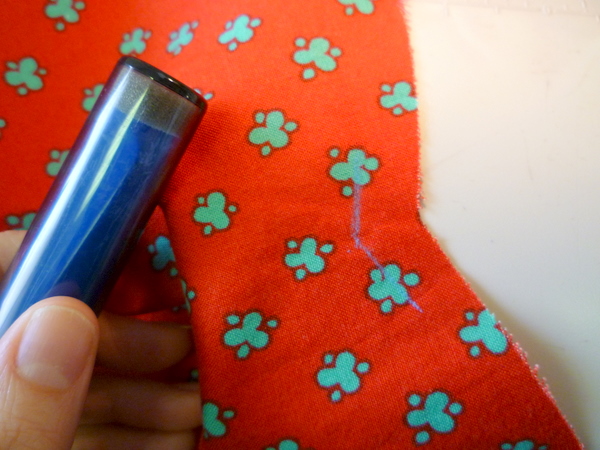 Now, we'll draw in our stitching lines with chalk. I find it's a lot easier to stitch on either side of the marking if the lines are drawn in. Takes only a second, but makes it so much more accurate!
Draw a line about 1″ (2.5cm) to the left and 1″ (2.5cm) to the right of the circle marking, parallel to the top edge. It should look like a little 'V' when you're done.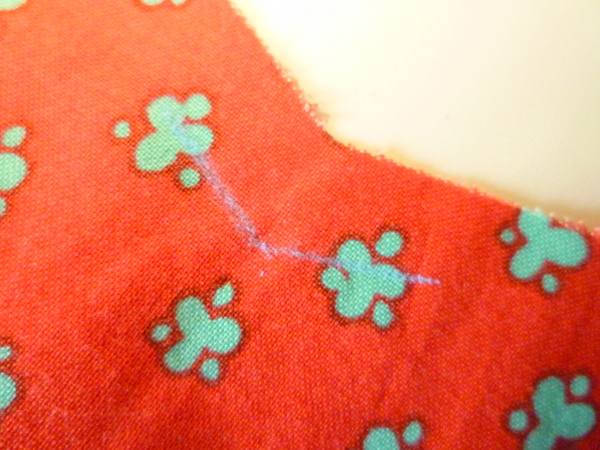 Now, set your sewing machine to a very small stitch size. On my machine, I've set it to stitch size 1. (Normal on mine is 2.5 – so if your machine is set up differently, aim for about half the size of normal stitches.)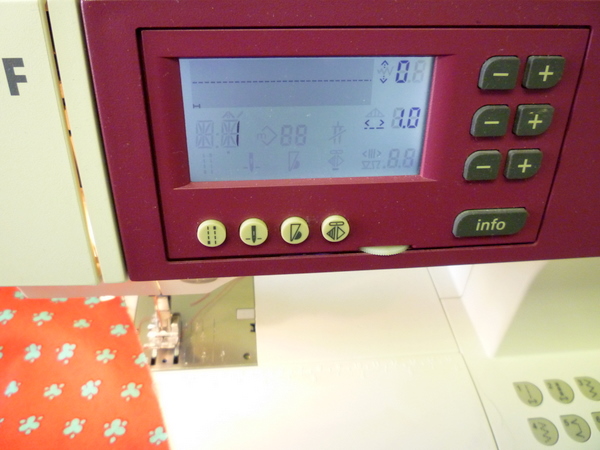 Place your needle into your fabric, starting at one end of the 'V' marking.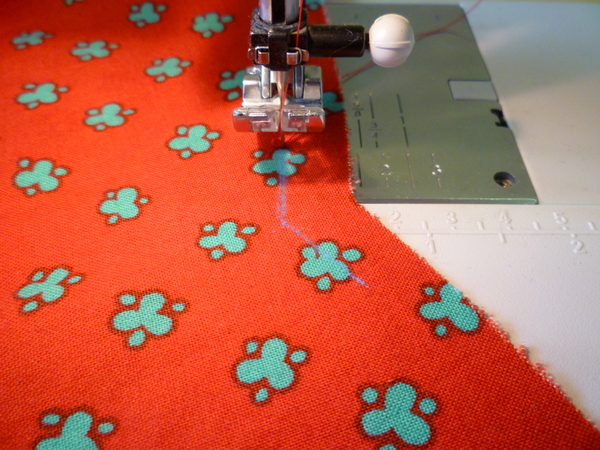 Put the presser foot down, and stitch to the middle of the 'V' marking. Stop with the needle down in the fabric, and lift up the presser foot.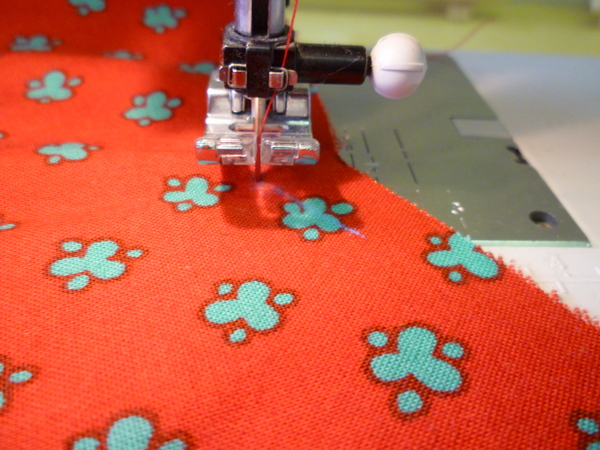 Pivot the fabric so the other half of the 'V' marking is in a straight line in front of your needle.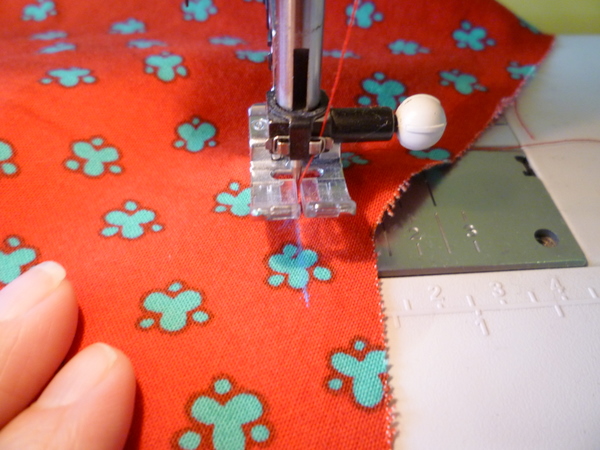 Put your presser foot down, and stitch to the end of the chalk marking. Don't worry if your stitching runs a little bit longer than the marking, that's all right!
Here's what it will look like: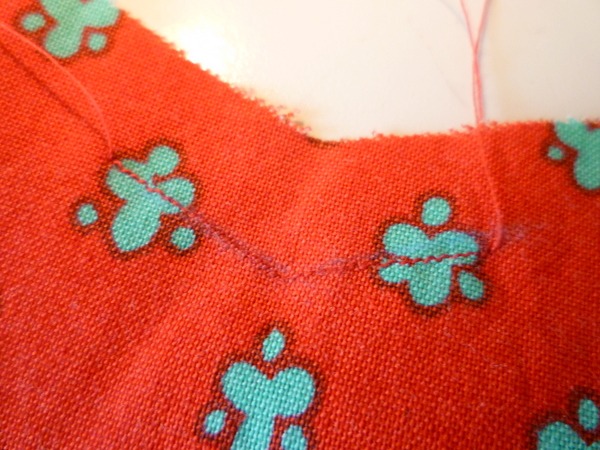 You can see it a lot better from the wrong side: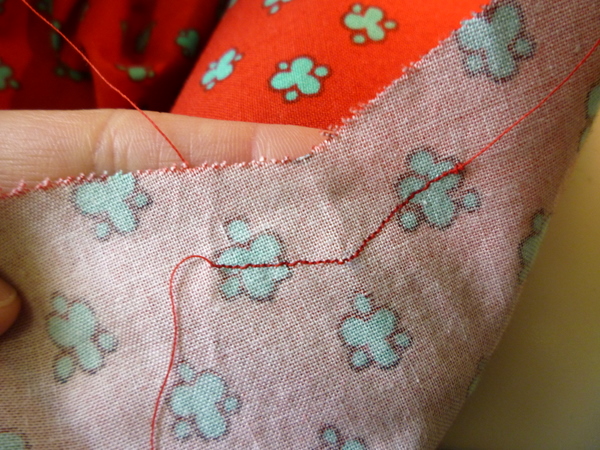 Now you can clip to the centre of your 'V' with confidence, knowing the stitching will keep it from spreading!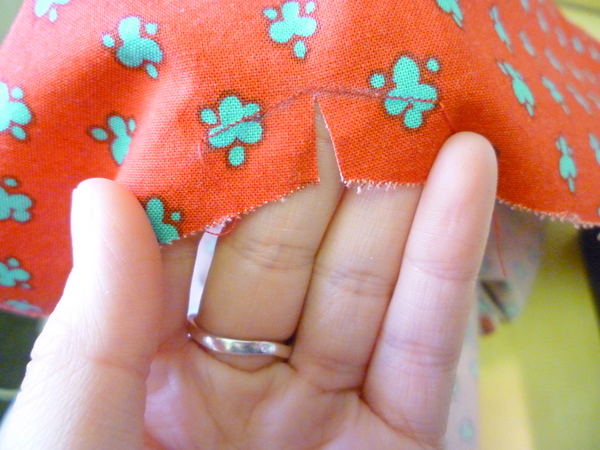 Any questions on doing the reinforcing stitching? Let me know!
What do you think of small, bite-size Sew-Along posts like this? Is it better than doing a lengthy, picture-heavy post, or do you prefer the longer posts? (Or do you not care either way?)
Have an awesome weekend, everyone!