Hello, everyone! Today I'm talking about twill tape. What is it for? Why do we put it in the shoulders of the Renfrew Top? And what could we possibly use as a substitute if we can't find twill tape locally?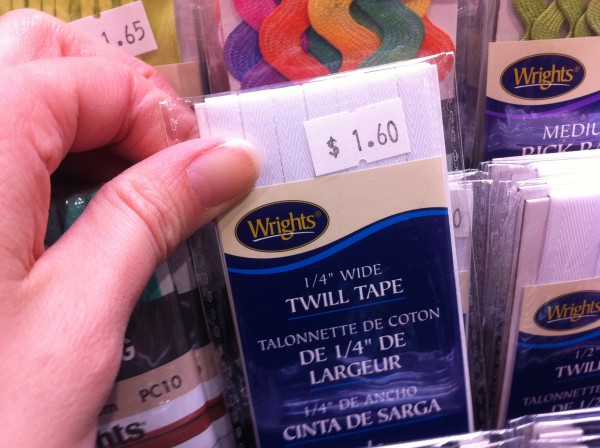 Let's start with why we add the twill tape, then talk about possible options if twill tape is hard to find.
Why add twill tape?
The twill tape is added to strengthen the shoulder seams. In most knit tops with a set-in sleeve, the shoulder seams are cut along the horizontal grain, the stretchiest direction. This is great for getting stretch around the body, but we'll want to stabilize the shoulder seams or they'll stretch, sag or break. If you look in your tee shirt drawer, it's likely that your tee shirts have some sort of stabilizer across the shoulders.
You might see self-fabric binding go around the back neck and across the shoulders, common in men's undershirts and basic tees. There might be a clear, stretchy elastic sewn into the seams, this is common in manufactured tee shirts. (Though I've seen the clear elastic break over time.)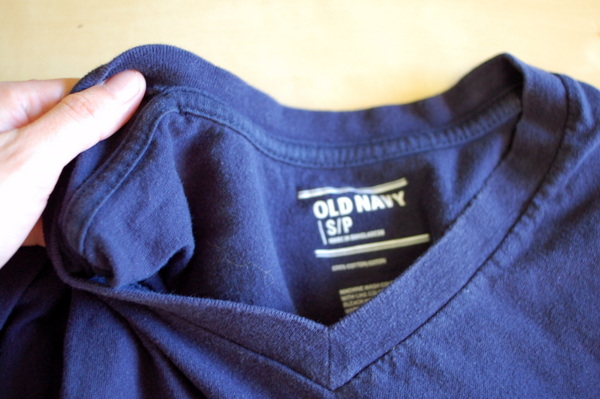 (one of Mr Sewaholic's old tee shirts with self-fabric binding stabilizing the shoulders and back neck)
So why does the pattern specify twill tape? I chose twill tape because I thought it would be the simplest, most common notion to find around the world. It seems that it's challenging to buy in some places though, so we'll talk about what you could use in place of it to get the same result.
What could we use instead?
Basically, the whole purpose of the twill tape is to keep the shoulders from stretching out. I always find it's easier to think up a substitute when you know what the original purpose was. So we just need to add something to that seam that doesn't stretch.
That could be any number of things:
selvedges left over from your fabric
twill tape as directed
stay tape, which you can trim down the middle for less bulk
ribbon
seam binding – the thinner the better
clear elastic if you can find it
What else could you use? (I'd love to hear your suggestions, too!) When you're thinking of a substitution, you'll also want to consider the bulk you might be adding. Or the itch factor. For example, stay tape is super light and sheer, great for lightweight knits and just about any knit fabric. If you're subbing with selvedges, make sure they aren't too bulky and stiff. Thinner is better. Stay away from bias tape as it's stretchy and won't support the seam. Whatever you sew, when the seam is sewn it should not stretch at all. (Or if you used clear elastic, it will stretch but return to its original dimensions.)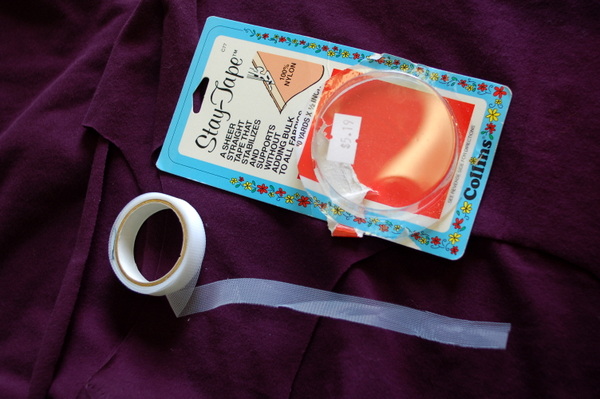 For my purple top, I'm using stay tape. That's what I have on hand, and I'm trying to use up the supplies I have on hand as much as possible. (My notions box has become a bit of a scary pit and I've been buying new trims instead of digging through my disorganized stash. I really need to clean that up and make it functional. That's a project for another day though!)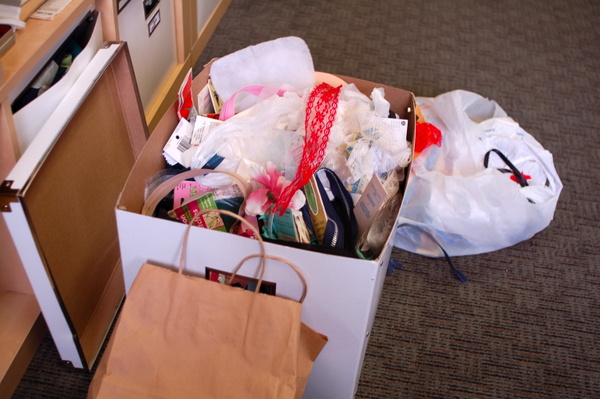 Here are more blog posts about the Renfrew Top. (Get the pattern here.)
How do you usually stabilize your shoulder seams? What's your favourite stabilizing material to use?