Yes! The Pendrell blouse DOES work in a knit fabric. I finished it up and wore it to work yesterday! Here's the proof: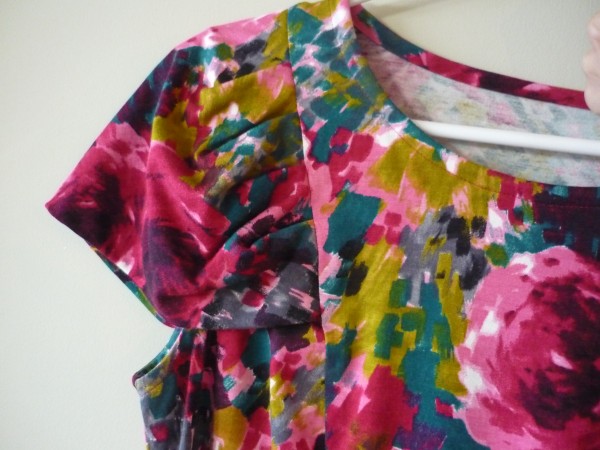 This blouse is so, so soft! It's like a tee shirt, but elegant. It's the tee shirt all grown up and sophisticated. Anyways, I love it! I'm really happy with the look of this blouse, plus it's incredibly comfortable. Great idea!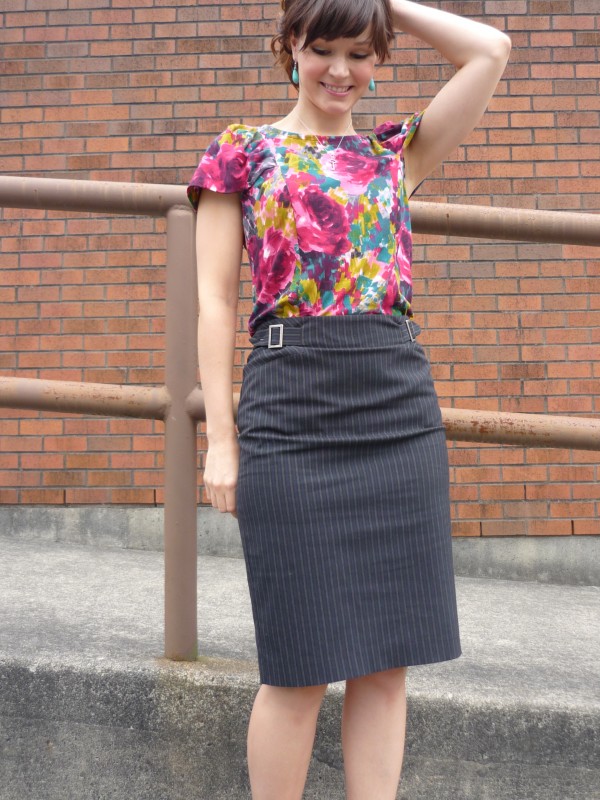 Some tricks to sewing this blouse in knit fabrics:
Use a jersey needle with a ballpoint tip, as recommended.
This blouse does feel a bit larger in a knit fabric, because of the stretch and weight of the fabric. If you're used to wearing snug-fitting tee shirts, this will fit quite differently. I like it, but if you want a tighter fit you'll need to make some alterations. (See the photo below – there's a lot of space around the waist. If it were a silk charmeuse or other lightweight fabric, it wouldn't be quite so noticeable and you'd need the extra room to get it on and off…)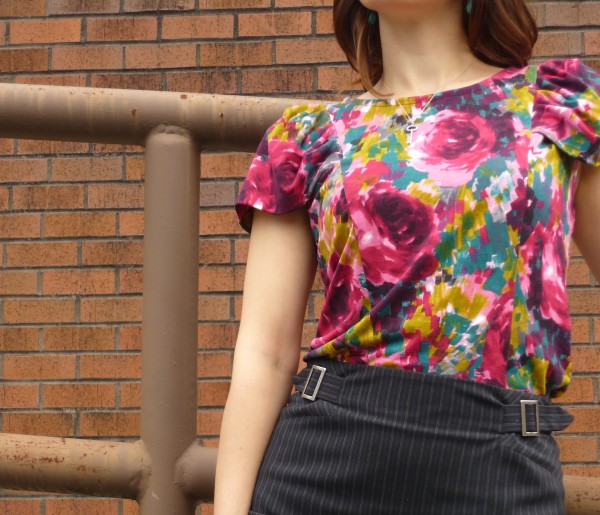 Be sure to staystitch the neckline carefully, without pulling or stretching the fabric. You don't want the neckline to gap or stick out from the body!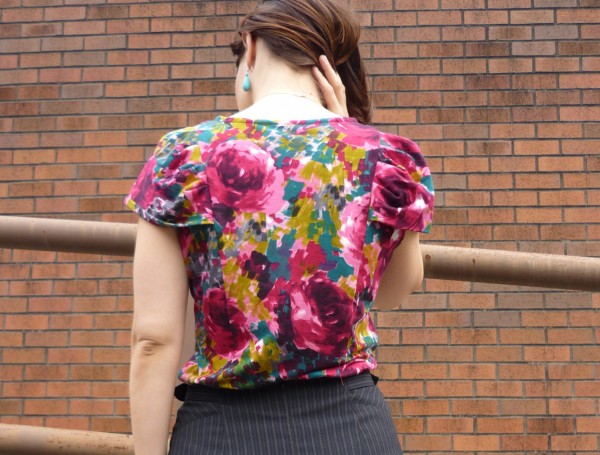 When hemming the body, use a stretch stitch or zigzag so the hem stitches don't break when you put on the blouse or take it off.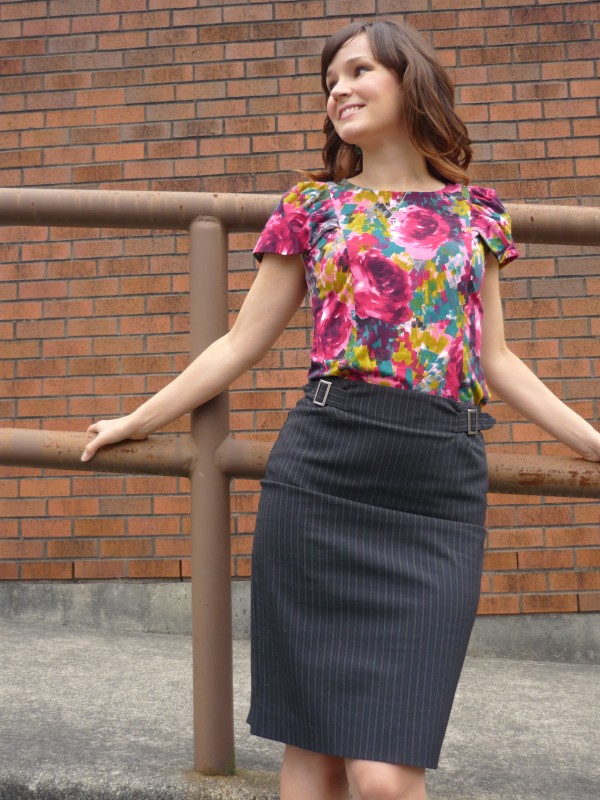 In fact, use a stretch stitch or zigzag for all seams, for stretchability! (I didn't – I wanted to sew the blouse exactly as if it were a woven, as an experiment. It works, but there's a chance if I take it off real quick I might snap the stitches. Do a few tests on your chosen fabric to find the right stitch for your project.)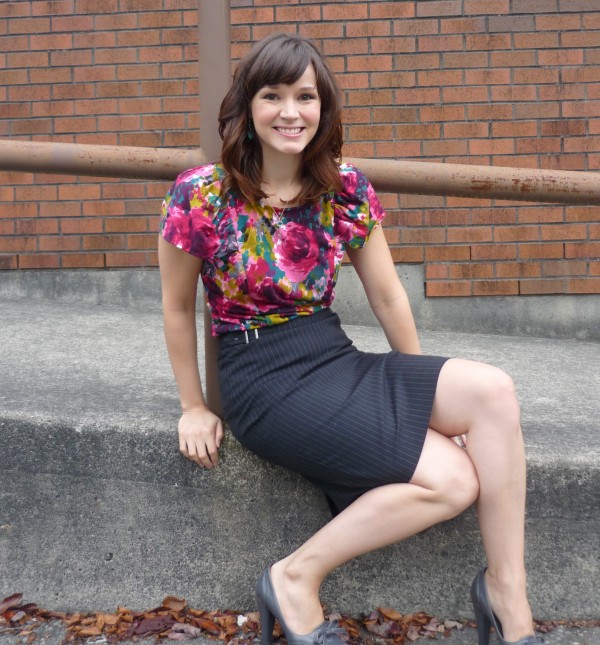 If you follow the instructions for bias neck binding, it may be a bit bulky and doesn't stretch. You could use an alternate way to bind the neck edges, that's more suitable for knit fabrics, but the original method does work. I quite like the tidiness of the binding the way it's done though, it's very stable and clean.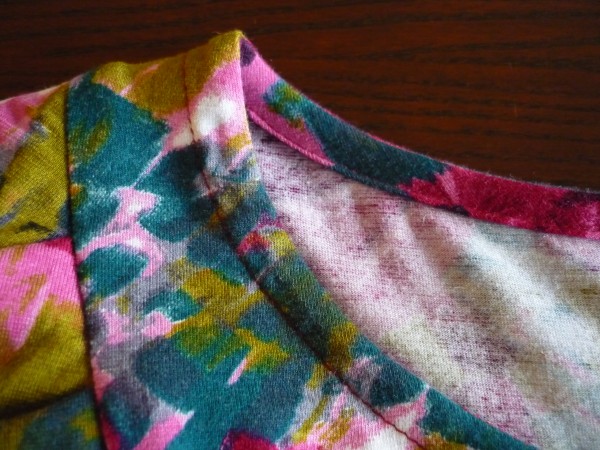 Also, you don't need the princess seams for shaping in a knit fabric, technically the stretch would provide shaping around your curves. However I really like how it's shaped around the bust – and if you are larger on top it's much easier to add to the seamlines! Plus, the seams are there to set in the sleeve or ruffle.
Final verdict? I love the Pendrell blouse in a knit fabric. What do you think?
UPDATE: Like this blouse? Make your own! The Pendrell Blouse is available in the Pattern Store here.