Hey, everyone! Remember my quick attempt to organize my messy notions box? (If you missed it, my notions box had become a tangled disaster zone, making it near-impossible to find what I was looking for. Here's the post on how I started tackling it, fifteen minutes at a time!)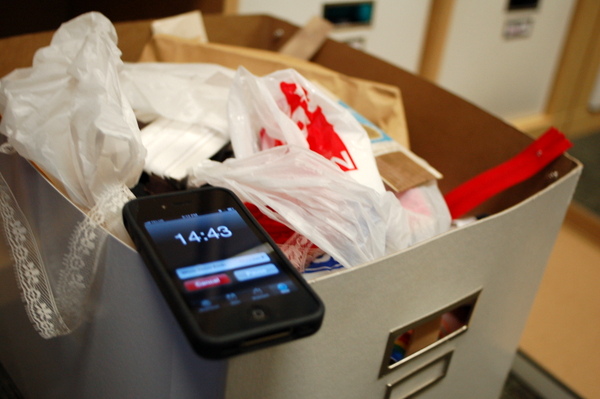 Since then, the zippers have been pretty much laying exactly where I left them on the floor. Embarrassing to admit, perhaps, but true. I reached the point where I needed floor space, which forced me to finish them up.
Where we left off… invisible zippers on the left, regular zippers on the right.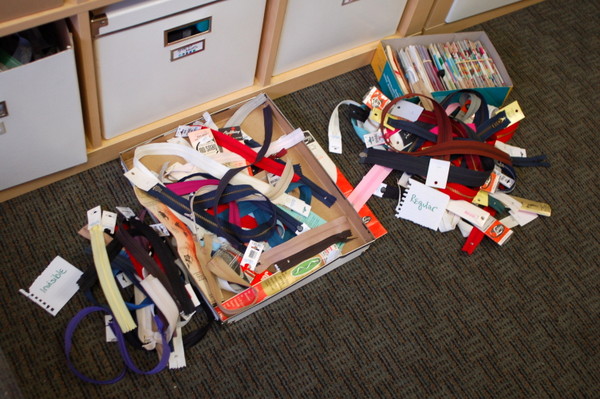 Over the last couple of weeks, I finished sorting the zippers by type. When I needed the floor again, I scooped up the piles of each type of zipper and placed them in leftover boxes. It may not be pretty, but it works!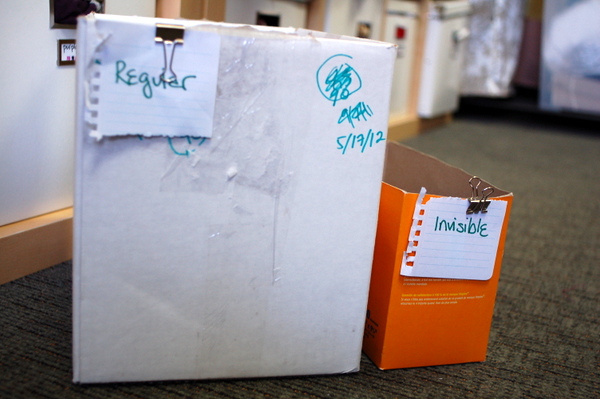 One box for regular zippers: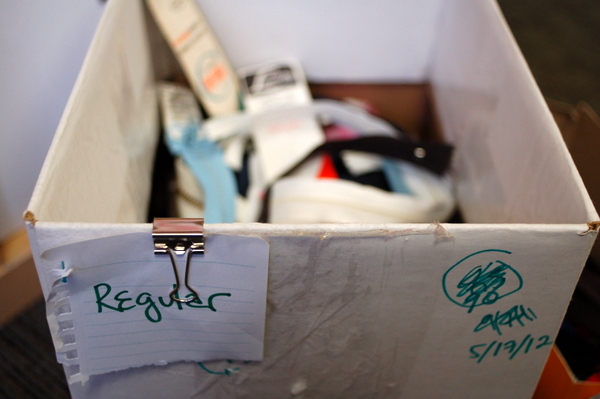 And one for invisibles. Can you tell which type of zipper I prefer?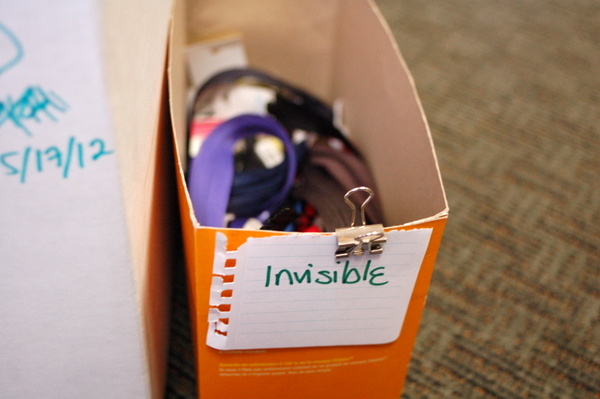 What have I learned? That organization doesn't have to be expensive or pretty.
I can now find an invisible zipper, or a regular zipper, and I'm able to check for materials on hand before shopping. I used the same scrap-paper labels to clip onto each box. I save all old cardboard boxes for reusing, for shipping and storage, and for moving stacks of envelopes to the mailroom. They also come in handy for notions storage, too!
If I really wanted to, I could look for nicer-looking containers in the future. I now know the approximate sizes I would want, and as I come across other empty containers in my life, I might find the perfect one at home that will hold zippers! (Yup, I'm that girl. The one who empties a tin and thinks 'hey, this tin would be great for storing _____!')
I'm the wrong person for Pinterest-worthy organization. But, I can show you that organization doesn't have to cost a lot, or anything for that matter. It's better to know where your zippers are, and be able to find one quickly, than have coordinated designer containers to store them in.
Organization: it's both my enemy, and my very good friend. I want to be able to find my stuff easily, but I'd rather spend my money on actual materials than pretty containers to store them. I want to be able to find what I need, but I'd rather spend time sewing than cleaning or sorting.
How do you feel about organization? Are you the type of person who saves cookie tins for button boxes, or the kind whose beautifully-designed storage containers are practically a work of art on their own?