Hello, everyone! I still have slips on my mind. You guys had so many great tips, suggestions and tricks on my slip projects, I thought I'd compile them all in one post for easy reference! Just in case you read it in your reader and didn't click through to see all of the comments and ideas. So many variations and improvements for such a simple garment!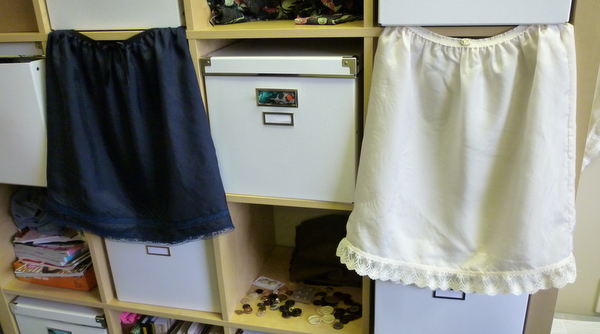 Here are the slip posts, in case you missed them:
Thanks to everyone who left a comment with their ideas. Just think how much we all learn from each other by sharing what we know!
Measuring Tips
On slip length, Suze suggested that 3″ shorter than the skirt might be better so when you sit down or take long strides the slip doesn't peep out.
Monkeysocks had a good idea on cutting the right length elastic:
When I'm making a slip, after a similar problem with too big elastic, I tend to measure the length I think is right for the elastic, and then tie it round my waist at that length and move about about wearing it for 10 min or so to see if it is too big or too small (ideally whilst wearing the skirt in question to check that it doesn't ride up above the skirt's waistline).
Corinne follows the 4 inch rule: measure waist, subtract 4 inches.
Joolz had a great suggestion on measuring waist elastic:
One of the best tips I ever read online (I think it was probably on patternreview) is that when trying to measure elastic for your waist for anything from a slip to pj bottoms is to pull the elastic as tightly as possible over your largest lower measurement, whether that be hips, thighs or butt and then use that. This means that the garment will definitely fit over your biggest bits and will also fit your waist (presuming your waist is smaller).
Corinne also offered a great suggestion on measuring hips:
One little tip I have for determining ease for hips, wrap your widest area with a tape measure, then sit down. gravity and displacement will likely require a little more ease for being comfortable.
Brilliant! Kind of odd to think about our bodies spreading as we sit, but I suppose that's how we're built!
Sewing Tips
Sarah suggested a trick Threads published a while ago, to add rows of stitching into the hem allowance to add weight to the hem.
Vicki Kate recommended using a sharper needle to avoid strain marks on lightweight fabric.
Miss Marie had a great idea to prevent lace from scratching and snagging our tights – sew a ribbon under the lace to protect your legs!
Lsaspacey found that preshrinking the lace trim in warm water makes it more pliable to use.
More Slip Tips
Corinne likes to bias cut slips. While this requires a little more fabric, the fit and drape is very good. It also reduced the waistline bunch-up, which makes me want to give it a try!
Katie W suggested adding side slits for better mobility!
Corinne offered suggestions on fabric choice: quality polyester works well, silk is amazing and batiste is a good choice.
Other Creative Ideas
Leah suggested cutting up old or thrifted nightgowns to make slips – a great way to recycle old clothes!
VictoriaR used an old silk scarf to make a slip. What a brilliant idea! Great way to make use of something you already have but don't often wear.
Great ideas, don't you think? Anything you'd like to add to these tips?
I've stalled on my slip version 3 and haven't done a thing on it yet. Though now I'm glad I waited so I can apply some of these ideas! I'm thinking I'll add side slits, prewash the lace trim to make it softer, use a sharper needle – and I may even try cutting it on the bias. Rayon lining is so tricky to cut on the bias – so slippery! We'll see what happens when I get going on the third slip.
PS. Someone asked if I pre-washed my rayon lining – yes! I always prewash my rayon lining in the washer and dryer. Even if I'm likely to dryclean the garment, I still wash the lining harder than the finished garment.