Hey everyone! I've started to get a few requests for pattern designs, and I thought I'd open it up to everyone. What do you wish there was a sewing pattern for? What do us pear-shaped women need a pattern for, that isn't out there yet?
Here are some of the requests so far – in collage format, because it's nice to visualize the garments!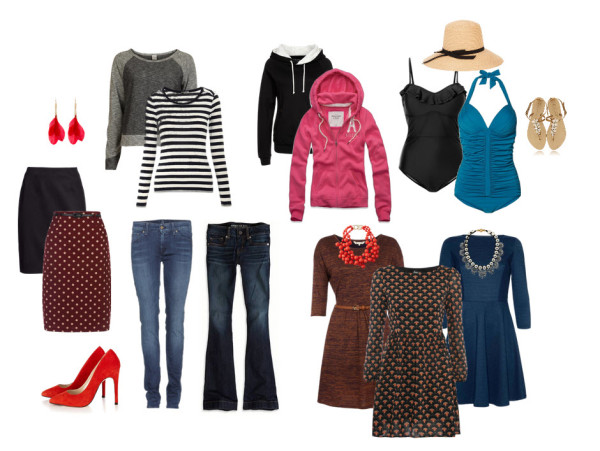 A pencil skirt. I hear you! If you have a small waist and generous hips, it's really hard to find a pencil skirt that fits. Unless it's extremely stretchy. And then it fits but clings too much. This is something I've been wanting to design for a long, long time.
More knit tops. Makes sense, the Renfrew Top is our best-selling pattern! I'd love to design more knit top patterns. Knits are not my favourite thing to sew, but they sure are comfortable to wear. I like to make knit patterns that are easy to sew without a serger or coverstitch machine, and that have clean finishing techniques. It's got to be easy to make and work in a variety of knit fabrics, as all knits are a little different in terms of stretch, weight and recovery.
A hoodie or sweatshirt. Great idea! Who doesn't want cosy, warm comfort clothes to change into when we get home from work? I'd dream up something that's feminine and flattering, without looking like a general piece of sporting apparel.
Swimsuits. This was more of a summer request but I had quite a few people ask for swimsuit patterns that flatter a curvy, pear-shaped figure. With the launch of the Bombshell Swimsuit pattern, I'm guessing that many of you tried it as an option, but there are still few patterns for swimwear. I bet I could come up with one!
Jeans. This also makes sense based on the success of the Thurlow Trouser pattern, and the fact that pants of all kinds are hard to fit on a small-waist-wide-hipped body. Plus, a curvy figure can look amazing in jeans if the fit is right! Jeans are so dependent on the fabric you use though to be figure-flattering and fit well, and I find it hard to shop for just the right denim: not too blue, not too stretchy, not too lightweight. So it may be a challenge, but certainly an interesting one!
A knit dress, possibly a long sleeved dress. I love the possibilities within this category. Some of you have taken matters into your own hands and made Renfrew dresses! Take a look at Johanna's link list of Renfrew modifications here for Renfrew dresses of all types. A knit dress is like a long tee shirt – just as comfortable as pyjamas if the fit is right and if you're comfortable with knit fabric on your bottom half.
I have a handful of pattern ideas in the pipeline, so no exact timeline on when I'll be able to turn suggestions into real patterns for sale. But I do want to hear what you want so I can take that into consideration.
Some of my best-selling patterns came from your feedback, namely the Thurlow Trousers. I kept getting asked for a trouser pattern that would fit curvy hips and a small waist, so frequently that it couldn't be ignored! The timing was perfect as I'd just been suit-shopping with Mr.Sewaholic and wanted to use the back-extension feature from suit trousers on a pattern.
So give it to me – what do you want to see? Which of the requests above are you most interested in? What's missing from your pattern world? What would your ideal swimsuit pattern, jeans pattern or hoodie pattern look like? Be specific, and don't be afraid to speak up!