Is this not the coolest vintage 50's bolero pattern you've ever seen? And the timing couldn't be more perfect. I write a post about boleros last week and finding the perfect topper for my growing vintage dress collection and look what popped up in my etsy shop feeds!?
This!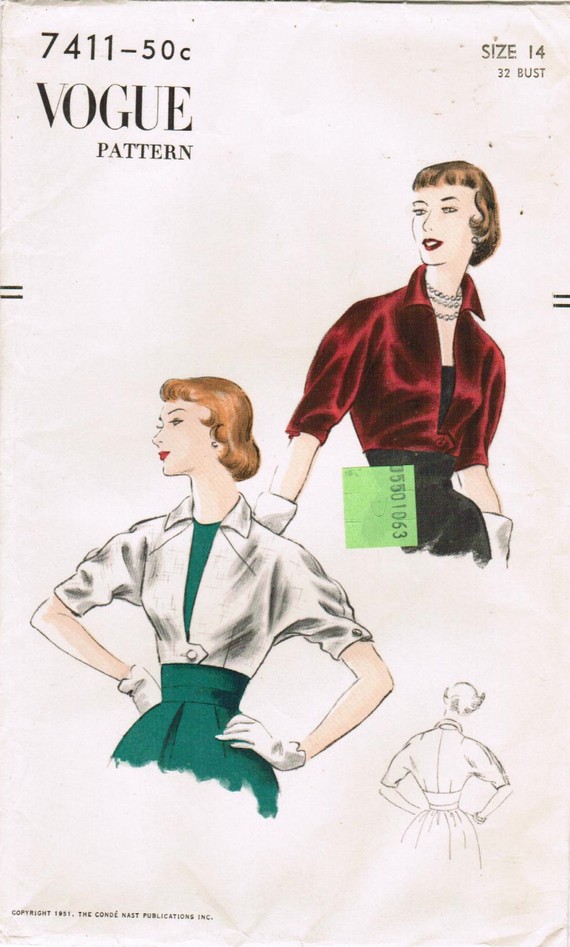 Instant love! It took me all of fifteen seconds to hit the 'Add to Cart' button.
Best description ever, too! Kathleen from Midvale Cottage (who always has great vintage patterns in her shop) writes:
"This ever-so-chic bolero from the early 50s and Vogue can be glamorous in satin or velvet, or crisply smart in linen or cotton. Awesome style!
The bolero is beautifully dart-fitted, with plunging V-neckline, stand-up wing collar, elbow-length French sleeves (almost dolman) that are pleated and buttoned at outseam hems, has a single buttoned tab closing, and is fully lined.
Droool."
My thoughts exactly! Drool is right. And it's mine all mine! What do you think about navy, for the Twin Spruce Dress? White cotton or linen for the summertime? Velvet for the holidays? Ooh… how about a nubby brown tweed? So many possibilities!
Can't wait to get it in the mail!