Hey everyone! Today we get to look at some inspiration and start planning for the Yaletown Sew-Along! But let's get a couple of things out of the way first.
Here is the sew-along badge. Feel free to put it up on your blog or website if you're planning on sewing along with us.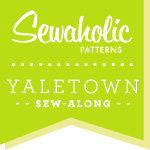 You can right-click the image to save it to your computer. If you'd like to add a link to your badge, use this one to find all of the Yaletown sew-along posts quickly and easily!
http://sewaholic.net/tag/yaletown-sew-along
Yaletown Sew-Along Schedule
Here is the schedule for the sew-along.
Today – Styling Inspiration
Monday, August 25th – Fabric Suggestions, Choosing a Size, FBA/SBA, and FAQ
Monday, September 1st – Cutting, Gathering Supplies
Monday, September 8th – Preparing Bodice and Sewing Facing (Instruction Steps 1-4)
Thursday, September 11th – Finishing Facing, Sewing Bodice Side Seams (Instruction Steps 5-7)
Tuesday, September 16th – Sewing Skirt / Lower Blouse (Instruction Steps 8-10)
Thursday, September 18th – Sewing Bodice to Skirt, Sewing Elastic Casing (Instruction Steps 11-13)
Tuesday, September 23rd – Sewing & Attaching Sleeves (Instruction Steps 14-17)
Thursday, September 25th – Hemming, Sewing Tie Belt (Instruction Steps 18-19)
Friday, October 2nd – Thread Loops and Securing Neckline (Instruction Steps 20-21)
After we are all finished, I'll invite you to share your versions and then do a couple of round up posts a few weeks later! (The best part!)
The pace will be very manageable, and don't worry if you fall behind – it will be easy to catch up! All of the sew-along posts will stay on the blog forever, so you can always come back and refer to them if you decide you'd like to sew-along some other time.
Let's talk inspiration and styling! Wrap dresses and blouses can go so many ways. I can imagine the Yaletown dress being perfect for a wedding in a gorgeous silk print. I can also see it as an effortless beach dress, out of a cotton voile or lawn. It's a great dress to take from day to night – wear it to the office during the day, and then add some heels and red lipstick for cocktails or a dinner date in the evening! And don't forget the Yaletown blouse! The blouse is such a great wardrobe builder – pair it with a pencil skirt for a feminine and chic look, or with jeans or trousers for a more casual vibe.
So how about some wrap dress inspiration?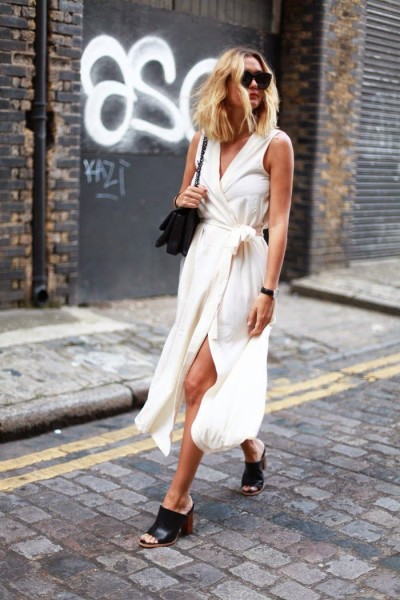 (source)
Don't fear white (or cream!). This is such a great look. A simple cream wrap dress, some black heels, black bag, big sunnies, messy hair. I love it!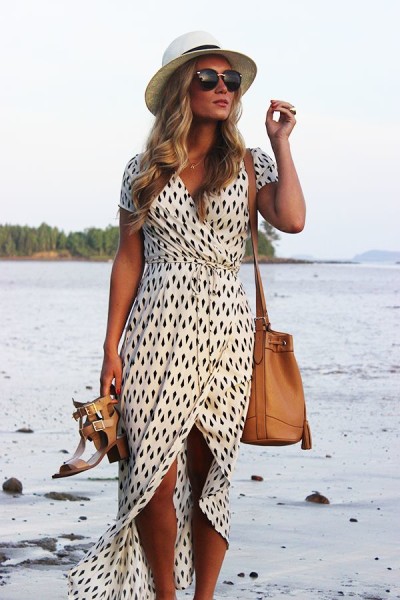 (source)
If you don't want to go all cream, why not a print with a cream ground? Also, that hat, right? Makes the outfit.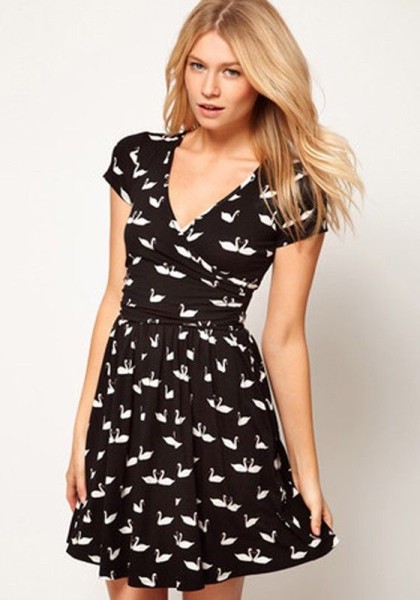 (source)
There is something about the loose style and fluttery sleeves of the Yaletown dress. It would pair really well with a fun, whimsical, printed fabric!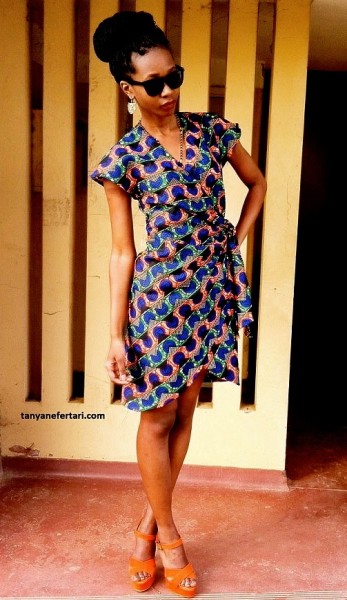 (source)
Look at this incredible African print! I love the idea of an African print, or any bright punchy print. Oh, and those orange shoes can come home with me please, and thanks very much.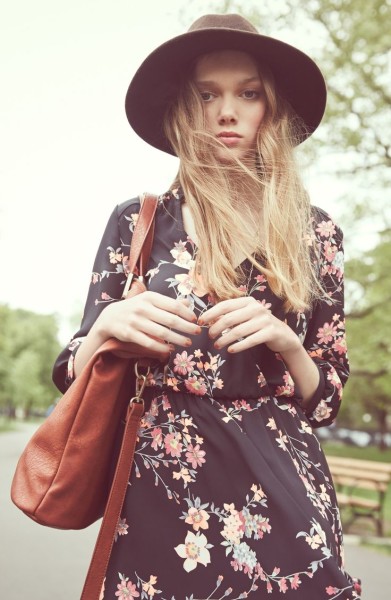 (source)
Another hat! I'm loving the hat and wrap dress combo. This floral print really gives this dress a classic, easy to wear look.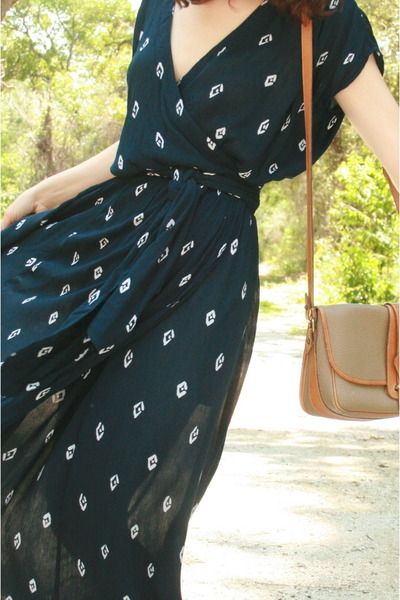 (source)
I can't tell if this is chiffon, or just a lightweight challis with light peeking through, but I adore this look. The print is subtle, the bag is classic, and the dress is so flowy and pretty! You could easily get this look by lengthening the Yaletown dress. If you wanted to use a super lightweight or sheer fabric, adding a lining would not be too difficult (I'll talk more about this later on in the sew-along!).  Or you can just whip up a handmade slip!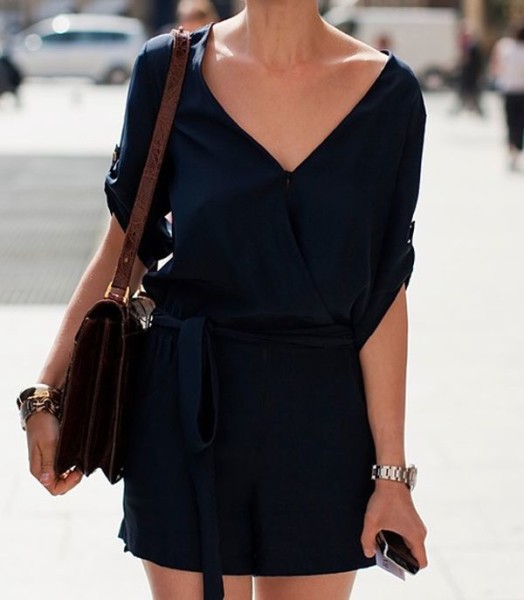 (source)
How about shortening the Yaletown dress? This would be so cute! I actually think this is a photo of a romper, but you get the idea. It's cute and sassy and I may have give to this length a go myself!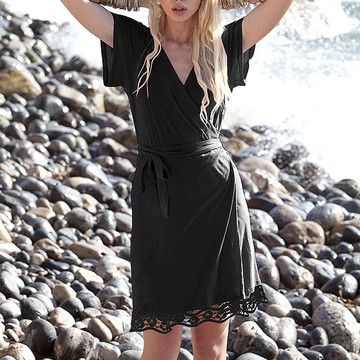 (source)
Adding a lace trim to the hem is a great idea! This simple modification would be super easy but it adds a great feminine touch.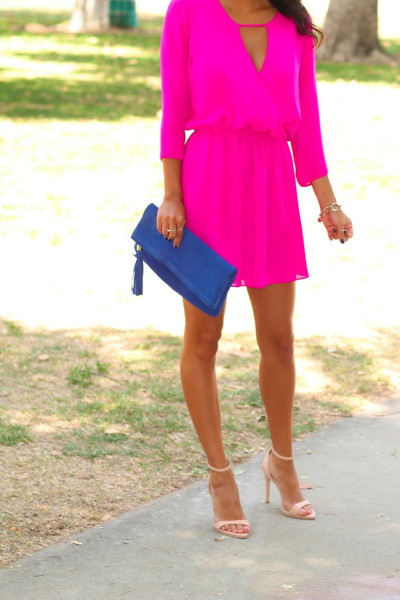 (source)
We suggest to tack the wrap closed at the bust, or add a button to keep it in place. But how cool is this idea above? I love it. It would be pretty easy to replicate this. You could create a strip of fabric as if you are sewing a strap, and tack it to the facings after the dress is sewn up.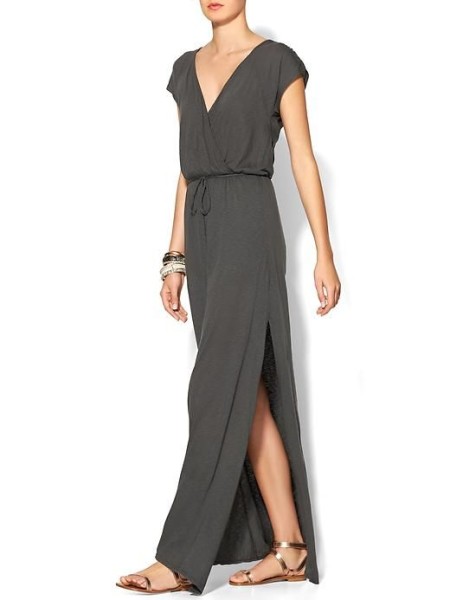 (source)
I totally want to try a maxi version! And since I have a thing for slits lately, the dress above is right up my alley. I also like the simple self cord tie as a belt. I'm into it!
I'd love to hear about your plans for your version! Are you planning any fun mods? Inspired by a particular look? (Share a link with us!)
I'll be back next week to talk fabric, fit, bust adjustments, and answer some great questions that have come up so far.