I liked the Bleuet Dress so much, I made it again! (First version here.) I often intend to sew things up again and again, but it doesn't always fit into the rest of my sewing plans. There are too many new things I want to make usually. This time, I knew I liked the dress but wanted to tweak a few of the details to make it even better for me.
Here it is in a lovely pale pink linen. Simple and summery! The linen is from Blackbird Fabrics, called Washed Italian Linen. (I still prewashed it again before sewing even though it's called washed linen.) Most of you voted to sew the linen next in the comments of the last post, and I agree, it's a beautiful choice!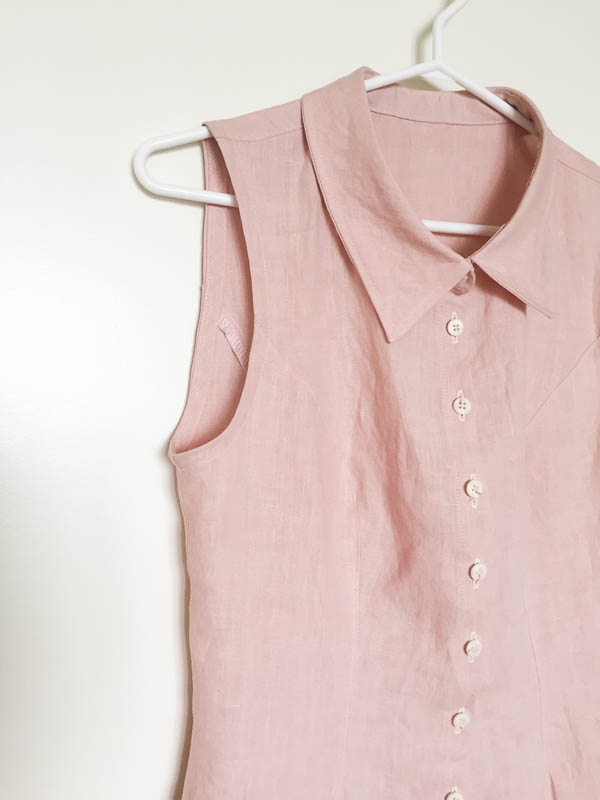 Changes for Bleuet #2: I skipped the bow, and I reduced the flare on each princess seam panel by 1cm each side, except for the two back seams which I reduced by 1cm total.
Skipping the bow means it works with a belt and without. Here's a quick in-the-mirror look at the belted option: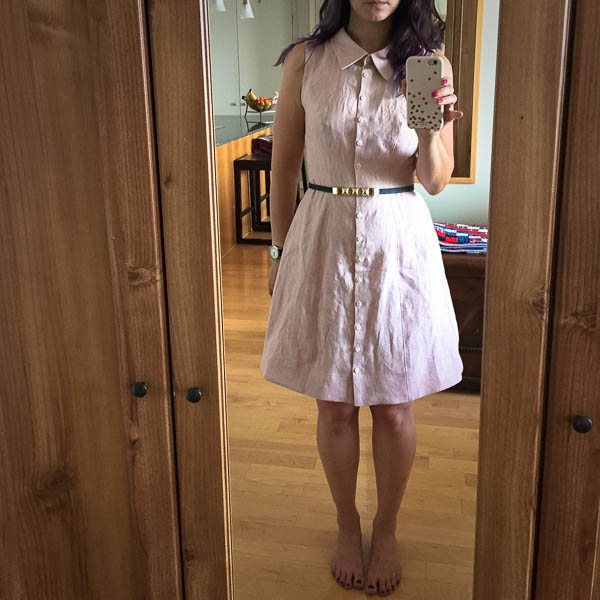 I serged my seams, testing it on scrap to ensure it wouldn't show through the light-coloured linen. I did edgestitch the princess seams, which the pattern instructs you to do and I didn't do the first time around.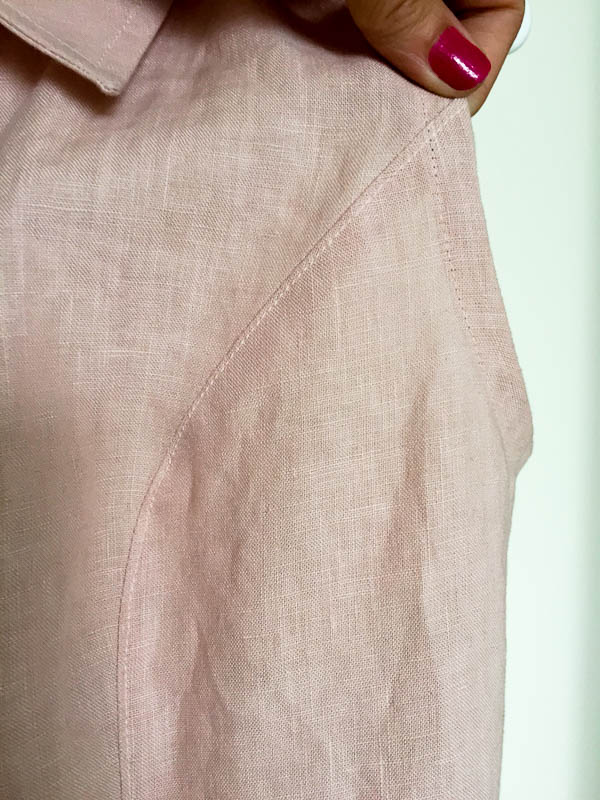 To add a tiny bit of extra length, I sewed the hem facing with a 1/4″ (6mm) seam allowance. On the hem I did a double topstitched hem, since it was going to show anyways I made it into a design feature. I also stopped at the button band instead of sewing across it, and that looks cleaner to me.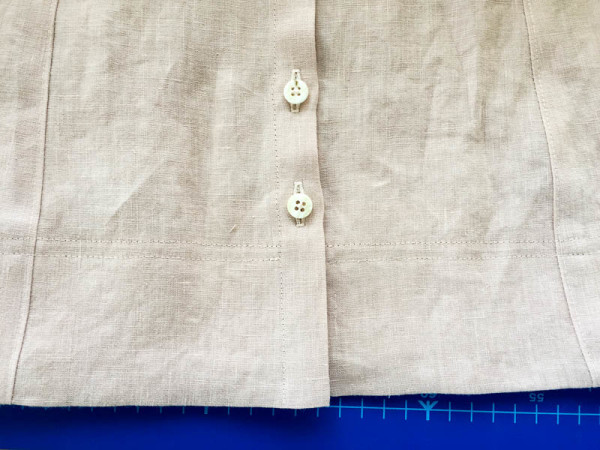 Tips to add: Mark both the starting and ending points of your buttonholes when there's this many. There are so many buttonholes so close together than they need to look evenly spaced or it'll be obvious and look sloppy.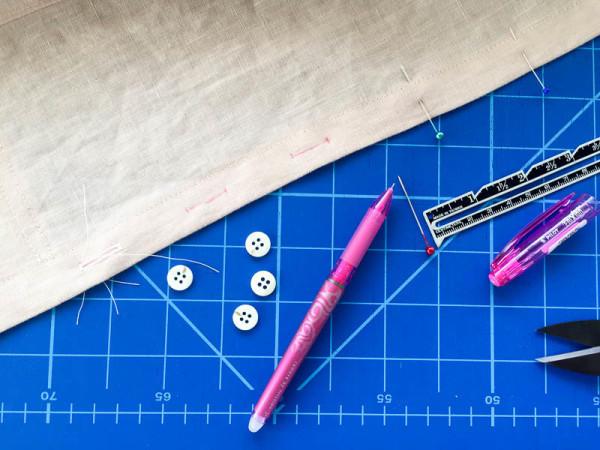 I marked them with a Frixion pen, it looks like a gel ink pen but disappears when you iron it!
The buttonband is a nice size for my buttonhole foot. It's easy to centre the foot over the band and the buttonholes end up in the middle like they should. (Side note: I love this super plain buttonhole foot for my Pfaff. I do my buttonholes the most manual way, pressing a button to tell it when to stop and turn around, and then pressing the button at the end to stop and sew the final bartack. I like the control it gives me.)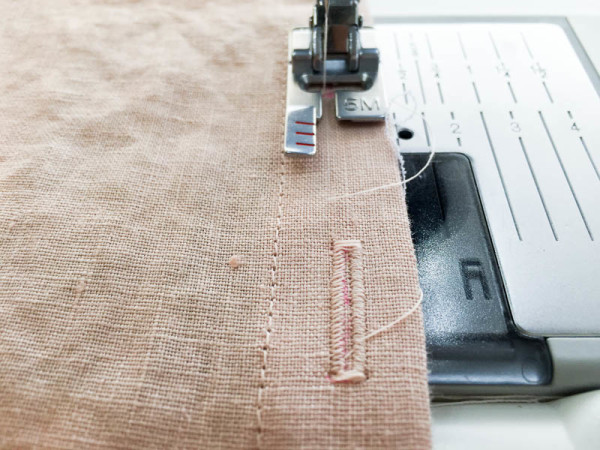 I didn't interface the buttonbands, but in the linen that might have been a good idea so they don't open up like little mouths.
My armhole binding is especially nice in the linen. I sewed it on with a 1/2″ seam allowance instead of 5/8″, making it slightly wider, which turned out well.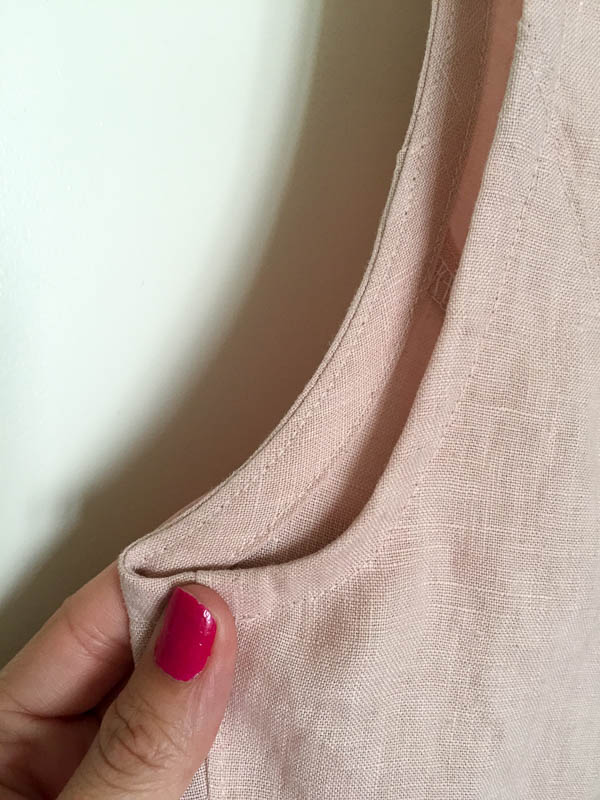 Collar looks nice, too. Any project is easier to sew the second time around. You're focused on fine-tuning the details and improving your skills from the first version.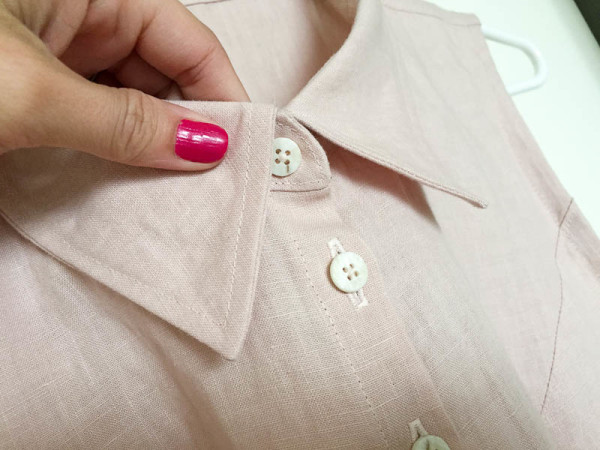 I wanted to show the detail photos when it was freshly pressed, because after ten minutes sitting down it's all wrinkled! Also, in these photos, I'm wearing a slip that has seams and it shows through the linen. It's a fine balance – the linen on its own is a bit lightweight and sheer, but with a slip there's another set of seams and edges to show through and then you lose the coolness of wearing only linen.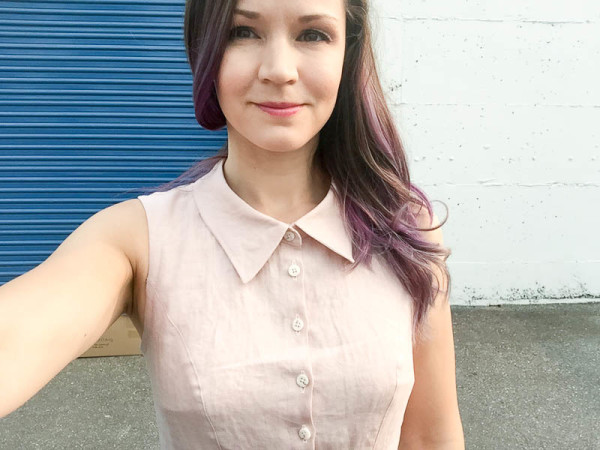 Okay. Also, you can see that the collar has a mind of its own. One side wants to lift up. Linen has natural spring and resilience, and that spring and body is making one side jump up and not sit flat. (If it's only visible to me, then I'll tell you it's the side where my hair is.)
The pink colour is a beautiful soft neutral. I want to wear things like this, soft and muted, but I don't often buy fabric like that. Prints and brights are what I gravitate to. I think that's changing. (Part of that is the purple hair. It looks better with solids, greys and blacks, and I've shifted my wardrobe to match.)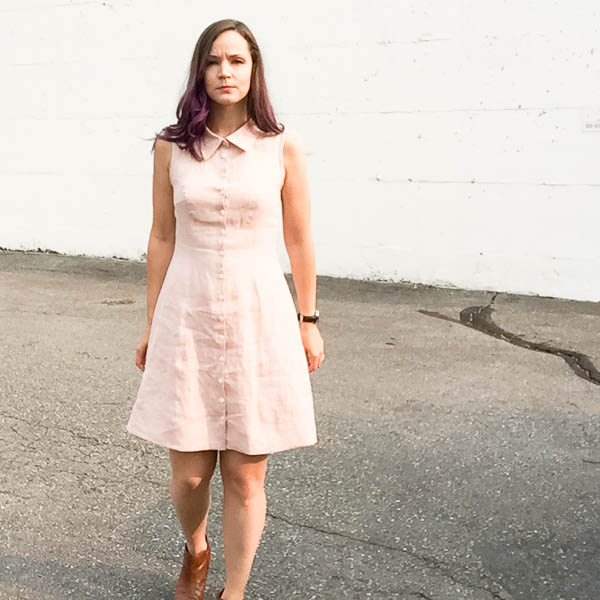 Some side and back views. It's shapely through the back, without too much flare at the hem. Taking out the extra flare at the hem was a good idea for this fabric. It's still A-line and doesn't cling. and it looks more natural than having so much extra ease and volume.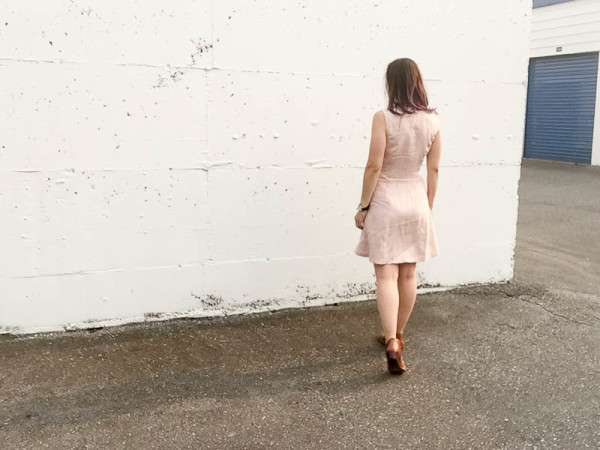 The princess seams through the back bodice ripple a little, and I think that's from serging the seam allowances. For a flatter look I could have flat-felled the seams instead of serging, or mock flat-felled them, or sewed French seams although I think flatter is better.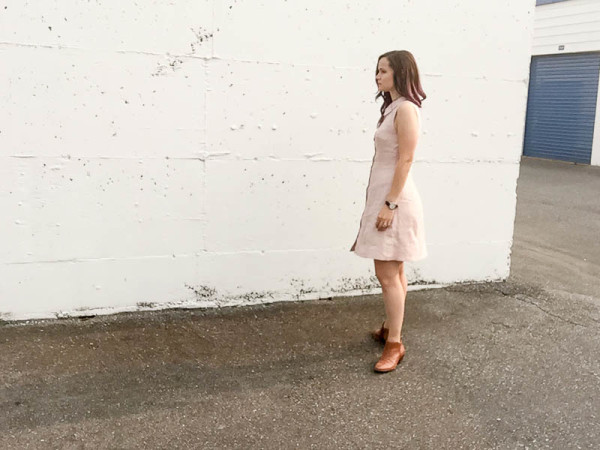 Serious wrinkles. I forgot about them when editing the previous photos but wow can you see them here! It's kind of cool that wrinkles are acceptable in linen. I really want my clothing to look crisp and smooth, but you just can't fight the nature of linen.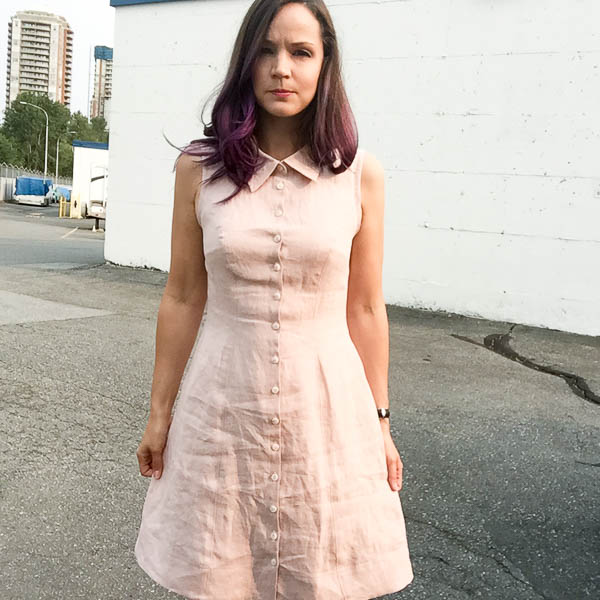 This is a dress you have to iron every time you wear it. I'm okay with that.
What I'd change next time: add interfacing to the button side of the button band. Ensure that the collar lies flat, by cutting the undercollar smaller like in this tutorial.  Find a way to sew smoother, flatter seams in the back bodice, and do the same on the front for consistency. I should also reconsider whether to wear a slip underneath, or find/sew one with less seaming.
More notes on this pattern here, in my post about the first version.