Yay for sewing progress! Desperate to make progress on my wrap coat, I sewed up the belt for the coat. When life gets busy, it's nice to make small steps on a big project! And I really want to wear this coat. It's rainy, it's cold and damp, I love the idea of snuggling into a warm and cosy coat that looks great too!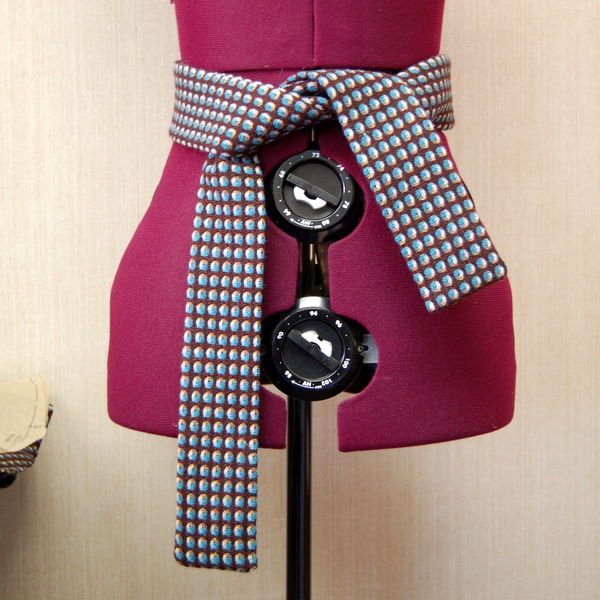 Thanks for all of the comments on whether to interface the belt or not. In the end, I decided to use a lightweight fusible interfacing, a really nice, soft, non-crunchy fusible. It adds just the right amount of stability I was looking for.
Here's how light the interfacing is – it's soft, drapey and adds body without stiffness. (That last phrase sounds like an ad for hair gel!)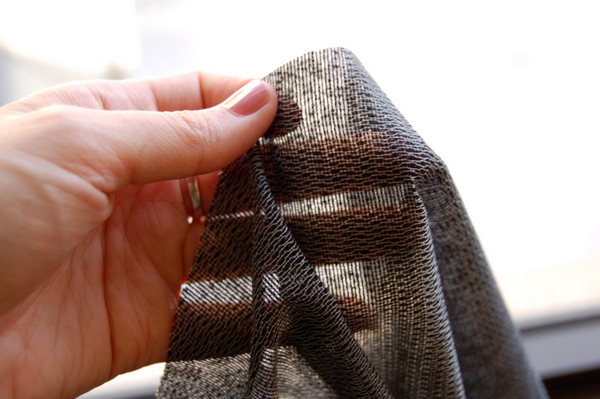 I liked the suggestions to cut up the muslin and use it as sew-in interfacing, but I didn't for two reasons. One, I like to keep the muslin out for reference, just in case, while I'm sewing up a project. And two, there wasn't a long enough section of muslin to cut the belt without seaming it.
A tip on sewing a belt out of patterned or striped fabric: make sure to line up the pattern lines along the belt seam. Interfacing can hide the fabric's pattern, so peek inside and line up the pattern or print lines as best you can. If it's pinned evenly, it'll be easy to sew it with the print lined up. Use lots of pins for extra confidence!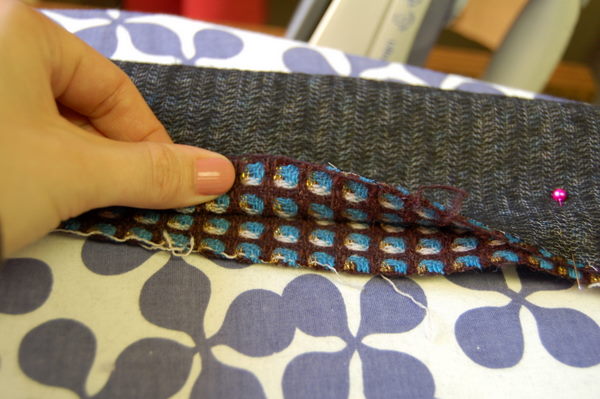 See how thick the final belt is? (You can tell I took these photos before my big announcement, as I am still wearing an old ring, not the ring!)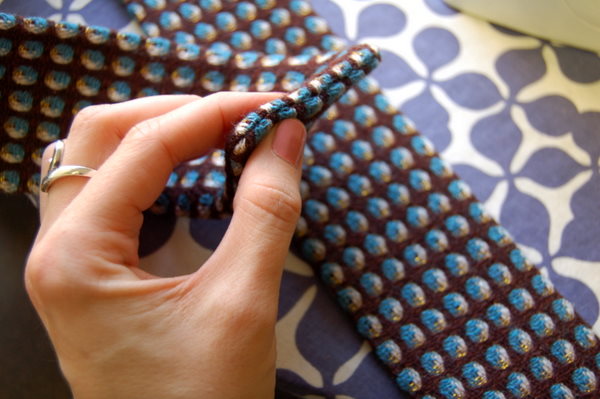 I'm going to wait on the topstitching, just in case I change my mind about it. It's supposed to have 1/2″ topstitching all around the belt, which looked nice on the muslin belt.
How do you work through big projects and balance a busy life? Like anything, I take it one step at a time. That's all we can do! One baby step towards completion, no matter how small, is better than no steps at all.
PS. Are you on the Sewaholic Patterns mailing list? I sent out an update yesterday, so check your inbox and possibly the junk folder as there was a picture in the email! This update has already received an enthusiastic response which is awesome to see! (Not on the list? Sign up here to stay in the loop on new patterns and special offers.)