If you've been reading sewing blogs lately, you may know that the fearless and talented Zoe of 'So, Zo' is leading another Me-Made challenge! Starting in the month of March, participants pledge to wear ONLY handmade items, at least ONE handmade item, or a combination of handmade, thrifted and refashioned items.
At last check, over 140 people worldwide have signed up to join in this challenge! It's really inspiring to see how many people will be proudly showing off handmade creations this month. Are you part of the challenge too?
I participated in Me-Made-May last year: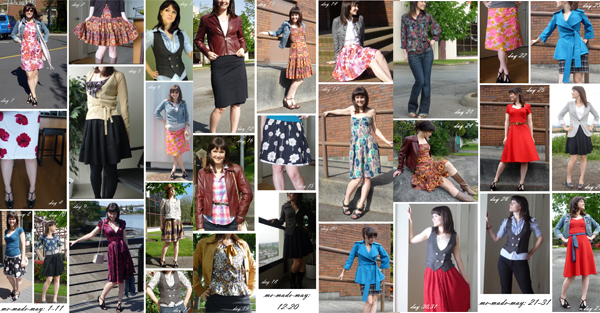 And in the Fall, I participated in Self-Stitched-September as well: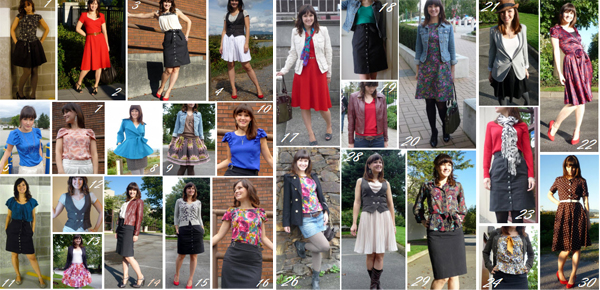 So you might wonder, why have I not signed myself up for the March challenge? Well, here's what went through my mind…
1. I haven't gone off the idea – I still think it's brilliant! I love the spirit of the challenge, celebrating our handmade garments and wearing them with pride. I love the concept of working your handmade items into your everyday lives, or working your everyday lives into the garments you make.
After Me-Made-May, I thought about how much clothing one person really needs, and donated the unworn, unloved items in my closet to Goodwill. Also, I became prouder to say I made something, and stopped worrying what people might think. And I wore a strapless dress with a built-in corset to the office. Would I have ever put that on for work otherwise? Probably not!
Self-Stitched September was a little harder. I posted daily updates, and found myself wishing for more basics in my wardrobe. Apparently, I don't listen to myself, because after that I made two printed dresses. Oops!
If you've never participated, you should try it! It's a great way to show off what you've made, and perhaps wear that pretty dress to work instead of jeans and a sweater. It also shows you what kinds of things you'd need to sew, if you tried to wear only handmade items.
2. It would be so much easier to get the photos now that I'm not doing the nine-to-five thing! Documenting the outfit photos, and posting them every day, while thinking up witty things to say about each outfit, was hard to do when working full-time and then some at a demanding job. So I could easily make time to get out and pose for photos…
3. However, it would be a bit of trickery. These days I am either working at home, or going to school. Don't get me wrong, I do get dressed for school! I even wrote it in my business plan that I plan to wear handmade clothing for all business-related events. But I feel like a good portion of my Me-Made-March photos would be pretend, like I would get dressed in a cute handmade outfit, take a few photos, and then put my sweatpants back on. So you would think, "Look at the effort she makes!" When in reality I'm at home in comfortable clothes in front of my computer or sewing machine. I'd hate to mislead you guys!
So how about this? I'll endeavour to wear cute, handmade outfits every time I leave the house. And perhaps, I'll snap a photo now and then. But I won't toss my hat in the ring for the challenge this round, not officially anyway.
Are you participating in Me-Made March? I'd love to hear if you are, and look forward to reading about your experience with the challenge!