Tons of exciting things, of course!
First off, I can't wait to show you the next pattern, the one that comes after the Cambie Dress. I may have extra love for this new pattern because it's my baby, but it's turning out wonderfully. It's something you guys have been asking for, that's the only hint I'm going to give you! And the pattern after next might be my favourite one of them all. Ok, enough cryptic talk. New patterns are in the pipeline and they're going to be good!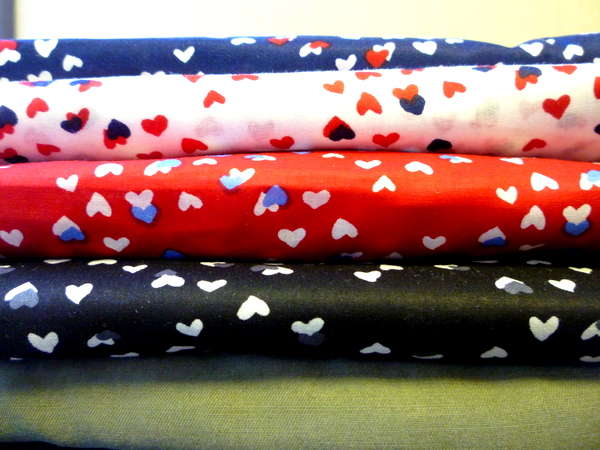 (some of the lovely fabrics in my sewing space these days – yes, I bought a little bit of each colourway in the same print! -from Telio)
For the upcoming new patterns, I'm working on tutorials to post when the patterns are announced. It's worked well with the Cambie Dress, posting tips and suggestions and tutorials. You know, the things that might scare you about the new pattern, are explained with plenty of colour, step-by-step photos.
There's only so much space on the instruction sheets, but I can post as many photos as I want here, and write as many words as I need to explain something thoroughly. Not only demonstrate how to do things, but also to explain why certain things are done, and how to adjust to suit your preferences and skill. That way, when your new pattern arrives, you'll be well-prepared to get started right away!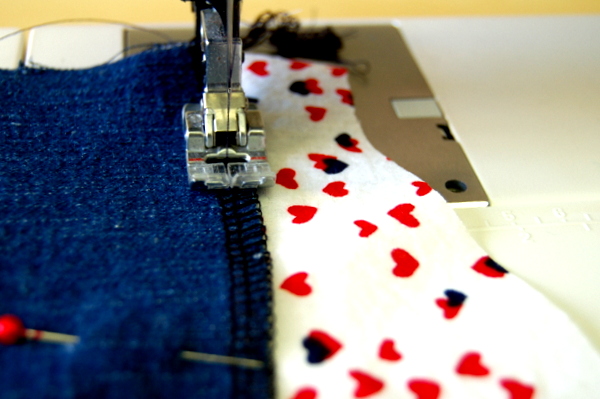 (part of an upcoming tutorial!)
And speaking of patterns, there are now forty-five retailers that carry Sewaholic Patterns. Every week that number keeps on growing! You can also find patterns for sale on PatternReview.com and my hometown local store, Fabricana!
Sewing the Dotted Minoru Jacket. Hopefully sometime before Fall! I haven't cut the fabric or anything since I last mentioned it. It's sitting on my shelf, waiting patiently for me to get around to it. I wish the jacket was hanging in my closet already.
While I wish I had at least started the project by now, it is nice to know I have all the materials – fabric, zipper, lining – on hand for when I'm finally ready to start. Doesn't that make starting a project more enjoyable, when you know you won't be digging for a zipper part-way through or hoping you have enough interfacing to make it through?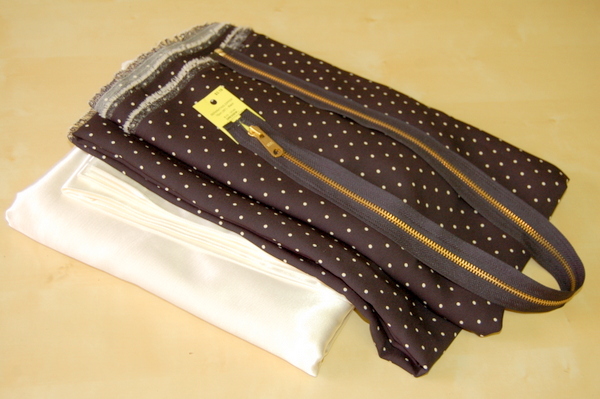 On a different creative note, I bought Little Red in the City, a knitting book with seven patterns as well as tips on knitting sweaters that fit, from a recommendation in the comments of this post – Pink Pullover, or Sometimes You Don't Know Until You Wear It… Thanks Eleanor for the suggestion!
The patterns look tricky but beautiful, and there's a lot of math and figuring involved.  However, this book has all kinds of information on how to fit a sweater, how much ease there should be at each point of the body, and how to adjust for your body. Yay! We'll never have a growing-sweater mishap again. (Or we might, but at least I will be armed with information to fix or prevent it next time.) I know not all of you are knitters, and it could be boring (or just a big tease) to see things you can't make, so I'll keep knitting-related posts to a minimum.
That's it for me! Patterns in the pipeline, useful tutorials and project ideas to go with new patterns, fun-sewing projects if time permits, and in my spare time, learning to knit better sweaters. It's a busy place over here! Busy, busy, but always fun.
What are you working on these days? Hope you're having fun with your current creative projects, too!