Happy Monday, everyone! I'm still putting together the next Sew-Along post, so I'm changing the subject just for today. Thanks for your understanding, I will have the next chapter up tomorrow!
I spent an afternoon sewing at Spool of Thread last week, for a change of scenery. Thought I'd tell you what it's like to drop-in and sew! It's nice to know what to expect before venturing in. So here's how the sewing lounge works, what I brought and what's provided, and whether I'd drop in again. Feel free to ask me any questions about my drop-in experience!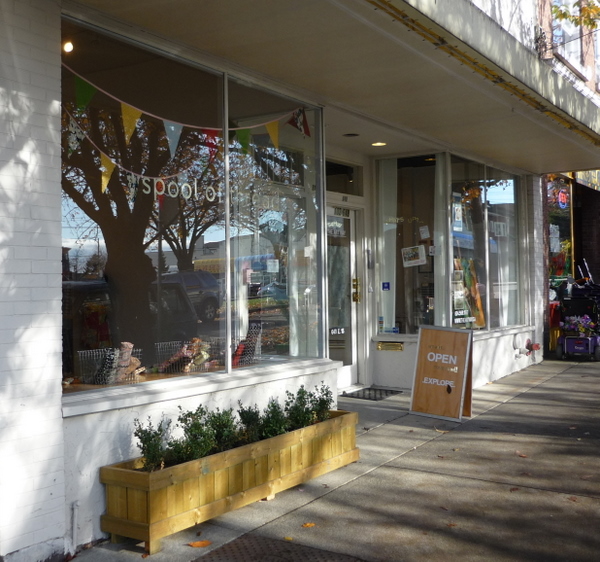 What did you bring?
Fabric for my project – I cut it out at home
Thread
A couple of other projects in case I changed my mind
What's provided?
Cutting table
Sewing machine
Pins
Pincushions
Scissors
Grid ruler
Rotary cutter
Iron and ironing board
Serger
Dress form
Mirrors
Parking: 2 hours free on the street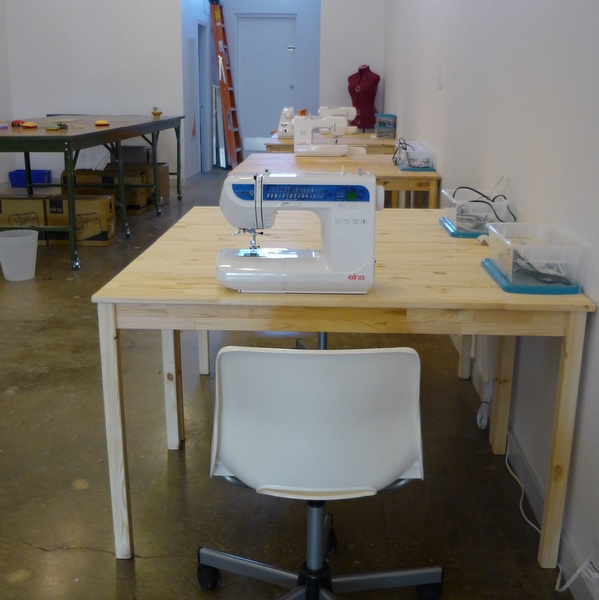 What's the equipment like?
Cutting table: awesome! It's so nice to use a higher table, instead of bending over my dining table to cut. There's so much space to work, the table is five or six times the length of my dining table. Love it!
Iron: better than my home iron! This all depends on what your home iron is like. Mine's functional, it doesn't spit rust on my projects, and it shuts off automatically. So it works. The irons are a step up from mine, with a steam button and very fast heat-up times. There are three ironing stations set up around the cutting table.
Pins and pincushions: Lots, in little cushions and bowls all around the place. You can reach out for a pin and grab one easily. They're the good kind with large coloured heads.
Sewing machine: I really like my home machine, so it's hard for me to like anything better than mine. These are good solid machines that sew nice tidy stitches, which is a good review in my books. There are cool features – like a speed dial! You can dial it down to turtle speed or up to rabbit speed. The bobbin is visible through a clear cover, so you can see when you're about to run out.
Scissors: Good! Clearly marked with 'fabric' so you know which ones not to use on paper.
Note: I didn't use the serger, the rotary cutter or the grid ruler. I didn't bring serger thread, and there wasn't a lot to serge on my project so I zigzagged. I'll test it out next time and report back! Same with the rotary cutter, once I have something to cut out.
How does it all work?
You show up, and Henry or Lili will take note of the time you arrive. Henry was there when I went, and he was super helpful! They'll help you thread the machine and wind your bobbin, as every machine is a little bit different.
Work as long as you want – as long as there are no classes scheduled! (Call and check before you go, just to be sure.) If you need supplies – dress form, iron, anything – just ask! If you need thread partway through your project, there's thread for sale. (How handy is that?)
When you're ready to leave, pack up your stuff and pay your tab at the front desk. Pick up any supplies you need for home, and any fabric that you can't leave without.
Would you go back?
Absolutely! It may seem strange to go somewhere else to sew when you have the equipment at home. But when you go somewhere to sew, that's all you're there to do. It's too easy to get distracted at home with chores, laundry, and television. Especially when I have to be self-directed! So it's nice to be able to totally focus and sew. Bonus: you meet other people who like to sew, too!
I especially liked using the cutting tables – something I'd never be able to set up at home. It's worth it to be able to cut out a ton of projects on a comfortable, back-friendly table. Also, how awesome is it to sew with tools and notions available? Run out of thread? It's right there! Tempting though, to buy more fabric when you're surrounded with pretty fabrics while you sew. (I was good though, all I bought was thread for my next project.)
All in all, it's a great way to work without distractions. Plus if you wanted to sew together with a friend, there's enough space to work without having to share a machine.
Hope you had a fun and productive weekend, it's back to the Sew-Along tomorrow!