The great part about knitting? You can do it in a car! (As long as you're not the one driving, that is. I'm lucky that Mr Sewaholic likes driving more than I do.) Here's what I made while driving across the United States.
Vancouver, BC, Canada to Boise, Idaho: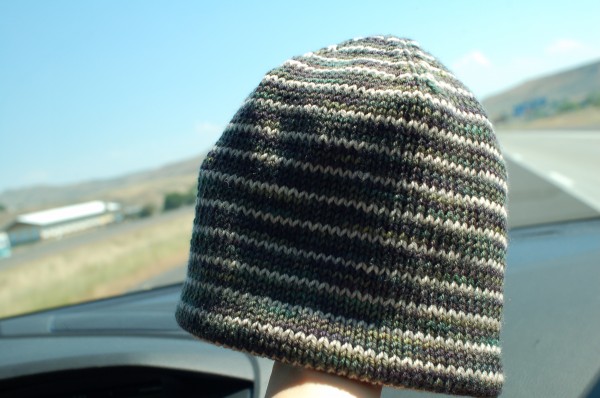 Remember last year I knit Mr Sewaholic a birthday hat? I also made him a Christmas hat, that he promptly stole before I could save it for the holidays. Unfortunately, when the weather grew colder and he started wearing the hats, he found the wool too scratchy! (I then made him an acrylic hat, which was not fun to knit with, but he loved it.) This time, I picked the softest, superwash wool I could find for Hat Number Four. And it worked!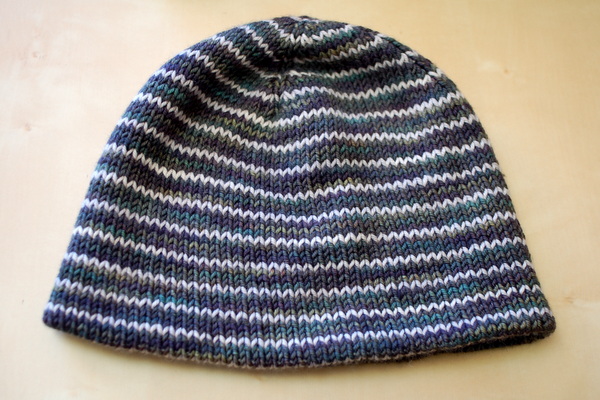 So far, the superwash wool (Tanis Fiber Arts Green Label, if you also knit for someone who's sensitive to wool in your life) passed the itch test. Though we'll see how he feels when it's hat season and he's wearing it for longer periods of time. I wrapped up the balls of yarn for his birthday to make sure he liked the yarn first, and then knit up the hat on the road! Click here for Ravelry notes on this project.
Boise, Idaho to Cedar City, Utah:
The pattern is Pasha, by Jane Richmond, using a silk-wool yarn. Sadly, just before finishing, I ran out of yarn!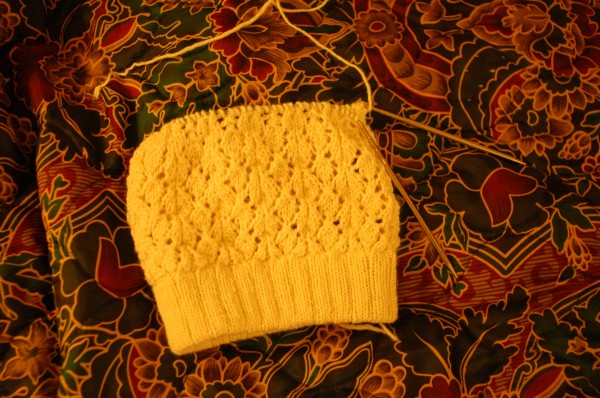 There it is on the bedspread at the Cedar City Super 8 Motel. Obviously not enough yarn to knit for another inch and then start decreasing for the top of the hat like I was supposed to do! I debated making it a tiny hat, but ended up ripping this whole hat out and starting again later on…
Cedar City, Utah to Kanab, Utah: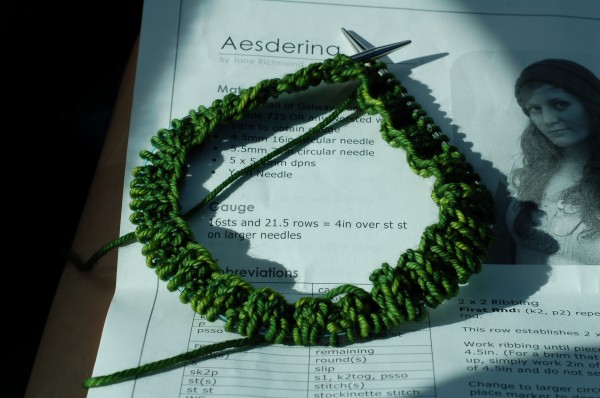 After running out of yarn on the last hat, I picked the easiest pattern for my next project (Aesderina by Jane Richmond) one that I knew was certainly going to work out. And it did! This hat looks a bit funny when it's flat, but feels cushy and cosy when it's on the head.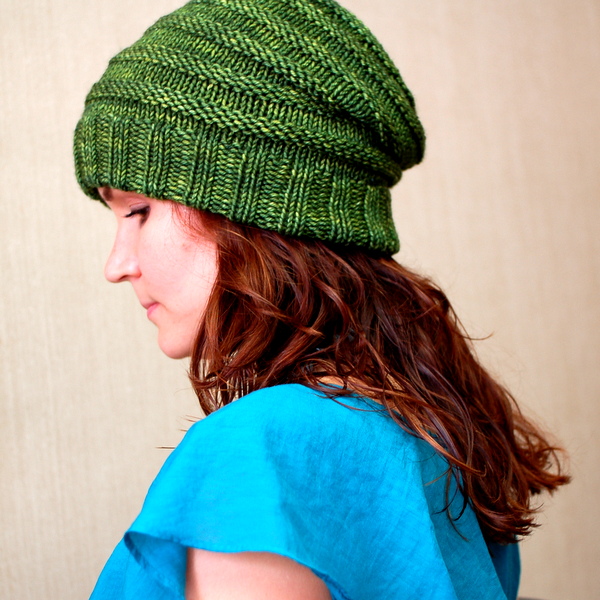 The doubled brim hugs the ears nicely. I love the colour too! I'm drawn to greens and blues these days and this is the perfect greeny-green. (Madelinetosh Vintage in Jade, if you wondered.) Ravelry project notes and more photos here.
Kanab, Utah to Portland, Oregon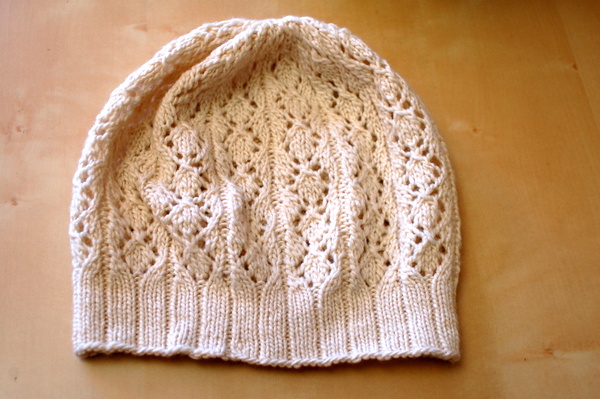 Ripped out the first try at the white hat, started again without the doubled brim. I'm sad because I love the double brim! I feel like the thicker folded edge looks more finished and won't stretch out as much. But overall, the finished hat turned out pretty so I'm all right with the unfolded brim. Ravelry project notes here.
Portland, Oregon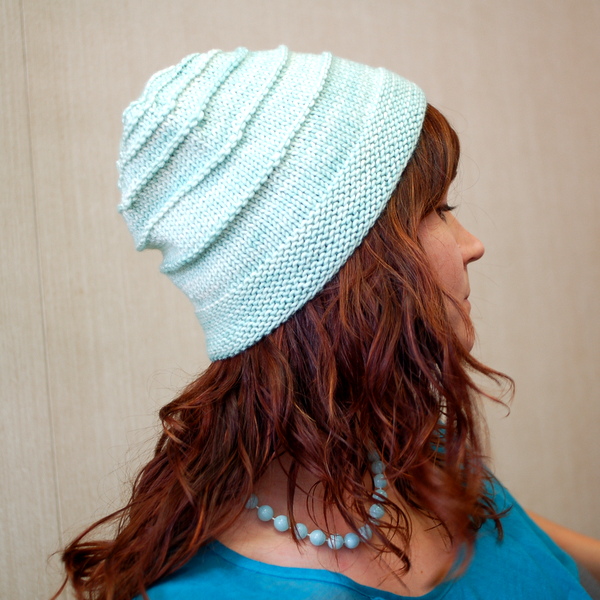 This was a fast one! No doubled-brim, plenty of plain knitting with just enough interest and mini-goals (quick – get to the next purl ridge!) to make it go by quickly. With hats I think there's a lot of experimenting to find out what kind of hat styles suit you. It's like you have to finish it to find out whether it works or not.
Pattern is Fjord, yarn is Madelinetosh Vintage again in Wash. I'm loving this pale minty green these days! It's a colour I thought I couldn't wear, but recently decided it actually looks all right on my skintone. Ravelry notes here – I know not everyone is on Ravelry but I'll keep including the links for each project, for those who are!
Portland, Oregon to Burnaby, BC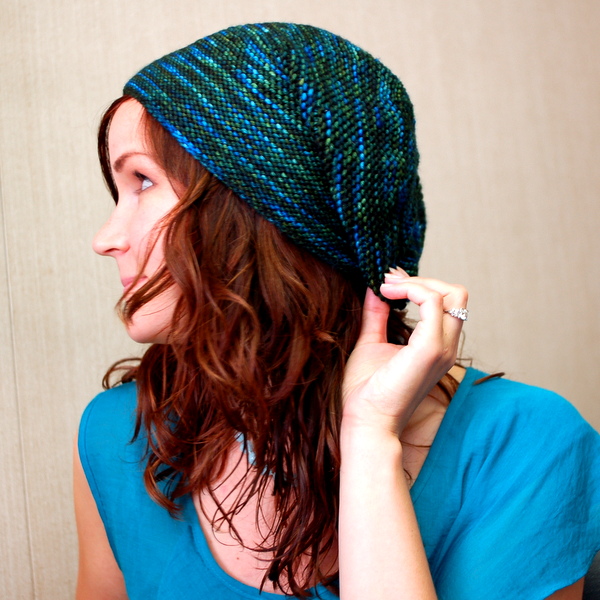 I finished this one at home but I'm still going to count it. After all the hat experimentation, this one is the favourite! Go figure, I was really unsure about knitting this one. Even when I was a quarter of the way through it, I was thinking – should I rip this out? Is this going to be cute? What's cool about this hat is that it's a free pattern designed by Happy Knits, and I actually bought the yarn when I was at Happy Knits, so it seemed like a perfect match! (Ravelry notes and tons more photos here. I had fun with this one!)
Why so many hats? They're a cool way to try out different yarns on small projects. (And because you don't need to make them in pairs..)
Thoughts on knitting on the road:
Bring all of your tools! I wish I'd brought my interchangeable needle set, for when I bought more yarn on the road and wanted to make something new. Instead, I was limited to the few sizes of needles I brought with me. I also lost my tapestry needle and had to buy one on the road! Which leads me to the next point…
Map out yarn shops en route. That way, if you lose something, you'll be able to replace it! Finding a replacement tapestry needle on the road was a challenge.
Pack things well. If I were to do it again, I'd put all of my tools into one hard case. Instead, I had a couple of different plastic bags that often were left open – I think that's how the tapestry needle got away! I also lost a rubber point-protector but thankfully, none of my actual knitting needles.
Choose simple projects. Aesderina is a great hat for road-knitting because it's so simple. So is the Christopher Hat I make for Mr Sewaholic. Something like the Honey Cowl would be great as well – anything where you're not constantly referring to the pattern.
Worried about getting queasy if you're prone to motion sickness? You might be all right! I get carsick when I read, but not when I knit! I think if I were reading a pattern along with the knitting, it might have been different but by choosing easily-memorized patterns, I avoided the possibility of sickness.
Knitting sure makes a long drive go by faster. I get restless, I'm the kind of person that can't even sit through a television show without keeping busy somehow, so knitting is a great way to make long car rides fun. (That and taking out-the-window photos!)
Do you knit in the car? What projects worked well for car-knitting and do you have any tips to add?