Today's question of the day: What do you like best about sewing blogs? Do you read sewing blogs to learn, to get inspired or to encourage yourself to try new things? What keeps you coming back to read more? Out of all the sewing blogs out there, what kind of blog posts do you enjoy the most?
I'm curious because sometimes I wonder what to write about. (Especially when there is a lack of sewing happening here, or at least a lack of photograph-worthy sewing projects.) I wonder if you guys are interested in knowing more about the business and how it works behind the scenes. I wonder if I should talk about future plans that may or may not work out, just in case they don't. I wonder how much personal details to share because I'm really more of an introvert, even though you might find that hard to believe because I'm always on here talking!
I started blogging because I was full of ideas and sewing thoughts and needed a place to put them. Recording my sewing projects was fun, it gave me a place to make notes about what to do next time, and taking a step back and looking at my projects in photos inspired me to keep on sewing! Nearly three years later, I'm in a totally different place, work-wise and sewing-wise. I used to sew for fun, making stuff for enjoyment because my day job was uncreative. Now I have even more sewing-related things on the go, but often it's way too early to start talking about them here or you'll be bored by the time the pattern launches. (And I like the element of surprise!)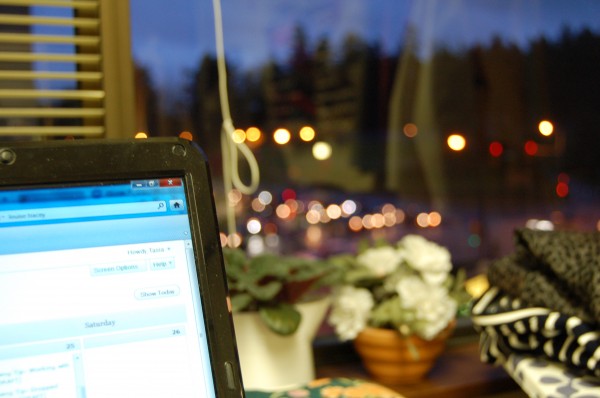 (what sewing-blogging looks like, from my point of view)
So I thought I'd ask – what's your favourite thing to read about on sewing blogs?
Finished projects. I think this is what I like best about sewing blogs, seeing finished projects. I love to see the perfect match of pattern and fabric, and seeing someone's vision come to life. It's so helpful to read someone's honest notes about what worked, where they got stuck, and how they made the project their own.
Work in progress or planned projects. Do you want to see works in progress, or just the finished garment? What if the project never gets finished? I'm totally guilty of starting and never finishing projects. Last year, I had more time available to explore personal sewing projects. This year, it's been twice as busy, at least, with little to no time to sew things just because. Does it bug you or bore you to see things in the working stages?
Tutorials, demonstrations and tips. I feel like this is the good stuff, the helpful stuff that I can share that will be the most useful to you guys. There are so many little things I think of when I'm sewing that I want to share! I like writing tutorials and explanations and based on your feedback, my how-to posts are clear and easy to follow. And likewise, I enjoy tutorial posts on other blogs. Just when I think I know nearly everything there is to know about sewing, I discover a new method of doing something, or a tip that I'd long forgotten. I like to see the insides of projects, I like to hear tips that you used to make your projects come together easier. There are certain things I prefer to sew – woven fabrics, structured garments, retro dresses – but there's also a whole world of things I haven't fully explored, like sewing underwear, bras, bag-making, or quilting. So I enjoy tutorials on these subjects, as I love to learn new things!
Life stories. Do you enjoy vacation pictures or random life posts on sewing blogs, or do you prefer all-sewing content, all the time? I think I have a one-track mind, all sewing, all the time. Plus knitting. And crafting and re-fashioning. If it can somehow be tied back to the world of making stuff, then I'm interested. Even though I don't quilt, or make hats, I'm still interested in watching these things come together. Do you like getting to know someone through their blog, or do you prefer crafting content only?
Inspiration posts. Colette Patterns does a lovely job of sharing beautiful, inspiring images. Who wouldn't want to make a beaded bow? I know I thought about how I could work a beaded bow into a sewing project soon! (I thought about it on a sweater too. Wouldn't that be so pretty, on a soft and fluffy sweater, maybe in a soft grey?) Do you like these kind of posts?
Question and answer posts, or discussion posts. Personally I find these posts fascinating! I love to hear whether you trust your drycleaner or not, or whether you'd spend $5 on just one button. I loved finding out about what taxes on fabric are like all around the world. (If you like these posts too, I made a link that will connect you to all posts tagged 'your feedback' here. It's also in the footer of the blog under Sewing Questions and Discussions.) Do you find these as interesting as I do? I think what makes them so good is the interaction and variety of comments that these posts receive.
Behind the scenes of a small business (in my case, and in the case of other sewing-business bloggers.) Are you curious what happens around here? Sometimes I think it's much less glamorous than you imagine it would be! Especially this week, I'm feeling the 'before Christmas' rush of wanting to get as much as possible done because I know there will be days full of other obligations. My office is still full of boxes, I'm trying out a few new things for the business, and I'm working on some amazing-looking designs for 2013. Caroline and I are on a roll! What I've learned is that there is so much more work involved in running a business than just designing, manufacturing and shipping patterns. If it were just that, it would be a piece of cake! (Or frosting.) And these things might be super boring to you, so perhaps we should just talk about sewing. What do you think?
How about a poll? I'm curious to know what you think, for my own purposes but also to hear what you have to say. I have my guesses on what I think the most popular answer will be, but I may be wrong. And if I've missed mentioning something that you love, let us know!
ps. I tried the poll and if you click 'View' it will take you to a new website to view the results. Same thing if you click 'Vote.' Just in case you wondered!

pps. You're allowed to vote on more than one subject if you want. I thought about only allowing one vote but felt like that wouldn't give us an accurate picture of what people like to read about. Leave a comment if you have more thoughts to share!