Here's a good question that Melissa M asked in the comments a while back: what do you do with used muslins? I feel like I may have already talked about this, but maybe just in the comments and it never made it to a real post. So let's talk muslins! Used muslins, that is. What do you do with them?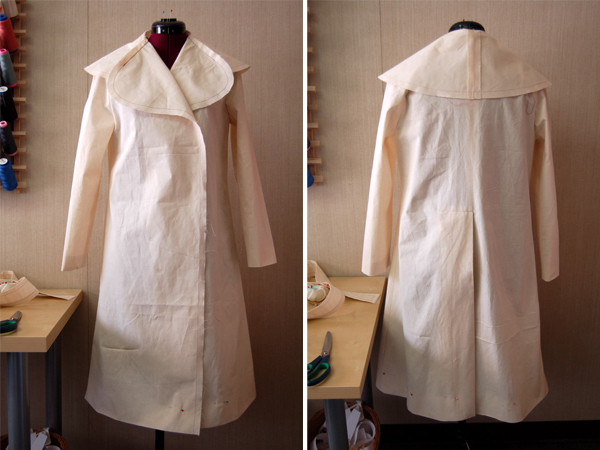 I do hold onto the muslin until the real project is finished. Sometimes I like to see how the pieces went together the first time around, and see if there's anything I'd do differently next time. I also like to have it there as a reference. I rarely refer to it, but at least it's there if I feel like looking at it! So until the wrap coat is finished, I'll keep this muslin around.
Once the final project is finished though, there's really no need to hold on to the muslin. So then what? What to do with all that beige cloth?
Here's what I do:
1. Cut them up into smaller pieces of muslin.
A full skirt uses a lot of muslin! So do coats, and other styles with only a few seams. I don't unpick the seams, but cut close to the seam allowance so it's much faster to salvage the fabric.
2. Use these smaller pieces for smaller muslin pieces.
Small panels, collars, and pockets can be cut out of used muslin pieces. I also keep long pieces for 'patching' behind seams that have been opened up.
3. Use leftover muslin pieces as sew-in interfacing.
When you're out of fusible interfacing, use muslin for sew-in interfacing! The key here is to use it on pieces that won't be washed, or the muslin should be pre-washed first. (And washing small scraps of muslin is likely to make them fray and fall apart.) This is just for my own situation, but I don't have a washing machine at the office. So I'd have to truck these scraps home in my bike basket, wash them, and then bring them back. It's a lot of work, but not so bad if you have a washing machine near your sewing space!
I've also heard that people cut up their muslins into rags and dusting cloths. If I sewed at home, I'd do that too! Although I suppose it wouldn't be too hard to cut them up into rags and bring home a load of scrap rags one day.
What do you do with your used muslins?