Lately, I've started knitting while reading a book. I've always knitted in front of the television and found it a great way to keep my hands busy instead of fidgeting or snacking. Once I realized I could probably knit and read at the same time, all of a sudden I had all this extra 'surprise' knitting time!
Next I thought of audiobooks, which is even better than knitting in front of a movie, since I look down half the time and miss things. With an audiobook, it's like someone is reading out loud to you, whispering a story in your ear. Brilliant!
Then I also realized I could listen to the same audiobook while sewing. Listening to a story while cutting out fabric makes the cutting process more fun. (And if I find myself daydreaming, I can flip it back by 30 seconds and start playing again.) Since I'm alone in here, I don't even have to use the headphones, I can play it out loud and walk around freely!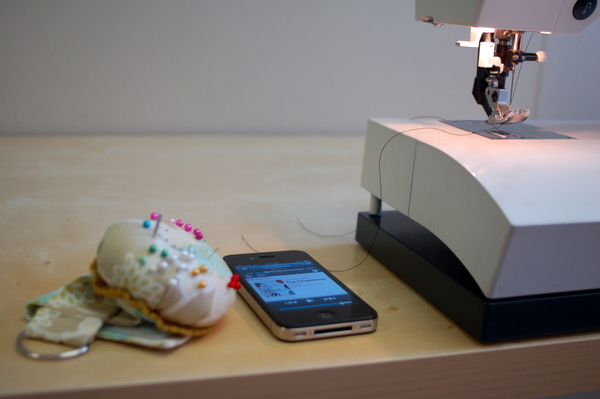 (boring photo, but had to include something! Listening to The Chaperone by Laura Moriarty, just finished cutting out a project.)
So I'm curious. Is this normal? (Wait, don't answer that.) What I meant to ask is, what else do you do while you sew? What do you do while you knit? Do you multi-task, or do you devote 100% of your crafting time to the activity at hand? I'd love to hear your thoughts!