If someone told you there was a colour called happiness, what colour would you picture?
I would have said a bright, sunny yellow if you'd asked me. This gorgeous blue is called Happiness, and after finishing this sweater I think the name is perfect!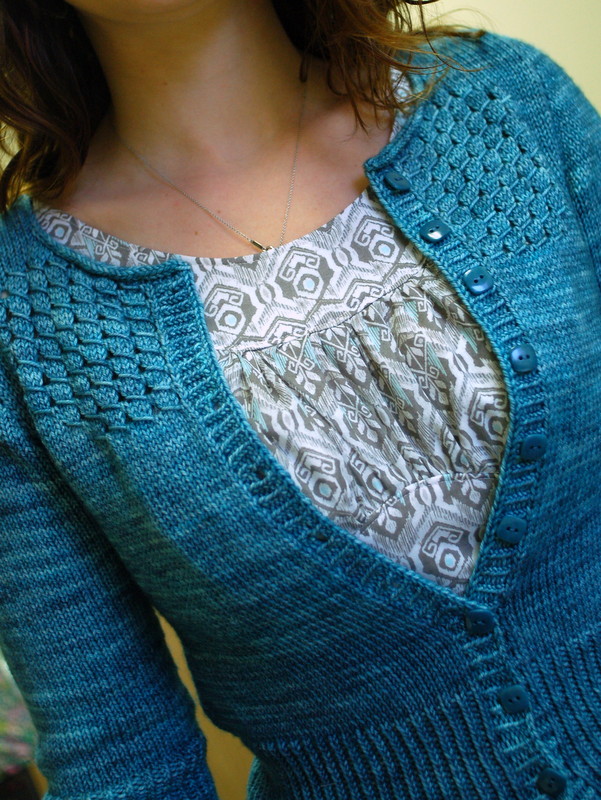 I love, love, love this sweater. It's perfect in every way!
The yarn is amazing, not only is the colour flattering, but it's soft and springy. The shades and tones of blue are varied, but not stripey or patchy. I love how multi-dimensional the colour looks! (Kind of like the advertising on hair-colour boxes. Multi-toned highlights, this yarn has it!)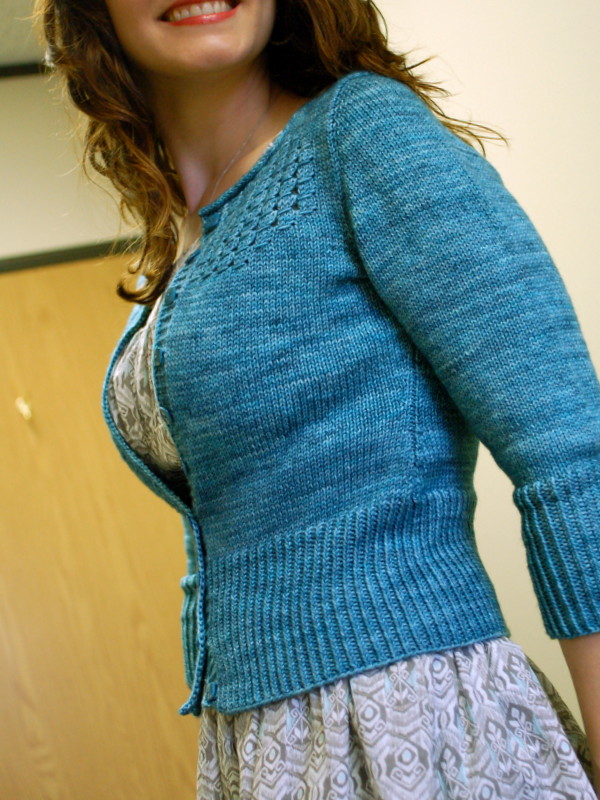 We're entering the season of indoor photos. (Sounds a lot better than the season of endless rain, doesn't it?) The good thing about taking photos indoors is that I can take several without getting cold. I can check them on the computer and see if they're turning out or looking like crap. The backgrounds are a little dull but you understand, right?
Anyways, back to the sweater! The pattern is Audrey in Unst, the yarn is Madelinetosh Sport in Happiness. Here's the Ravelry link to my project notes, if you're interested. Happiness is a special colourway that you can only buy at Happy Knits in Portland, Oregon. So of course I had to bring some home with me after visiting! This is some of the road trip yarn I mentioned in this post. It's more exciting to see it in a finished garment than just showing you the yarn, don't you think?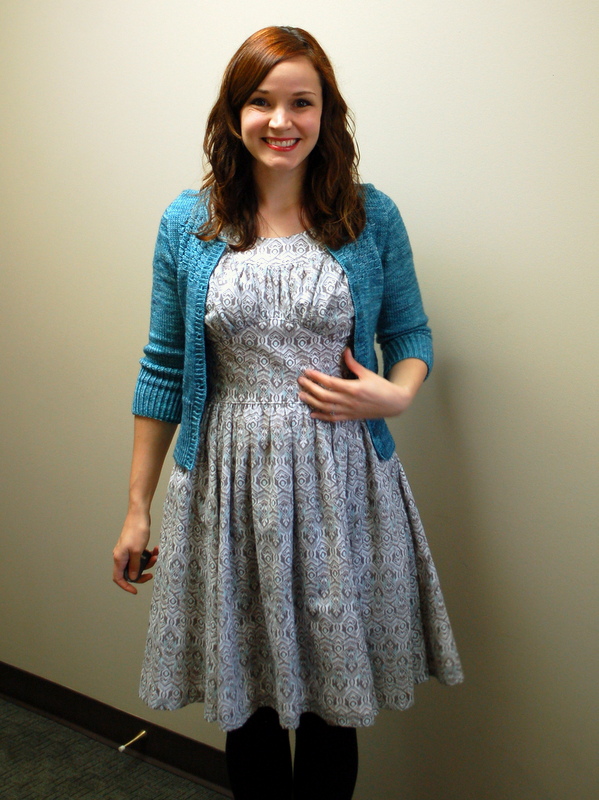 It's perfect with my Chantilly dress. The fitted, cropped shape goes so well with the full skirt and feminine silhouette. The fabric alone didn't look like much until the dress was sewn up, and the blue cardigan makes a more colourful and interesting outfit.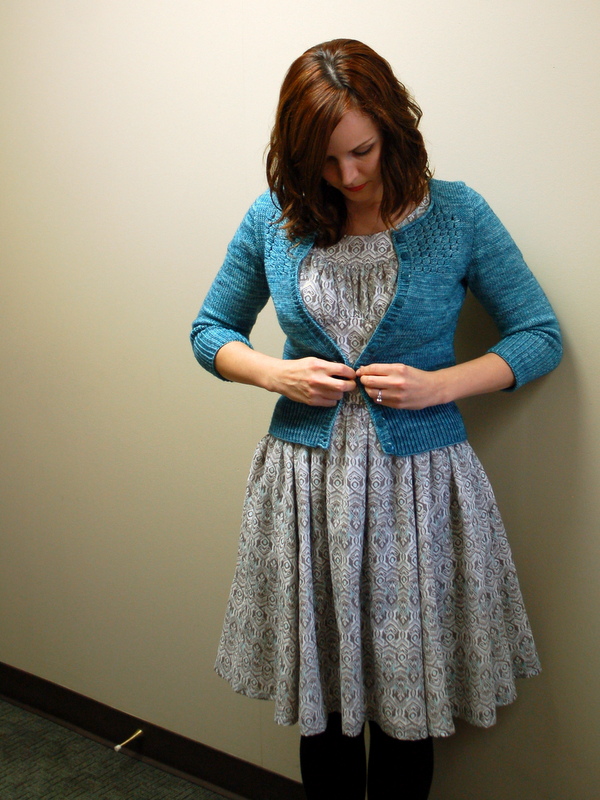 I found the absolute perfect buttons at Button Button. They're vegetable ivory, which means they're carved out of a nut. I looked it up – it's the Tagua nut and you can buy them at woodworking shops for carving projects. Isn't that neat? As buttons, that means they'll be hard and durable, more so than plastic buttons.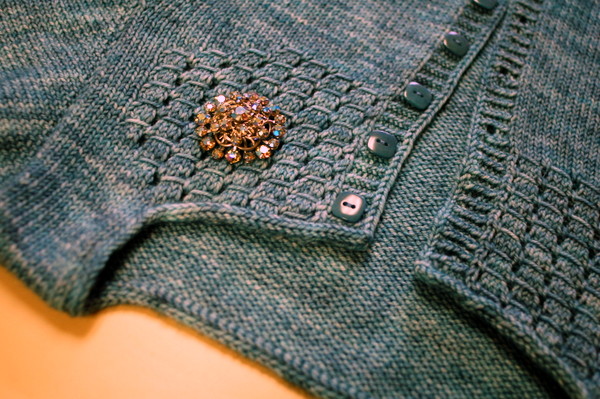 What else is there to say? The pattern is very well-written, full of amazing little details that make the sweater look professional. The sleeves are knitted into the sweater seamlessly! I learned a new technique there, as well as the i-cord bind-off – that nice rounded edge around the neckline. It is not as hard as it looks at all, I was so impressed with how pretty the result was.
Time to complete: 5 weeks + 2 days. Fairly fast for a sweater I'd say!
I think it's important to mention how long things take to make sometimes. I was at the button shop picking out buttons for this sweater, and another shopper remarked 'you could knit those and sell them!' Well yes, I suppose I could, but it would never be profitable. Not to mention it would take all the fun out of knitting, plus then someone else would own my Happiness Cardigan! I think not. I love it too much to share! (I even wore it out of the house without buttons, because I'd tried it on for the eighteenth time that morning and loved how cosy it felt on my arms.)
Speaking of buttons, I made my very first knit buttonholes. It was not nearly as scary as sewing buttonholes!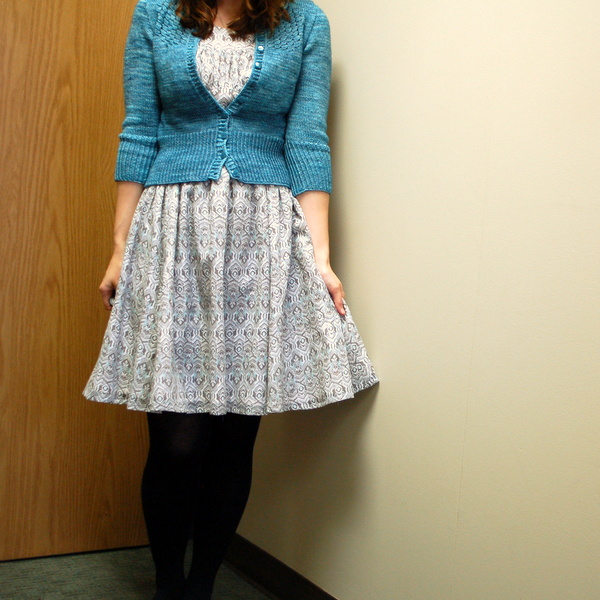 Making two items that go well together is smart wardrobe planning. I'm so happy that I can wear this dress all winter and spring with its pretty coordinating cardigan.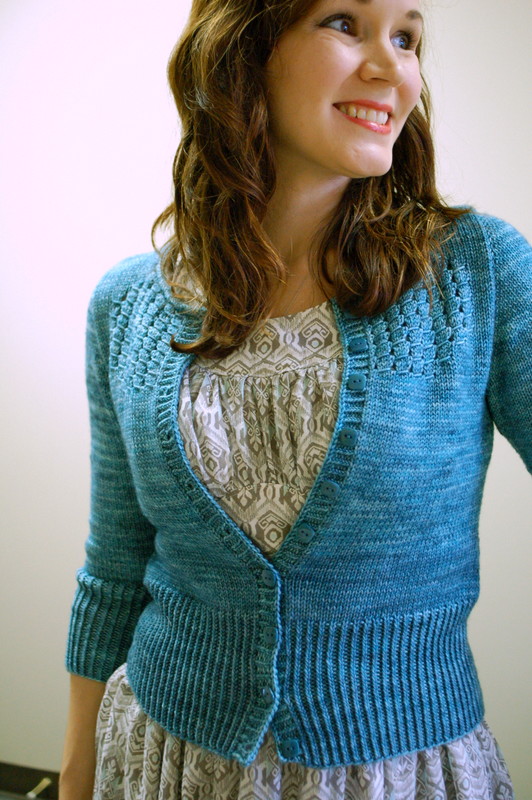 I wanted to say thanks to all the knitters out there that comment on the blog. I've come a long way since My First Sweater last year! You guys were the ones that encouraged me to start knitting, about a year and half ago. Thanks for stopping by and leaving helpful comments whenever we talk about knitting stuff. Your comments encouraged me to try new things, challenge myself with new techniques and not give up when I make mistakes. I would have never thought I'd be making something this pretty so soon!
This sweater is going to have a special place in my heart: yarn from a wonderful holiday trip, amazing colour and great fit, and an enjoyable learning experience!