Hello, everyone! What an exciting and busy week it's been. I'm happy to report that I picked up thread to finish the Minoru Sew-Along jacket. You can see I picked up two spools, just in case I ran out again!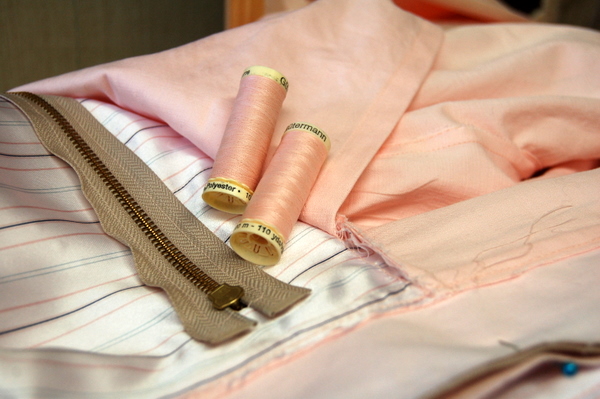 I always multi-task on days when I drive the car to the office. I had two meetings, picked up more shipping envelopes, and bought more thread! Funny how efficient you end up being, when you don't always drive. Must make the most of the driving days!
I forgot to mention this last week, but it was interesting to read about how close you are to your nearest fabric store. I took it for granted growing up in Richmond (a city in the Vancouver area), as we had many fabric options within one city! We had Fabricana, Fanny's Fabrics (when I was much younger), Fabricland, Wal-mart when they still carried fabric, Jax Fabrics (a fantastic outlet store run by the Jax clothing company, that sold the leftover fabric from their fashion collections – beautiful quality wools for $4-$6/metre. I miss that place!) and our neighborhood fabric store, Park Lane Fabrics. (I'm pretty sure that's what it was called.) Perhaps there were even more fabric-buying options, but those are the ones I remember from my high school and younger days.
But I can't complain, because some of you are hours away from a good fabric store! Some of you couldn't drive to one if you wanted to. You'd have to fly somewhere! For some of you, the nearest fabric store is 2,048 kilometres away. (Wow! Something to think about if I ever plan to move…) No matter what, I can get fabric the same day that I realize I need it. And I'm thankful for that.
Well, that's all I have to report for today. I have thread again! I'll be putting together the last few Minoru Sew-Along posts over the next two weeks. Only about five or six more sewing steps and we'll have a finished jacket!
ps. Don't forget to enter the $100 Giveaway from Hart's Fabric! I'm excited to see so many entries already – well over 400! Good luck everyone!