Have you seen the new bra pattern from Cloth Habit, the Watson Bra? I've not only seen it – I've also already made it! (It sews up very quickly.)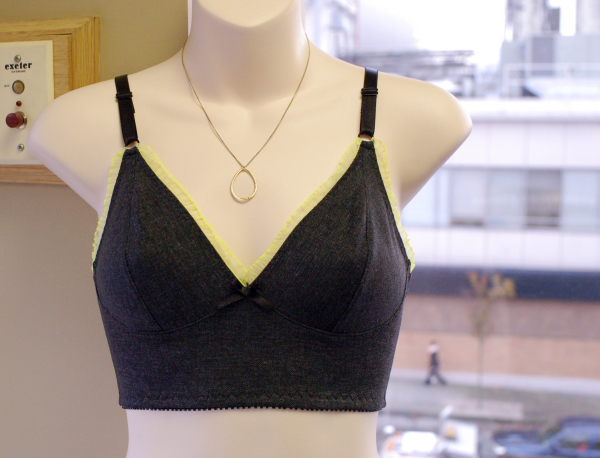 This is described as a 70's inspired lingerie set. There are no underwires, and the pattern includes both a regular bra and long-line bra, as well as a pattern for bikini-style underwear.  I went with the long-line bra and love it!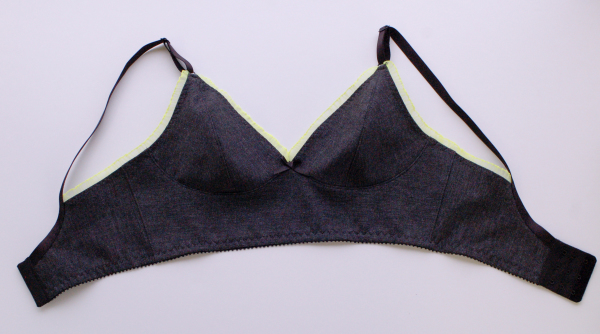 I didn't make any changes, and sewed my usual 32C.
The fabric is a charcoal grey doubleknit that I had leftover from another project. I wanted to see if I liked the look and feel of this pattern on me, before using 'special' supplies.
I added this awesome highlighter-yellow ruffled elastic trim to set off the grey! It's from an ebay auction, so I now have all kinds of random elastic trims to use on future bras. Glad to find a use for neon yellow ruffles! (It is way brighter in real life. It looks dim in these photos.)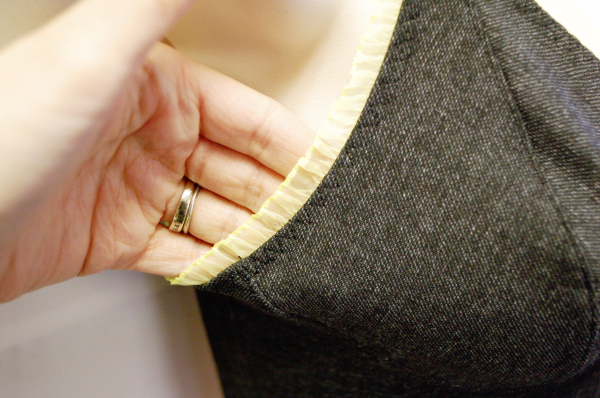 Sewing Notes:
I trimmed my seam allowances after topstitching, both on the cup seam and when attaching the band elastic.
I used a wider zigzag for the topstitching part. If it was visible on the fabric, then I'd have gone with a narrower stitch, but it feeds better through the machine with the wider zigzag.
My ruffled trim is slightly narrower than 1/4″ (6mm) on the elastic side. So the cups would be ever-so-slightly smaller if following the directions.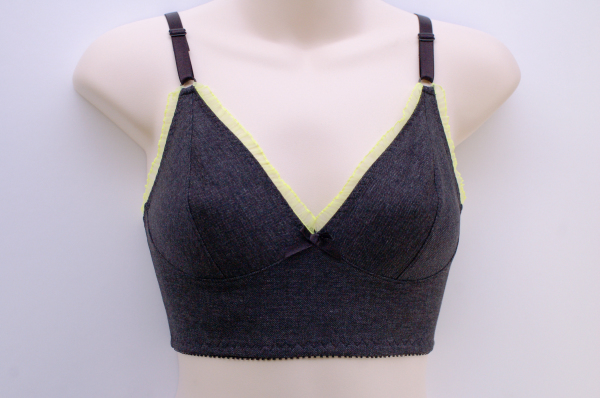 Thoughts on the pattern:
It is incredibly detailed. There's all kinds of helpful notes on choosing fabric, stretch percentages and extra sewing tips. You can tell that the designer has sewed using this pattern many times, as they're the sort of tips that I think of while sewing a pattern. The beauty of PDF patterns is you can make the instructions as long as you want, as there are no printing restrictions.
This is a smart pattern. Sure, it's $15, which might seem high for a PDF and for a small simple garment, but I'd rather pay more and know I'm getting a quality product.
The style looks great, and it's simple to construct. There are no really hard parts, or steps that require total accuracy to look good. Where it's important to be accurate, Amy's included tips to help. The hardest part to sew is probably topstitching the cups and pivoting at the centre front, there's a lot of seam allowance bulk underneath. I covered up that section with a bow! I love adding bows on bras, there's something satisfying about hand-sewing a bow to the front.
This fabric is hard to photograph and the lighting these days is terrible. It's so dark and gloomy outside! Sometimes the neon trim completely disappears in the photos.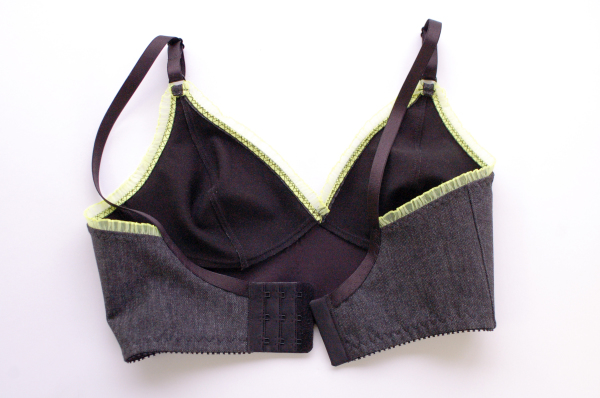 Of course, all the details show up on the inside shot! It's not the prettiest from the inside. Underwire casings on other bras cover up the cup-to-cradle seams and make everything look tidier. Matching thread on the underside of the neon elastic would have blended in better, but no one's going to see the inside except me. (And now, you.).
Changes for next time:
No fit changes. (That's exciting!) I'm going to wear this for longer and see how I feel then, but there's nothing that feels off right away.
I would choose a stretchier fabric for the back band, it fits on the largest hook snugly and digs in just a little bit, where my sides are soft. This fabric isn't the very best choice and I knew that when I started this project. The good part is now I know I really like the pattern!
I have leftover purple lycra from this purple lingerie set and I think it has just the right amount of stretch and stability.
I'm going to make the regular band bra, for comparison.
I'm going to enjoy wearing this. It was an easy pattern to love at first sight, and I like it even more knowing the instructions and pattern pieces are fantastic and the fit is good. Wouldn't it be pretty in stretch lace? Or stretch velvet. Now I want a burgundy stretch velvet version for the holidays. Good thing it's a quick project to sew!