I love reading pattern instructions. Especially complex or vintage patterns. (Or complex vintage patterns.) How did they do that? How do all of those flat pieces of fabric combine to form a finished garment? I'm always curious to read how they come together!
Like this dress: Vogue 8769. This is the one I traced off to save the original pattern pieces, and I'm glad I did. (Thanks for all the awesome comments and tips on how you trace and store your vintage patterns, too!)
Here's the front cover illustration again: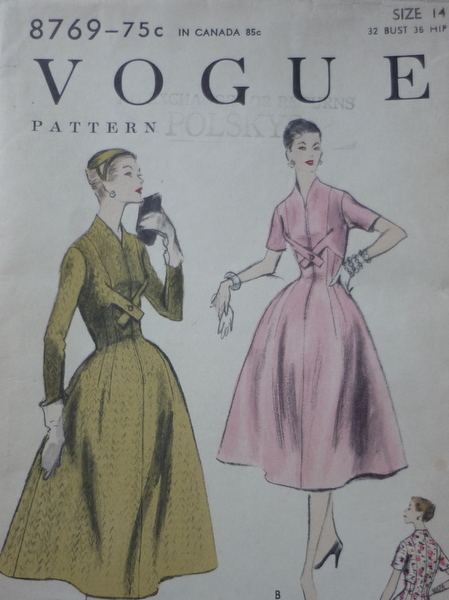 Now, I thought the tab closure was obvious. The dress zips up the front, and the two tabs cross in front. One tab has a button, the other tab has a buttonhole, and that's how it stays closed. Isn't that what you would imagine, too?
Well, that's not how it works!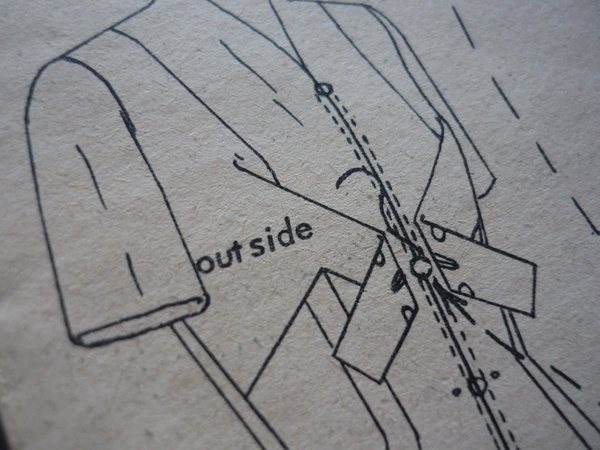 See what's happening in the diagram above? There are two bound buttonholes, one on each tab. And the button is sewn down to the front of the dress, secured on one side of the zipper. So the button goes through both tabs!
Why do you think they did it this way? Do you think it has something to do with the weight of the button, and wanting to keep both tabs even? So both tabs have buttonholes on them, and they look the same? Or perhaps so the tabs stay close to the chest and don't sag downwards with the weight of the button?
I'm always fascinated with the construction methods in vintage patterns. I feel like they play by different rules. Somehow I think if this were a modern pattern, the construction methods would be more predictable. It would be a buttonhole on one tab, a button on the other, just like you assume. Just another reason why I love vintage patterns! It's not just the styles and designs, it's also how they're made.
Seen any cool construction details in vintage patterns recently? Do you have an explanation for why they decided two buttonholes were better than one? I'd love to hear your thoughts!