Vogue 7411 is finished! This 1950's bolero is made out of navy wool, lined with matching navy bemberg lining and finished off with simple navy vintage buttons. I used simple navy buttons from my collection, instead of looking for something unique. It felt like the right call, keeping the buttons subtle and tone-on-tone for this project.
Here's the original pattern and fabric: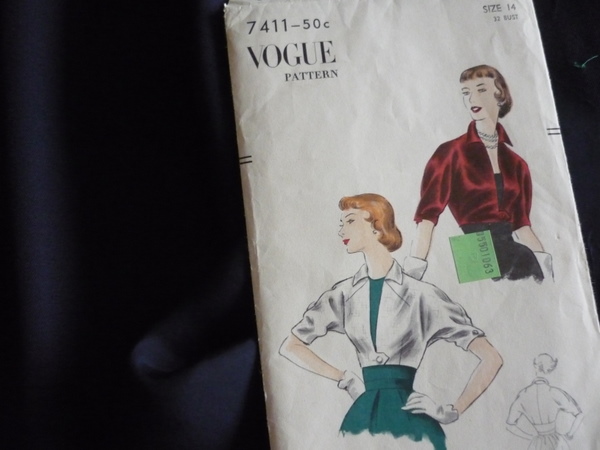 And here's the finished bolero: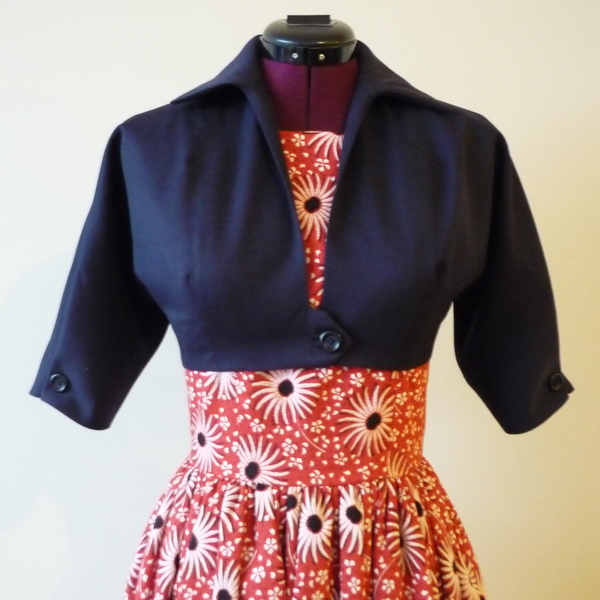 Back view: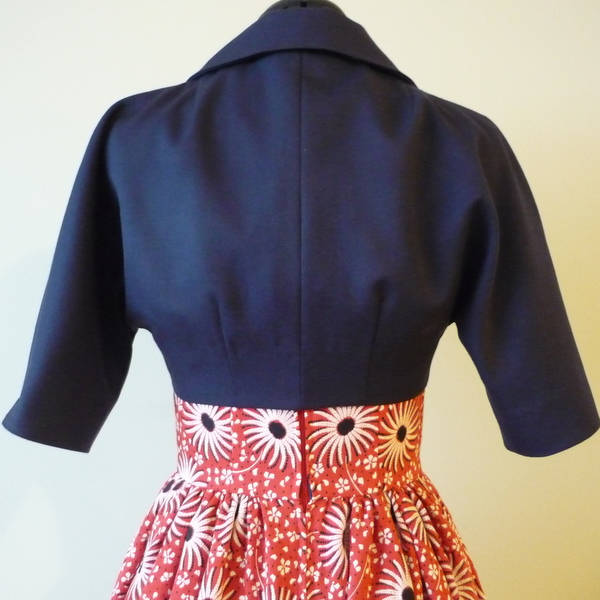 I have mixed feelings about this one. In my mind, this was going to be the bolero to solve all of my summer-dresses-in-winter needs. I suppose that was a lot to ask of one little bolero. Don't get me wrong, I loved the pattern and the cover illustration! The fabric and colour are exactly right and it was easy to sew. But now that it's all sewn up, somehow it's not exactly how I imagined.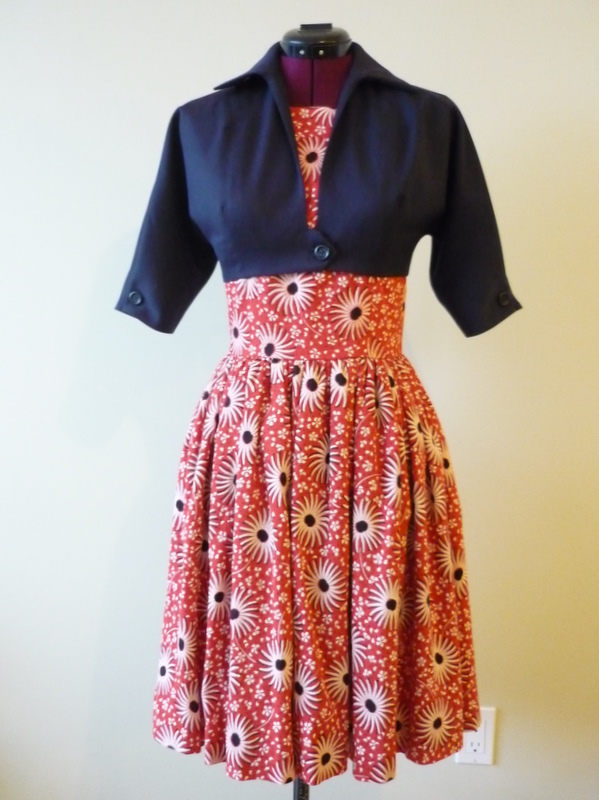 Here it is, worn over the Twin Spruce Dress. This was the original goal of the bolero, to be worn over this dress. Not crazy about it, but I'm sure what would make it better. Perhaps it's time to learn to knit? I feel like a little fitted navy cardigan would be more suited to this dress. I'm not sure this will be the cover-up I reach for.
The sleeves are snug at the cuff, like they are meant to be. (It even says in the pattern instructions to make sure the sleeves are fitted tightly around the hemline!) When I move around, they ride up my arm and I need to tug them back down. It's the equivalent of wearing a too-tight pencil skirt around my arm.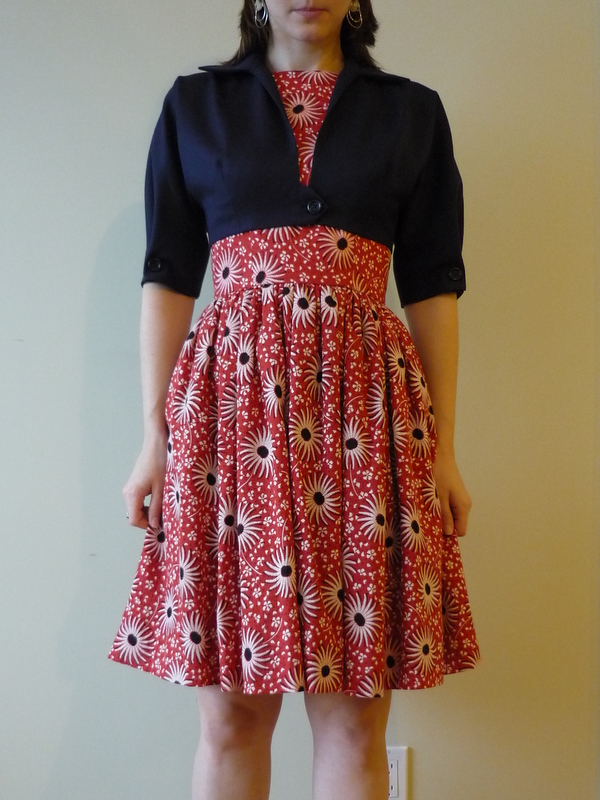 I enjoyed making it – those perforated patterns are so fun to work with! I like the holes, they make it easy to mark darts and circles. Just poke a pin through the hole! (Or make a tailor's tack, whatever you prefer!) I loved the concept of a little fitted bolero and I liked how this pattern was unique.
I did a nice job on it – the lining is slipstitched in, the buttonhole is bound. And it does look like the cover, right? Also, the collar is a bit wimpy. I feel like it could have benefitted from some padstitching or tailoring for a nicer look.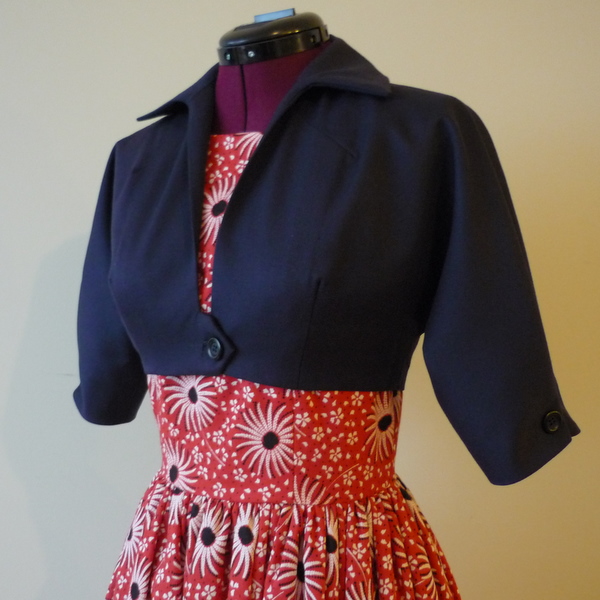 It almost looks a little costumey or matchy-matchy. It's too coordinated with the dress. Is that it? What about this look isn't working? Too much midriff? Should the jacket be to the waist? Too much pouf in the sleeve? Is the dress too late-fifties and the bolero too early-fifties?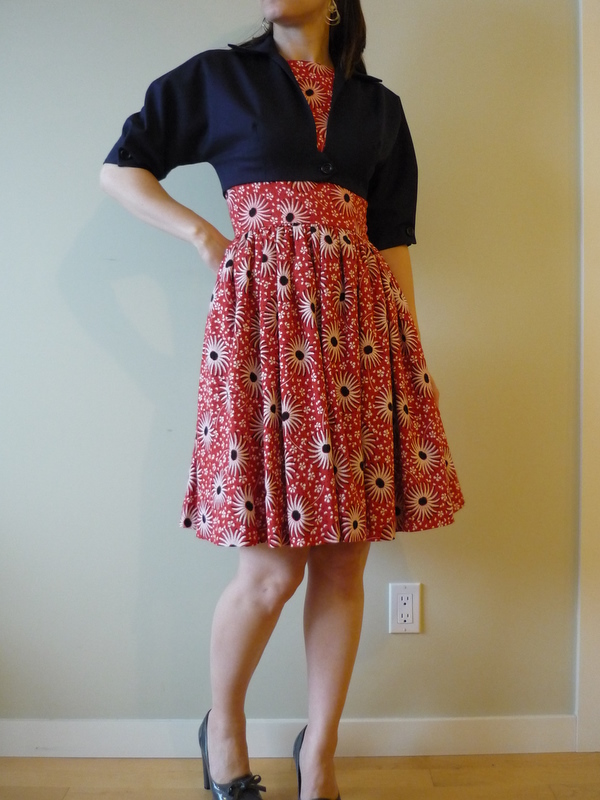 (On a completely separate note, I like these photos! I've taken down a painting that was on this wall, so it serves as a blank canvas. What do you think? Not bad for indoor photos!)
What do you think of this one? Do you ever have projects that fall short of your expectations, even though nothing is technically wrong with them?
One day left in 2010, as my first year of blogging comes to an end. I'm looking forward to writing a Year End post. Time to look back on the highlights of the year, the major duds, and of course, celebrate!