Thanks for all the project suggestions on what to make with the beautiful red vintage glass buttons I got as a birthday present! If you missed the original post, take a look here: Vintage Glass Buttons: A Special Gift. I'm still in the planning and dreaming stages at this point! Recently I pulled out a couple of patterns that have potential. It's harder to plan a project 'buttons first' – remember this discussion on fabric first, or pattern first? Starting buttons first is a whole new level of complexity!
Here's a couple of possible patterns. I haven't used any of them yet, so I can't comment on fit or style. I'm purely going by cover illustration and design potential! (And number of buttons.)
Vogue 2885: 1944 vintage suit jacket – it's from a similar era to the buttons, very classic and beautiful. However, I don't wear suits regularly, and I fear that this jacket would become one of those items that hangs in the closet forever. So beautiful, made with love and a ton of hard work, but so not suited to my lifestyle.
Also, it's very time-consuming to sew a tailored jacket and do a good job. I may never finish this project if I start it! (Must be more realistic about how much time I have to devote to fun projects.) It's a good project if I wore suits, or authentic vintage outfits, but perhaps not for my bike-riding and extremely-casual-workplace life.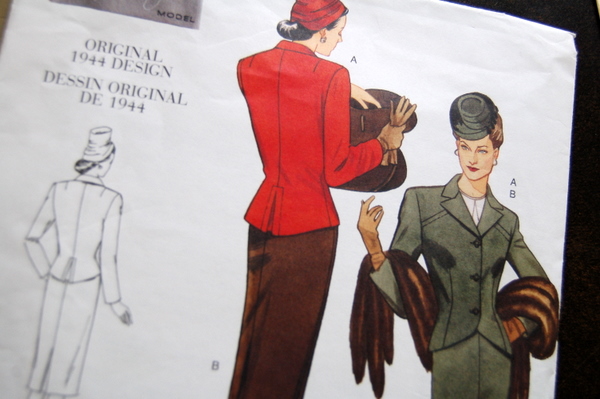 Vogue 1233: Pamella Roland shirtdress. Maybe it's the gold-tone fabric that has me thinking 'red buttons' but something like this would show off the buttons well. I'd have to skip the lower pockets since I only have four buttons, but I'd probably skip the hip pockets anyways.
That one button holding down the collar is a cool detail, I'm really drawn to it! Picture all of those buttons replaced with pretty red ones. It works, right? It does place the buttons in a prominent spot, and they're protected from wear as they're all above the waist. (I'm one of those people who bumps into things constantly. Hip-height glass buttons don't stand a chance.)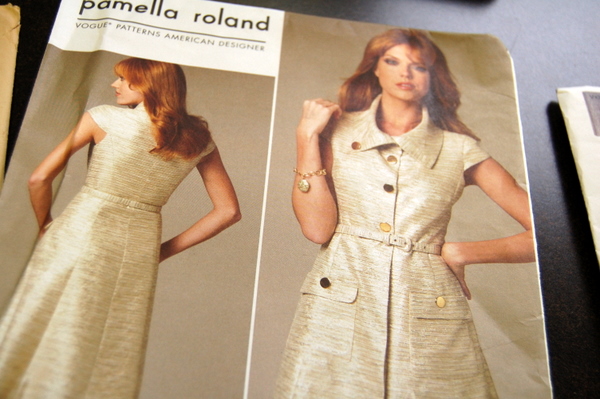 Vogue 7168, vintage top pattern. It's called a waistcoat or blouse on the pattern envelope. The black version in the lower corner is my favourite! It reminds me of a two-piece evening ensemble, like I wore to my prom.
Depending on the fabric choice, it could work with a light summer skirt for day, and a velvet circle skirt for evening. Maybe a red linen, for an all-season piece? Gold linen? Deep burgundy linen?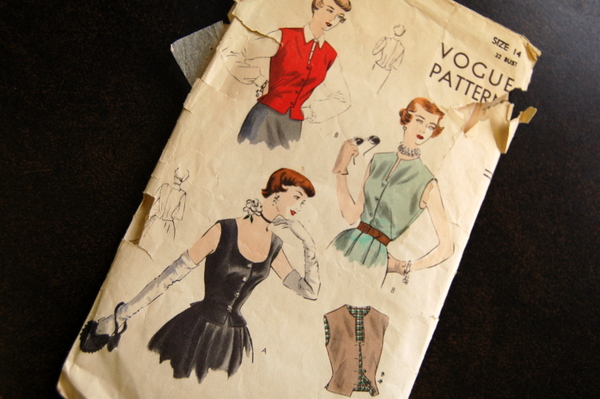 I once had a red velveteen top in high school that was similar. I loved it! It was red velveteen, scoop-neck with a slight cap sleeve, and a zipper up the back. I wore it with jeans mostly (high school, you know, can't look too dressy!) and if I had it still, I'd wear it today. (It seems to me I had a red velveteen thing happening in high school. I had this red velveteen top, a red velveteen miniskirt, and a thrift-store red velveteen quilted mandarin-collar jacket with frog closures. Now that was an awesome jacket!)
I just love the elegant styling in the illustration – long gloves, full skirt, flower choker (do you think it would have been a real flower, or a necklace?). I know, that's not what my everyday life looks like either. But a girl can dream! (Bonus: this pattern is way easier and faster to sew than a tailored jacket. I could actually be wearing it sometime this year!)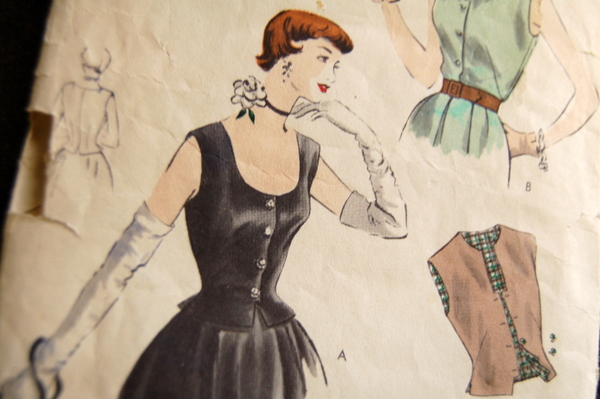 Of these ideas, my favourite is the last one! Although I'm not totally sold on any of these patterns, and still like the idea of a simple jacket. I'll keep looking! I may have to come up with something brand new just for the buttons. It's almost a good thing that I'm busy and not jumping into this project right away. That way, I can dream up a million different ways to use the buttons without committing to any of them right away! Sometimes it's nice to have time to think before starting a sewing project… and then again, it can lead to indecision because you've had so much time to think up new ideas over and over.
Either way, I have these buttons on a shelf within view, so I can admire them whenever I want!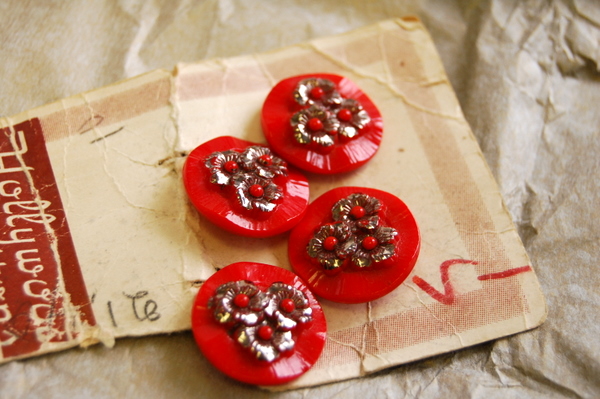 ps. Thanks for all the nice and thoughtful comments left on my last post, Getting Back to Sewing. It was reassuring to hear encouragement and not 'blog more, you slacker!' You guys are the best!  I hope you all have wonderful, fun and relaxing weekends. I'm hoping for nice weather and bike rides!