Happy Monday, everyone! Today, I wanted to share a beautiful birthday gift: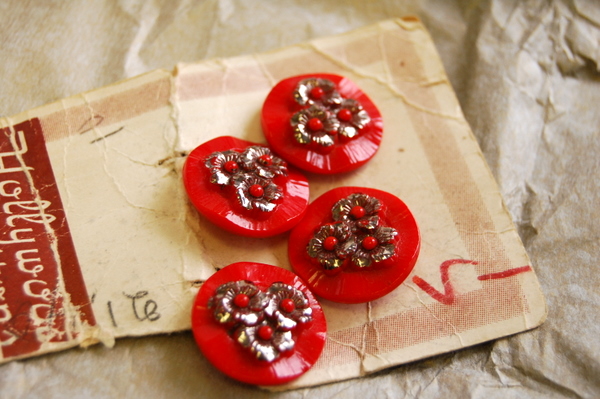 Vintage buttons, a lovely present from a friend of mine! They were originally her grandmother's. I'm touched that she passed on a family heirloom for me to make something with. She's had them for years, but in honor of my 30th birthday she decided to gift them to me. What a thoughtful present – I hope I can do them justice!
From what I could figure out, they're vintage glass, made in Czechoslovakia. They feel like glass – they have that tinkling glass sound when they touch each other and they feel slightly cold – but my friend believes they're plastic. I couldn't find any information on 'Hollywood Buttons' although the card looks very old, I'm guessing perhaps 1930s or 1940s.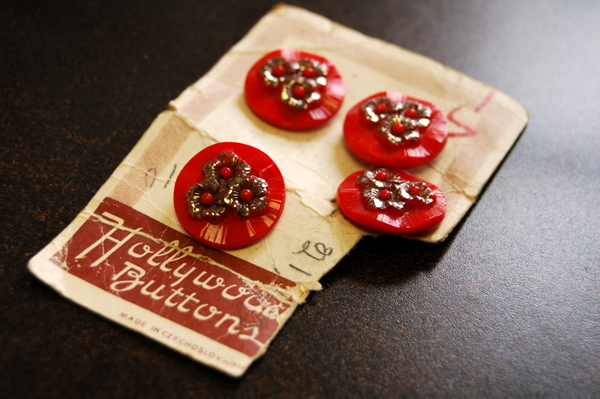 I did find plenty of vintage Czech glass buttons online, which were popular in the 30's, so I think they're glass! (Does anyone know how to tell the difference between glass and plastic buttons?)
Here's a link to search for similar Czech glass buttons on etsy. These are perhaps the closest looking to mine!
And now, I want to dream up the perfect project, something truly beautiful and worthy of these pretty heirloom buttons. Do you ever feel like that, when you receive a special piece of fabric as a gift there's a bit of pressure to make something extra-special? In a good way, I mean. I want to show off the pretty buttons, and I want to place them somewhere protected, where they won't be bumped or scratched.
Here's what I'm thinking:
A dress, with button details on the bodice. Keeping the buttons on the top half of the garment protects them from sitting, and shows them off better than if they were on the skirt or waistband.
A jacket, with four buttons down the front. Something really classic, like a simple collarless jacket.
I think they're a bit too heavy for a blouse, and I want the buttons to suit the garment. So either a jacket or dress. A jacket might be more versatile than a dress, but a dress would be more special and formal.
And then the next question is what colour to choose, to best show off the pretty red glass? Red on red is subtle, but do the buttons disappear?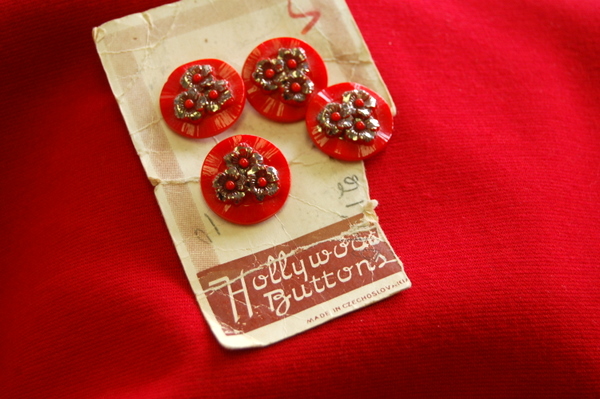 I don't want them to be too contrast-y and showy but I do want to be able to see them. Elegance is the goal here. Black is too deadening, perhaps gold? Taupe? Camel? I want the beauty of the buttons to stand out, without looking garish. Is it too weird to have red buttons on a tan coat, just to make them more visible? Perhaps wine or burgundy – something that's not red, but a little more tonal and similar in colour? It's hard to start with the buttons and then work out the rest of the project!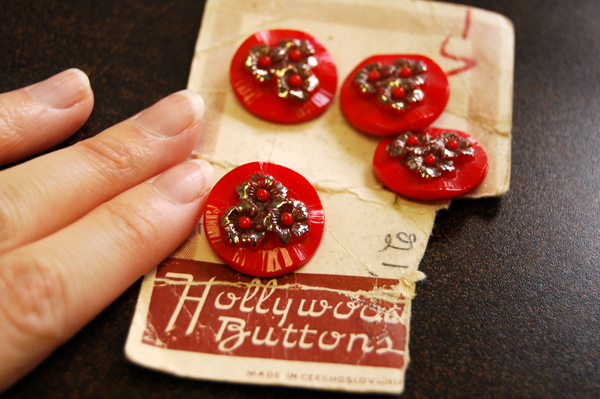 (photographed with my hand, to give you a sense of scale)
I do want to use them soon, as they're too pretty to be sitting in a drawer somewhere. Or at least create a plan to use them, when I have a bit more time to sew! The great part is that if the garment wears out, I can always cut off the buttons and re-use them on another sewing project.
What would you sew with these buttons? What colour would you choose to best show off the red?