Normally this is Caroline's day to post on the blog, but she's taking a couple weeks off from blogging. So instead here I am with a knitting post! It works out well because I was debating whether to blog about this project or not. Now here is an open Wednesday and a good opportunity to share it!
Plus, I'm really proud of this project. Here it is! My first sweater knit from a vintage pattern.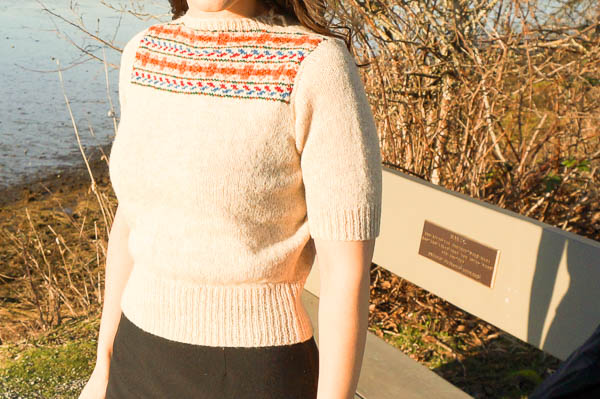 The sweater is Fair Isle Yoke, from A Stitch In Time Volume 1. The original pattern is from 1946. Ravelry notes here.
I bought the book A Stitch In Time two years ago but it was too hard for me. Now it's not and I can knit anything I want from it! Oh the freedom! It's an amazing thing when you realize you've progressed to the next skill level and a whole new range of projects is now available to you.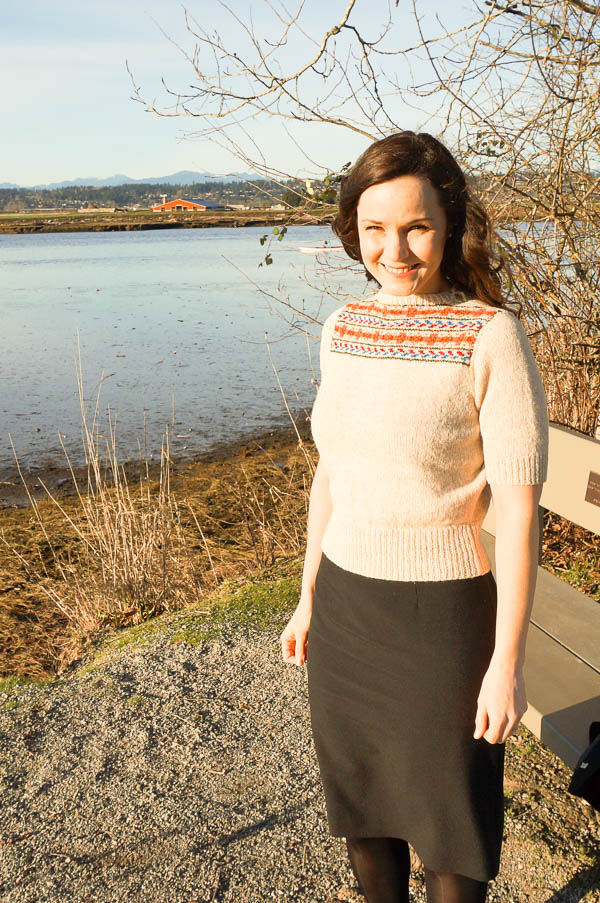 (I'm looking away in most of these photos because it was ridiculously bright.. though it's hard to complain about a sunny day in February!)
Ok, so what is different about this pattern? What makes vintage knitting different from other sweater projects?
Gauge: this is knit with fingering weight yarn, which is the same thickness as sock yarn. On small needles. That alone can be intimidating when you're starting to knit!
Pattern: The pattern is written with minimal instructions and no chart for the colourwork part. Instead it's written with words: knit 2 pink, knit 3 natural, etc. The colourwork is purled, which means the first row is knit from the right side, looking at the pattern, then you turn it over and knit without being able to see the pattern. That's harder for me.
Fit: I absolutely love that it sits at the natural waist! My hips curve out immediately below my waist, which means that fitted sweaters creep up and sit in the smallest part of the waist. A sweater that is meant to sit at the waist is comfortable and flattering on my shape. Other fit differences are the sleeves, the shoulders are narrow and the sleeves are angled more like a tee shirt than a blouse with set-in sleeves. The neckline is very high, sitting straight across the neck from shoulder to shoulder.
Really, none of these things are that hard. It's just different, and the thin yarn makes it more of an undertaking if you make a mistake. At least this pattern has a modern, rewritten version with extended sizing, and there are projects made by other people to check out. It's the vintage patterns that come in only one size that are much more challenging, especially if no one has knit it up and posted photos & notes online!
I had to redo the sleeves entirely because they were coming out too big and I was running out of yarn. I ended up buying the updated e-version of the Stitch in Time book, which has new sleeve shaping. So my sweater is actually a mix of both patterns: body of the first edition, sleeves of the second. The second edition includes charts! Colour charts, and a slimmer sleeve, and the sleeve is graded to fit the different sizes where in version 1 all sizes had the same sleeve. Plus the new version is knit with a slightly tighter gauge and includes more sizes. (My recommendation: buy the new version! I'll be using it for any future Stitch in Time projects.)
I knit the smallest size, 30-32, and when I figured out the sleeves to add, I chose the 34-36 size for the sleeves because it had the closest finished body measurements. I used the exact same yarn and colours as in the sample, except for the orange which was discontinued. I chose two different oranges to sub in, and picked the darker of the two.
In the book, the sweater is styled with a red skirt, and I liked the idea of a colourful skirt with this sweater. I started sewing a Hollyburn skirt because it has a forties feel, and I knew it fit well. I picked a green wool-cotton so it matches one of the colours in the pattern without being overly coordinated.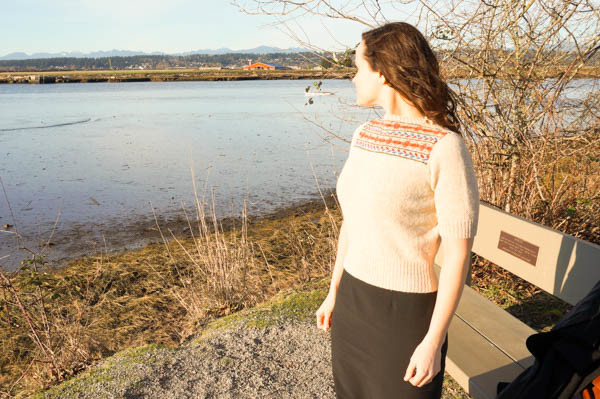 But I didn't finish it before finishing the sweater, so here it is with a black skirt. A colourful skirt will bring out the colours in the yoke, I think. Which are so pretty!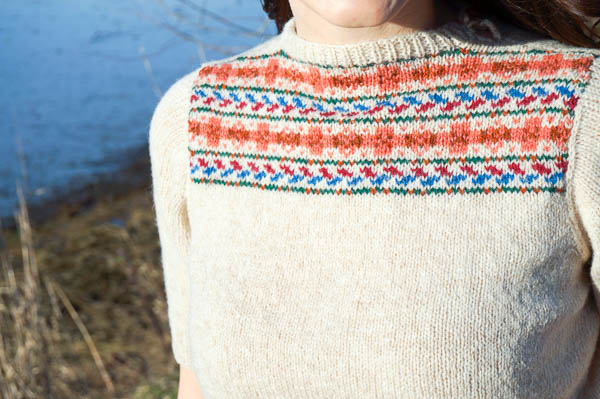 It's a little large through the bust so I will wear it with my most padded bra. I almost regret not knitting the entire sweater from the revised pattern, because there are new sizes with less ease in the finished measurements, but I was too close to finishing when I discovered the new version. I would make this again one day in new colours, from the most up-to-date pattern. You can see the extra fabric in the back view especially.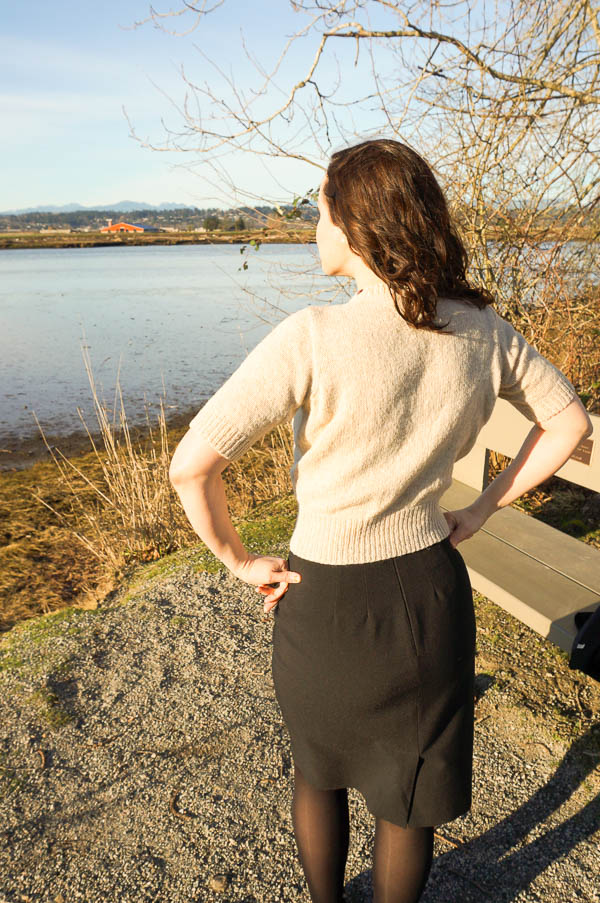 The yarn is a little bit scratchy at the neckline, where it sits high across the neck. I didn't notice the first day I wore it, but the second day it was more itchy.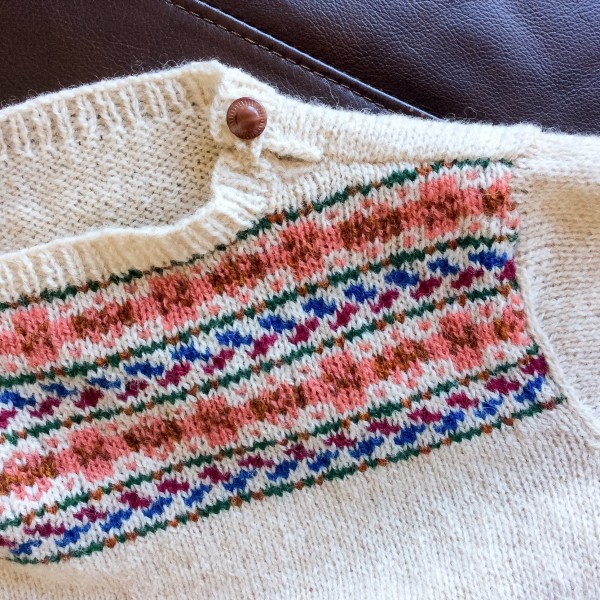 It closes with a button and loop at the side – this is because the neckline is so small you couldn't pull it over your head. I sewed up the seam too much the first time, and it was tight to pull it on. Luckily I hadn't worked in the loose end of the seam yarn, so I undid a little bit and now it's much better.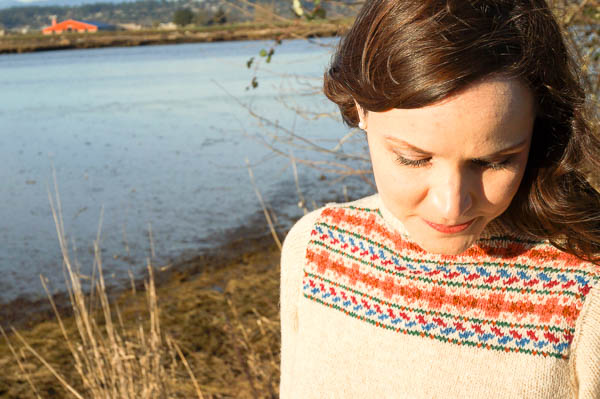 My only question now is: which sweater to knit next? I have a handful of unfinished knitting projects to complete but what I want to knit most is another little vintage sweater!