More and more Minoru Jackets are starting to appear! I've seen a few more pattern tester's versions, and there are even people who've already made up the pattern since it was released. So exciting! I love sharing them with you guys. You never know which version is going to be the one that inspires you the most!
Here's an apple-green version in cotton twill, sewn up by Valerie of threads and thoughts and things i love. She loves her jacket, especially the wide elastic along the waistline. Click to check out Valerie's post on her blog for more!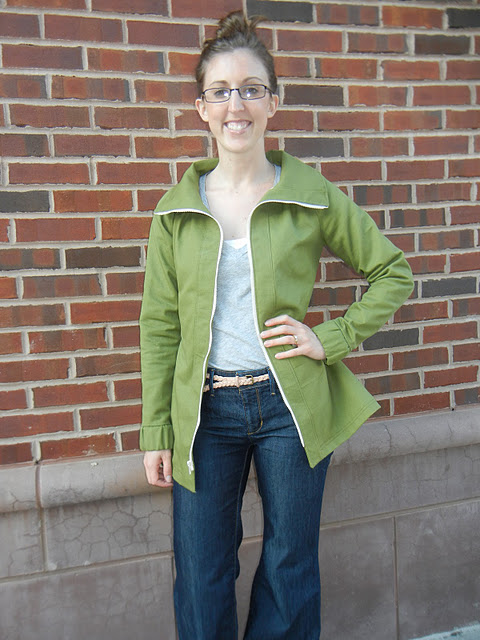 Want to check out more finished Minoru Jackets? Here are links to earlier posts:
Also, don't forget to check out the Sewaholic Patterns Flickr group for even more finished garments. There are some gorgeous new Pendrells, Crescents and Lonsdales in there to admire and get inspired! (New to Flickr? It's a free photo-sharing site. Anyone with a Flickr account is welcome to join the Sewaholic Patterns group and share finished garment photos with the group!)
Can you believe there are only two weeks until Christmas? I think I just realized how little time there is left today. Time has gone by so quickly this year! I'm especially looking forward to the days getting longer and lighter. Hope your holiday preparations are going well!