Stay tape is applied to necklines and other garment edges to stabilize and support them, avoiding the dreaded stretched-out gaping neckline! Stay tape also prevents shoulder seams from stretching out as well.
I picked this up at Fabricana's last half-price notions sale, figuring it would come in handy. And look, it did!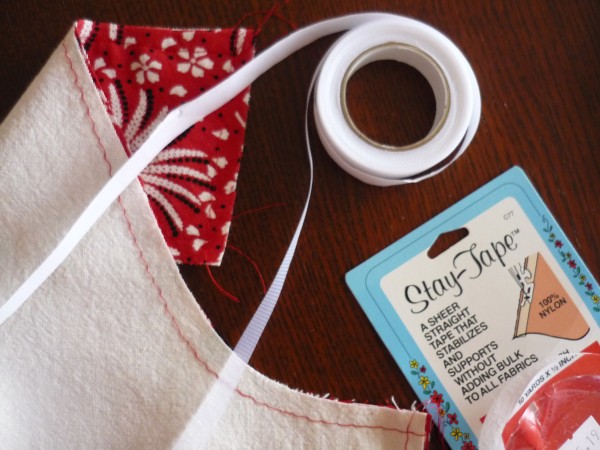 For this dress (Simplicity 3965), I wanted to add little touches to make the simple style extra-special and beautifully-made. Adding quality details like stay tape help the garment keep its shape and last longer!
The thing about this stay tape is that nowhere on the package does it tell you where exactly it goes! I had a moment of doubt – does it go on the right side of the neckline or the wrong side? (Maybe the answer is obvious to you, but late-night sewing makes me more likely to question myself!) A quick Google search didn't turn up any answers, either.
I thought it over and realized if I applied it to the right side, there's a chance it might show. So I applied it to the wrong side of my front neckline, back neckline, and shoulder seams.
Tip: cut it in half to double the amount! If you use the same stuff I did, it won't fray. Plus, I found it easier to work with the narrower width especially around the curves.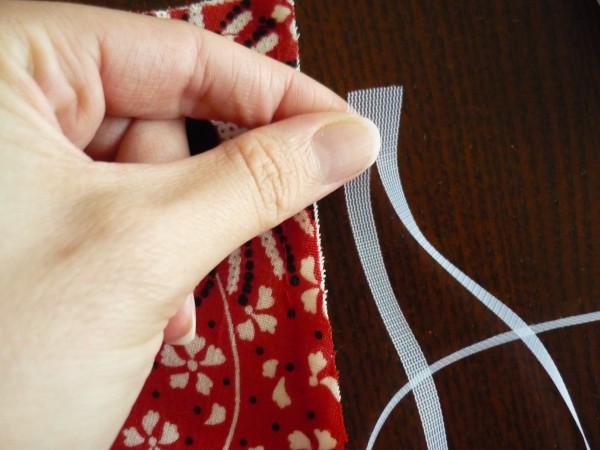 Tip: pin in the direction you plan to sew, this will make it easier to remove the pins as you go!
Here you can see I've pinned the stay tape to the front neckline and the shoulder seamline: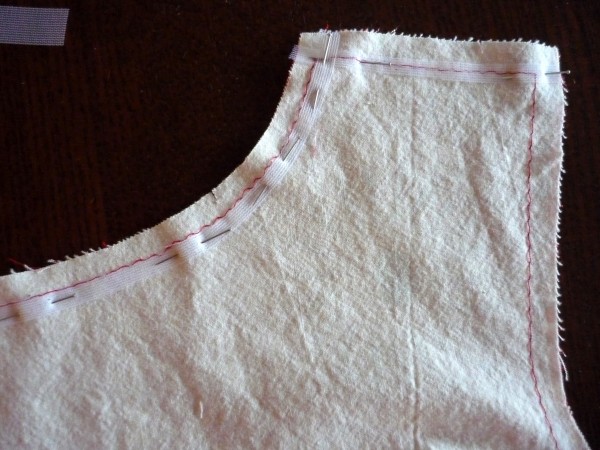 Next, I've pinned the stay tape to the back neckline: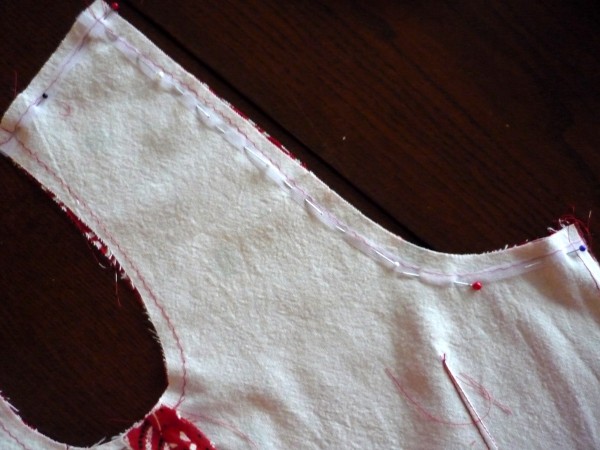 Here's what the bodice looks like, with stay tape pinned to all of the edges:
Now, sew on the stay tape! Stitch right through the stay tape just inside your seam allowances. I've drawn on the photo below to show where the seamline is, where the stay tape is placed, and where you stitch.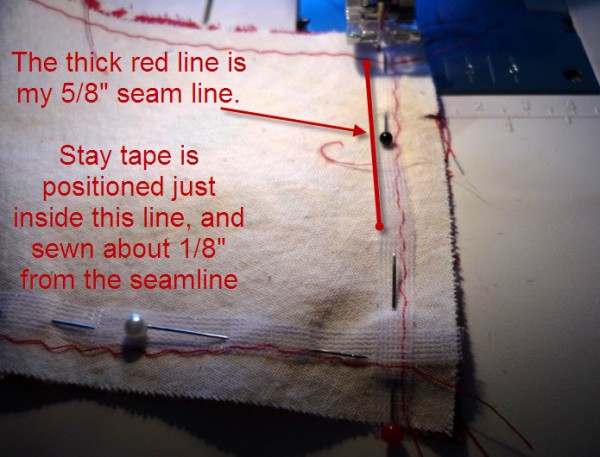 Tip: save your selvages and use them as stay tape on the same project, or other projects!
I hope this was helpful! If you've just stumbled upon this post here are the rest in the series:
Just a few more details to go – ok, quite a few more – before the dress is finished!