Seeing as we're halfway through the year, I thought I'd check up on my list of Top 10 Sewing Projects for 2010. I wrote this list when I first started blogging, and admit I forgot about it. Most of you recent readers will have no idea what I'm talking about, since I haven't been mentioning it, and I don't appear to be Sewing With A Plan. (More like, Sewing on a Whim.) So let's see, did I follow it perhaps subconsciously?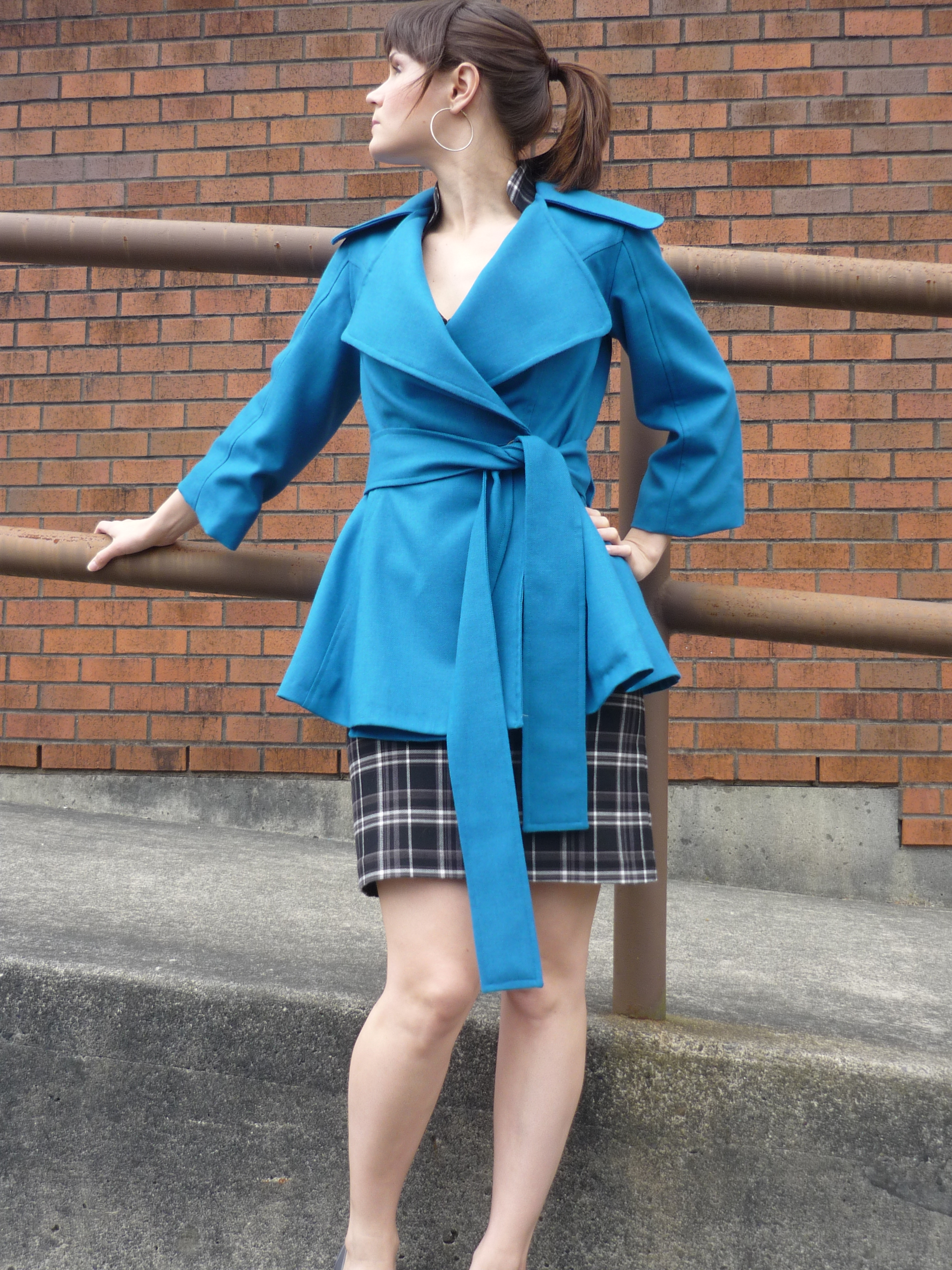 1. A Statement Coat, in a bright colour.
Done! Finished this one in April 2010 and I absolutely love this coat. Using Colette Patterns' Lady Grey and some amazingly-priced turquoise wool, I've created a flattering, bold Statement Coat. Every time I wear it, I feel cool.
Granted, it does force me to wear more simple pieces underneath so they don't compete with the coat. But I love the wrap style and oversize collar!
Plus, it was featured on Burdastyle's Best of May, and the Selfish Seamstress wants to make her own version. I'd consider this a win!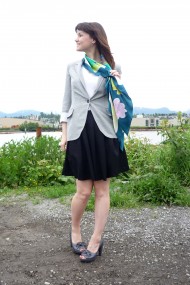 2. The perfect black skirt. Full, fitted at the waist for the perfect hourglass shape, in a fabric that works for both day and night.
Definitely done. I love this skirt. I keep calling it the 'Armani Skirt' because the fabric was an Armani designer fabric. This is the most versatile piece – flattering, comfortable, and works with everything! Wore it six or seven times during Me-Made-May at least. This one's a winner too!
3. A leopard print dress.
Um, no. This dress is cut out and half sewn but it's stashed in the back of a drawer. I'm embarassed to admit, I cut it out based on a memory of making the pattern once and vaguely recall the dress being a success. People, don't do that. If you made something 10 years ago, chances are it won't fit the same.
4. A Little Black Dress. Perfectly fitted and classic, a work-to-evening staple.
Well, I have plans in my head to make Vogue 1161 in black but for some reason, prints and bright colours and fun florals have taken over my sewing table. Makes sense, I wrote the list in February when it was grey and dull outside. I still plan to make Vogue 1161 in black, it's even cut out. I just haven't been inspired to sew it up. (Also, I got excited and cut it out before finishing floral 1161 so it's going to be a wee bit short.)
5. On that note, a Little Tweed Dress. The office (or fall, if you prefer) version of the LBD. And all that texture hides imperfections – on me and the dress!
Also no. I'm not even sure I want this piece anymore. Again with the wintery clothing thoughts! If you make a year-long list, don't forget to account for the changing seasons or you might fall off track, if you're anything like me… Maybe a wintery version of Vogue 9668 might fill this place.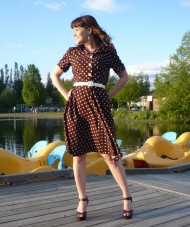 6. A cotton shirtdress – can you tell this is the Year of the Dress? In a bright colour, one of those easy pieces you can throw on with a great pair of heels.
Ooh I DID make a shirtdress! It's not in a bright colour, but it totally counts. Haha, I even wore a great pair of heels in the photo. Do I know myself or what? And it IS the year of the dress, judging from all the dresses I made instead of following my own rules.
7.  This one is because I have to – a Gold Brocade Dress that may end up becoming a Gold Brocade Skirt. Funny story to follow…
Oh right, I owe you a story. Ok, my next post will explain this, since I haven't followed through on my promise here.
8. A solid neutral-coloured pencil skirt.

Hmm. Another project I didn't get to. I suppose because basics are boring to sew? I'd like to own this piece, just not make it. I started Beignet but fell off track when it came to the buttonholes. It's adorable and will be even cuter all finished.. I just hate doing buttonholes on my machine since it tends to eat them up, and my original plans of doing them by hand seem a little daunting.
9. Once I finish the neutral pencil skirt, let's make another one in brights! I'm picturing RED, with T-strap pumps. Very sexy-secretary!
Well you'd think I would have got to the RED version by now? I suppose not. I did make a red dress though, does that count for something?
10. Something for my other half – because I have to make up for the 'sewing room' being a mess all the time! And it can't all be for me, all the time.
This one's not my fault! I did plan out a project to make, got lots of feedback from my readers and even bought the pattern. Then he decides he wants to lose weight and starts hitting the gym, and we both decide to save the project for the new and improved version of him. So it's on hold until he decides it's time. But hey, at least the sewing room spare room is organized!
But I DID make a ton of other stuff. And there's still half a year left.
Does sewing with a plan work, or do you guys just get distracted like me?