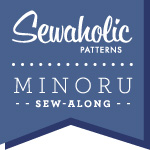 Hey everyone! By now you may know about the Minoru Sew-Along that's starting on Monday. I've been doing my best to answer questions as they arise, as there sure have been a lot of questions!
It's exciting that so many people are joining the sew-along although I have a feeling it's going to be hard for me to stay on top of responding to questions as we go. So if you see someone ask a question, and you can help them with the answer, I would really appreciate it! Let's do this as a team, rather than letting me boss you around. Don't worry, I'll be doing plenty of explaining and demonstrating!
I thought at this point I'd jump in with a little update on the Sew-Along itself and how it's going to roll out. I admit to flying by the seat of my pants on this one, but it's all good! It'll work out as long as I stay one day ahead of you guys. If anything, it'll be more relaxed and fun and laid-back, instead of structured and scheduled. After all, this whole sewing thing is supposed to be fun, right?
On Monday, we'll start by cutting out our fabric. That means, if you are planning to make adjustments to your pattern, now is the time. If you haven't picked a fabric yet, now is the time for that as well. (Fabric-shopping this weekend perhaps?) If you were planning to make a muslin first, do that too!
By Monday, you will need:
Your jacket pattern (pick up the pattern here!)
Your jacket fabric, pre-washed if necessary
Your lining fabric, also pre-washed if necessary
Supplies for cutting and pinning
Want to see what we've talked about already? Click the links below to read more:
Between now and Monday (which is tomorrow I suppose!) I'll write a quick post on making the Minoru from muslin. I have my first Minoru Jacket muslin still intact, and I'll show you how to construct it to get the best idea of fit, as well as point out some areas you may want to check.
How does that sound? I think we'll end up at a bit of a slower pace, something that's reasonable if you can sew a few times during the week, but not impossible to catch up on the weekends. You can always speed ahead if you have extra free time! And if the next few weeks are too hectic for you to join in, come back and read through the sew-along posts when you have more time to sew.
Off to photograph and write about the muslin – back tomorrow with more!