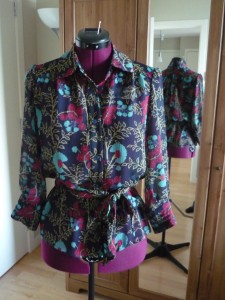 For the entire month of March, Zoe wore only things she had made herself, in a self-imposed challenge called 'Me-Made-March.' I read her blog daily to check out her handmade outfits, admiring both her dedication and sewing skills!
Now, her next challenge is 'Me-Made-May' and she's invited her readers to join her! It couldn't come at a better time, because A) I have lots of skirts and dresses and summer-inspired clothing I've made, and B) I want to make conscious choices to wear the things I've made, over things I've purchased.
Why am I so excited to follow along? Well, I've been thinking about slowly replacing my purchased clothing with items I've made myself. Also, when I'm out there in the world, I love talking about my passion for sewing. Yet people inevitably ask me "Oh, did you make that dress you're wearing?" and I sheepishly say no. I look like a phony, and I find myself wishing I'd put on one of my cute handmade dresses or skirts that day.
And it's so easy to fall into a style rut. I have a closet full of pretty handmade items, yet show up in jeans and a blouse at work most of the time just because it's easy.
It also inspires me to try sewing things outside my comfort zone of dresses, skirts, blouses. If I want to wear pants, I'll have to make them. I volunteered for the 'Lite' Version of Me-Made-May, which means I have to wear at least one thing I made every day. During Zoe's month of March, she ONLY wore things she made herself, including sleepwear! Luckily I have a whole month to prepare and start sewing like a madwoman!
The picture above is a blouse I made last fall, which I have worn quite a few times and will probably incorporate into Me-Made-May at some point…
Stay tuned as I prepare for the challenge ahead!