Random sewing project today! I made a pair of underwear in less than 30 minutes – not too bad for completing a new garment from start to finish! When I think about the amount of sewing involved, that's perhaps a long time when it comes to something this simple. If I set up a panty assembly line, they'll be even faster!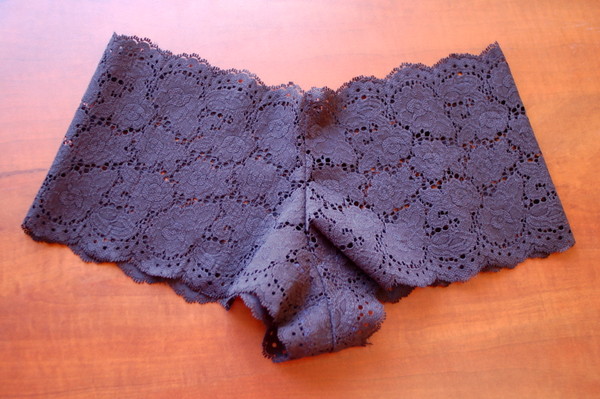 The pattern is Jalie 2568, my first encounter with a Jalie pattern. They're huge! (The pattern format, I mean.) The pattern comes folded letter-sized, wrapped in plastic. Pattern pieces are printed on regular white paper, and include the biggest range of sizes I've ever seen – from a two-year old child's size to a women's 52″ bust. (No, the little lace pair that I made isn't available in child sizes, just the classic cut panties.)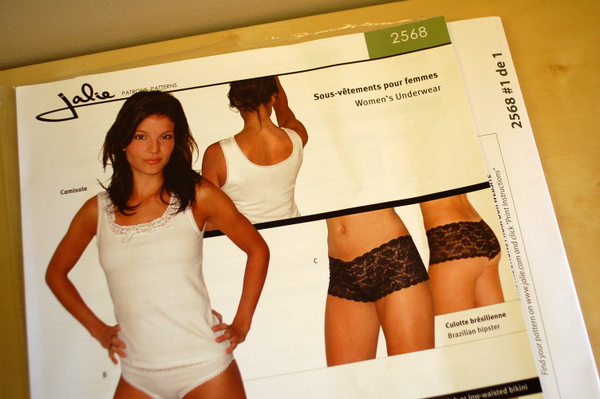 Lace panties might be the one thing it's actually cheaper to sew than to buy. Victoria's Secret sells pairs just like this for $12.50, or 3 for $33. I made these for way less! (If you don't count the pattern, that is.) I want to do the math when I've made a whole bunch, as I still have plenty of lace left, but I'm going to say they cost about $5 in lace for one pair.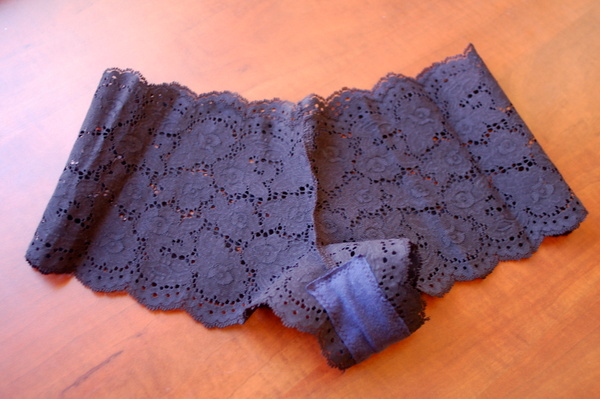 Inside-out shot! The cotton lining is cut from an old tee shirt. I collected a couple of old tees from Mr Sewaholic, as you barely need any fabric at all for the lining. I used a small section of the sleeve and could have got a few more out of the sleeve too.
Note: if you're making this pattern, don't snip the notches in the lining piece! I snipped mine but realized the lining is sewn down along the raw edges, so a snip would be bad. I had to recut my piece. Mark the centre using chalk, or fold the piece in half when you need to find the centre.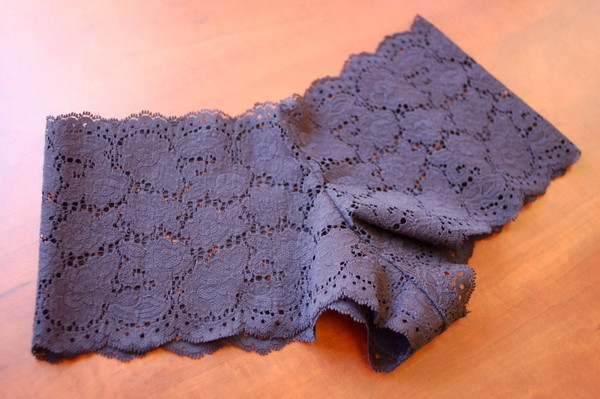 I ordered enough stretch lace from Sew Sassy to make at least a dozen pairs, but after the first pair was finished I decided to 'wear-test' them first. If you're looking for wide stretch lace, Sew Sassy has a great selection! Shipping to Canada was reasonably fast and I believe reasonably priced.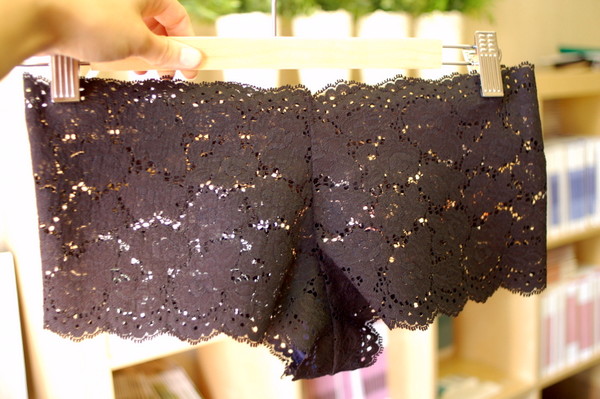 My thoughts on sewing underwear, after making this pair? It's not hard. Cutting takes more time than sewing, on a pair like this. The sewing is fast, there are very few seams, and most of the sewing can be done on a serger. I like the instant gratification of cutting and sewing a finished piece in half an hour. Most of the projects I work on are for new pattern development, so I'm used to labour-intensive projects that often involve writing my own instructions. It's nice to whip up something quick and have it turn out!
Plus, I love being able to make everything in my wardrobe myself. If I were to do another Me-Made month, it would be so much easier now!
Have you sewn underwear? From this pattern or another pattern? How did they turn out?
PS. I'll put together more Renfrew Top posts soon! I've made good progress on the purple top and have plenty of related tutorials planned. Just need to write them up, add photos and post!
PPS. Have a wonderful weekend, everyone! I feel like we're heading into that crazy busy season with work, but also with shorter days and the upcoming holiday festivities. When life gets crazy, that's when I'm extra careful with my time, making sure I still have enough creative time to keep me sane. Whatever your level of craziness in life, take time to keep on making things. Little victories like a perfectly topstitched seam or a tidy row of knit stitches help make me feel like things are totally under control, even when they're not!