Here's another post for the beginners or semi-beginners out there – all about understitching! I was understitching the facings on the Picnic Dress and paused to take a few photos and write up this quick post.
What is understitching?
It's a row of stitching, usually seen on the inside edge of a facing, that is there to help keep the seam rolled to the inside of the garment.
Understitching is never visible from the right side of the garment
Understitching stays in permanently, unlike basting
Understitching seems like a step you could skip, but you shouldn't!
Here's how to understitch your facing:
First, grade your seam allowances. (This helps reduce the bulk of your facing seamline!) Trim both seam allowance, reducing them to half of the original allowance. Now, trim the facing seam allowance in half again.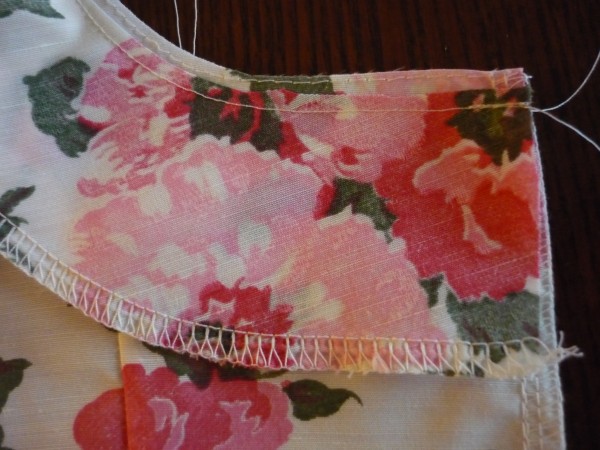 Clip inner curves so the seam will lie flat, by making snips into the seam allowance, about 1/2″ apart. Make more snips into very curved areas, less snips into less curved areas. Be careful not to snip into your stitching line!
See, here is our clipped seam allowance: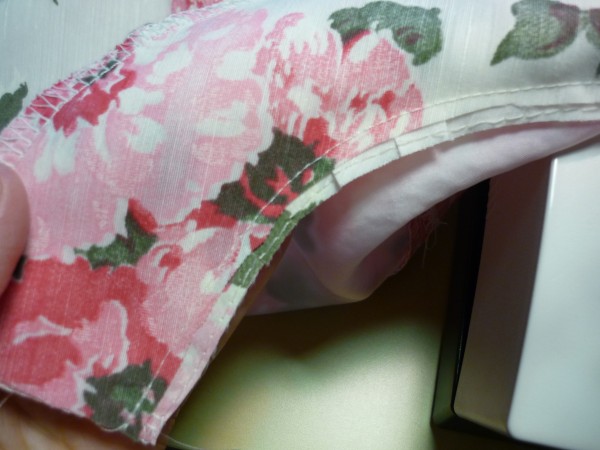 And here is the clipped seam allowance, look how the curve can now be stretched into a straight line! This is an important step, otherwise it will be harder to understitch the facing.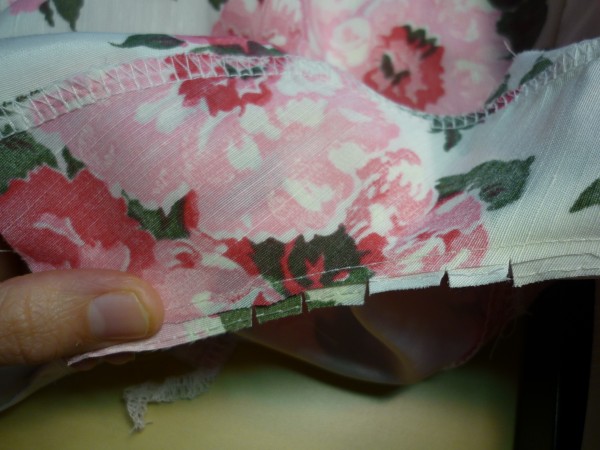 Now that we've prepared the seam for understitching, let's do it! Take your piece to the sewing machine.
Arrange your piece so that the facing is on top: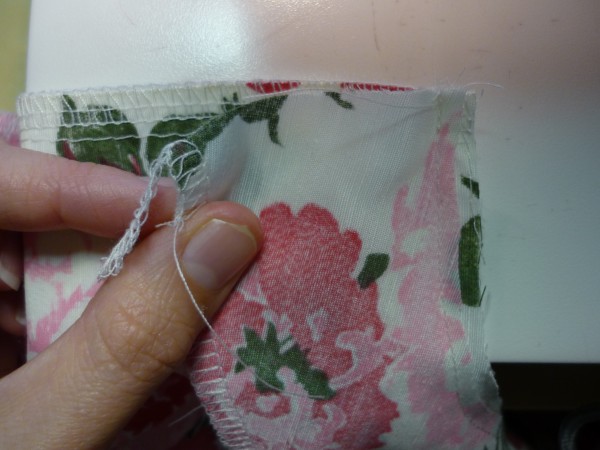 Now, open up the seamline and stretch the seam as much as you can (gently!) with your fingers. You'll notice we didn't press the seam open with an iron. I find you get better results by stretching and understitching, and then pressing the facing. This way there's no crease-mark when you understitch.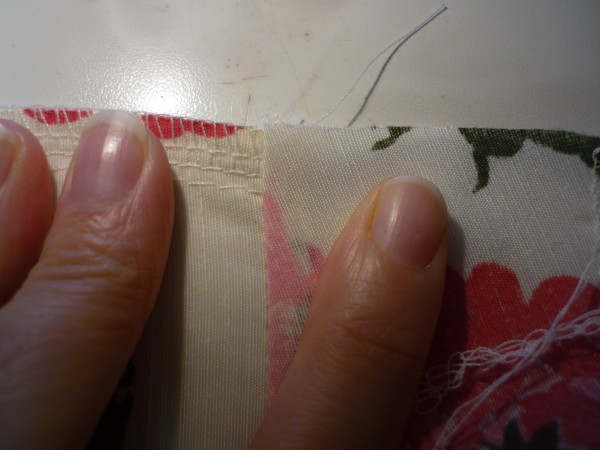 Now, insert the needle into the facing, very close to the seamline. You want to keep this stitching very close to the edge, as close as you can maintain, while not crossing over onto the bodice front fabric. If you can manage at least 1/8″ that will work.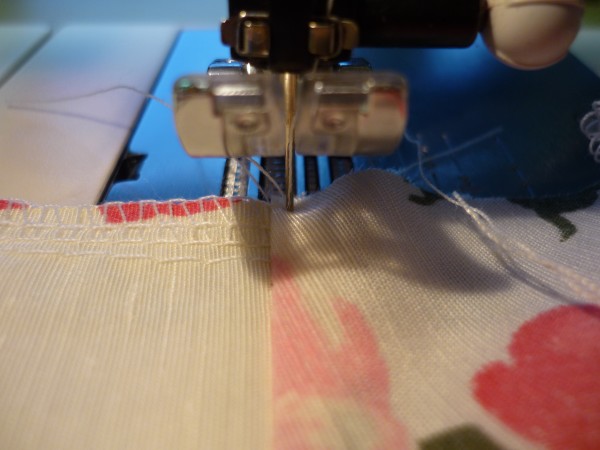 Lower your presser foot. Begin stitching slowly, stretching the seam open with your fingers as you go.
My fingers look really awkward in this photo, but that's because I'm taking the photo with my right hand. It's much easier if you use two hands, one on each side of the facing seam to pull it open!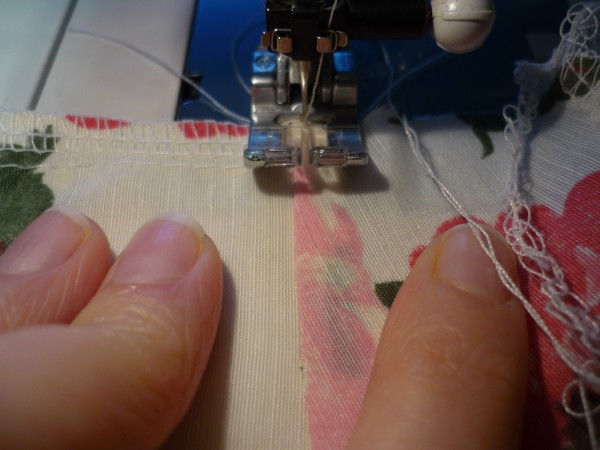 Continue along the seamline until you get to the end. Backstitch and trim threads.
Now, look at your facing. Look how nicely it rolls to the inside of your garment! We've made it want to stay put in the right place. Now pressing the facing is so easy, since we've created this lovely natural curve.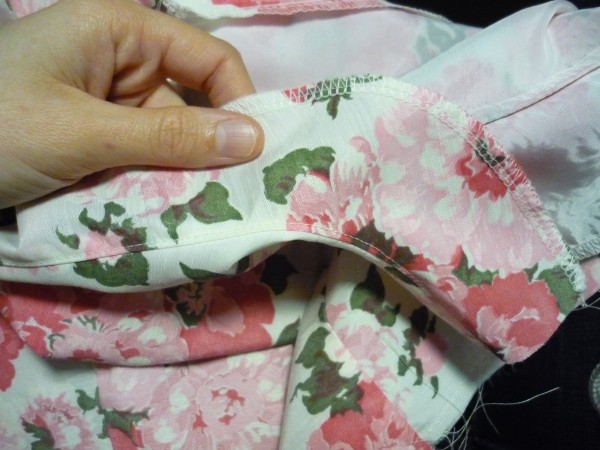 So that's all there is to it! Press your facing into place and admire how nice and tidy the edge is. (Isn't this fabric delightfully girly and pretty, too?)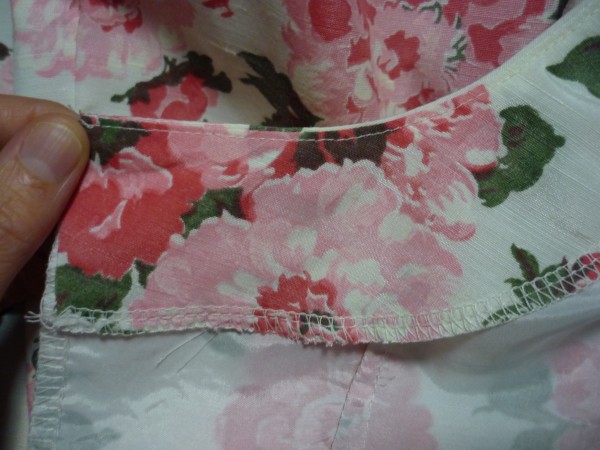 Next up: handpicking the zipper! There are a number of great tutorials out there already so I will keep mine pretty simple. If you're dying to know how to hand-pick a zipper right now – check out either Gertie's tutorial or The Cupcake Goddess's tutorial. Both are excellent references to getting that tidy, hand-picked look!