I love reading sewing blogs, because I learn something new all the time! Before blogging, I'd never heard the term UFO (Un-Finished Object) and I love it.
Although, it seems UFOs are taking over in the sewing room. UFOs happen to me for three reasons:
I made a mistake and don't feel like fixing it right now! I need time away from the project before I'm ready to attack again.
I'm missing a crucial notion – buttons, zipper, twill tape – and I can't go on to the next step without it
I've lost interest in the project, usually once it reaches a certain stage I have a bad feeling about the finished garment… and decide to leave it alone for a while
Ok, four reasons, when the next step is scary! (Usually buttonholes.) I have a whole Beignet skirt ready to go, but twelve buttonholes… yikes!
I even have one UFO that's over a year old. (For me, that's a long time, since I moved four times in a two year period and did a lot of purging.) It's a Burda dress that my gut said wasn't going to be cute.
Although I love the fabric, and think the pattern has potential: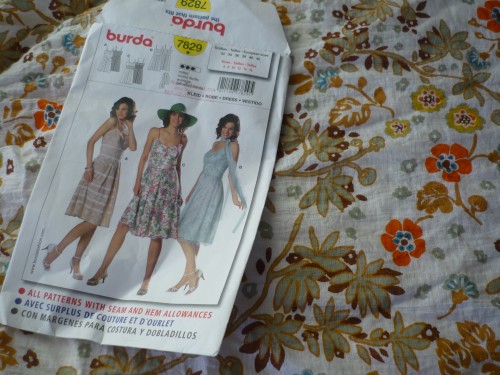 I'd started the middle version with chocolate brown trim. Cute, no?
So, I'm putting myself on the record, I have (at least) 7 UFOs:
Beignet: oh, those tricky buttonholes! I need to take my machine in for servicing (desperately!) because the buttonhole function is malfunctioning…
Burda 7829: fabric pictured above, yay or nay?
Macaron: it's also all done but the zipper needs to be re-set. I stretched the fabric too much when sewing it in, and now one side is a little lumpy! Pictured in my sewing room reorganization photos. I'm embarassed to admit that it's been unfinished for so long!
Vogue 1161: In black, it's going to be so wearable once it's all done! It's all cut out but I haven't been inspired to start.
A leopard print dress I mentioned here. Not cute, not sure what to do next.
A Vogue skirt in blue wool
The gold brocade dress: thanks again for the awesome suggestions on how to fix it, now if only I had time to test them out!
And that's not counting all the fabric just waiting to be made up!
Time plays a huge part as well. If I only have an hour to sew, what's the best use of that hour? What am I most excited to work on? Let me tell you, it's not buttonholes. Or fixing mistakes. It's usually starting the next big thing – and therefore why there are so many half-started projects! Plus, I love cutting out projects, it's my favourite step… which doesn't help either!
I'd love to be one of those uber-organized seamstresses that buy all the right materials at the outset, and work through their projects start to finish, one at a time. I'd feel so organized and productive! Although, I still produce a lot, so maybe my scattered approach works.
What's your oldest UFO? Do you even have UFOs or do you finish everything, doomed or not?