Today we're excited to announce two new patterns: Harwood and Nicola!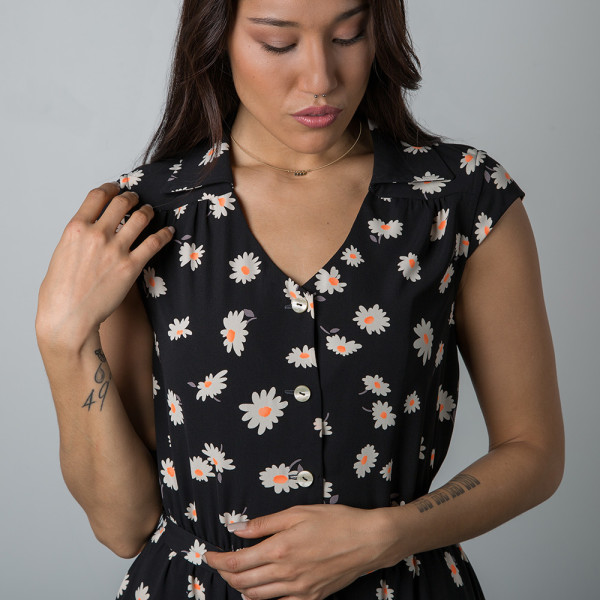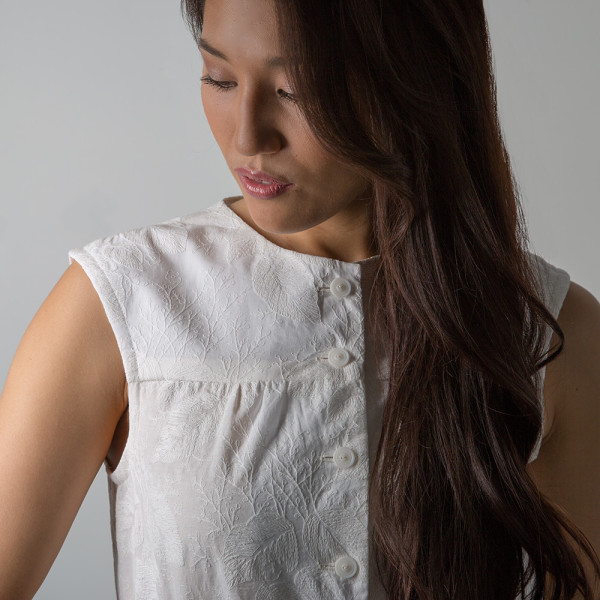 They're similar styles, but constructed differently so it made sense to offer them as separate patterns. Based on your feedback, we knew you wanted a long sleeved dress option, so we made sure one of our dresses had long sleeves. Long sleeves take up more space, especially now that we offer sizes 0-20 and therefore, we have two new patterns to talk about today!
Nicola Dress
I've been wanting to design a shirtdress pattern for a while, something a little different from what's out there already. In fact, I've tried but haven't ended up with a design that just felt right. The Nicola Dress does!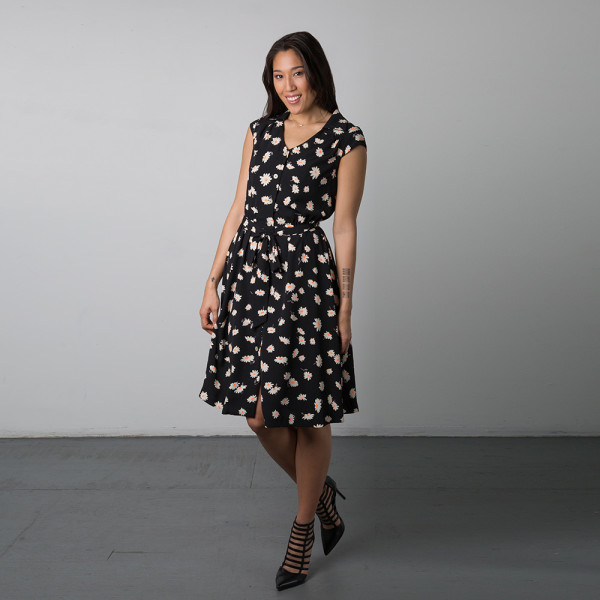 It started with the idea of a loose, relaxed shirtdress cinched at the waist to create an hourglass effect. However, a pattern that hangs straight from the armholes to hem ends up with a lot of bulk around the waistline, and this is especially true for our Sewaholic patterns proportions which are designed for smaller waists and wider hips.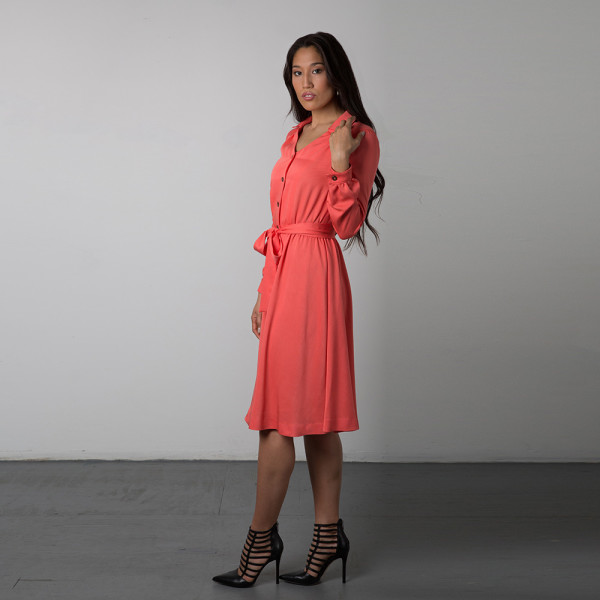 For the Nicola Dress, we added a waist seam so the bodice and skirt are separate pieces, and flared the skirt from the waist to hem. This creates a lovely shape to the dress, with or without the tie belt. We've kept the relaxed feel but given it a little more shaping.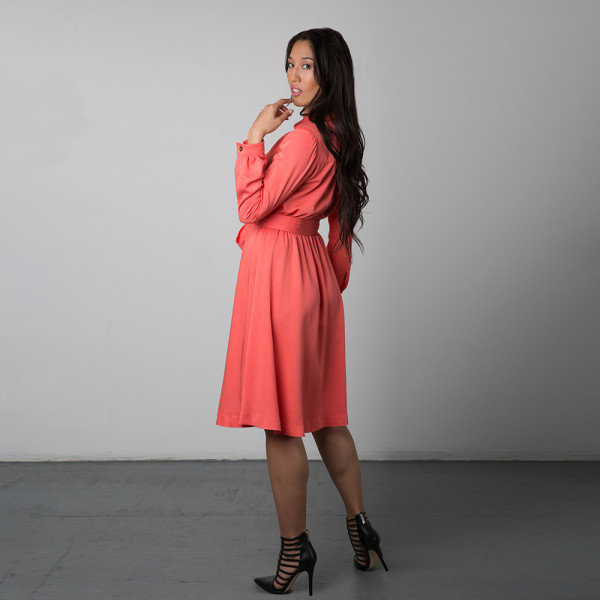 The neckline of the Nicola Dress is my favourite part! It's a V-neck with a slightly curved shape, one that is really flattering to the face. It's not too low, making it a good option for your work wardrobe. The collar lies flat and frames the face gently. It's a softer take on the classic shirtdress, and looks best in softly draping fabrics like crepe de chine, rayon voile and challis, and other lightweight woven fabrics.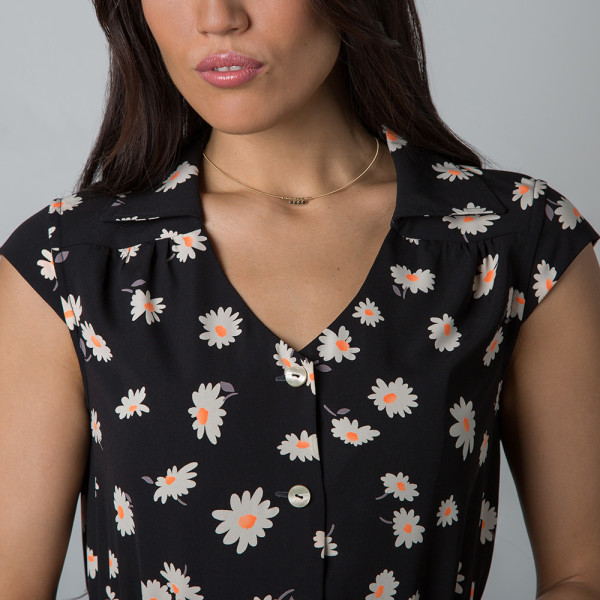 It's easy for a dress like this to look extremely girly. We wanted to show its versatility so we styled the same dress with army boots and relaxed poses.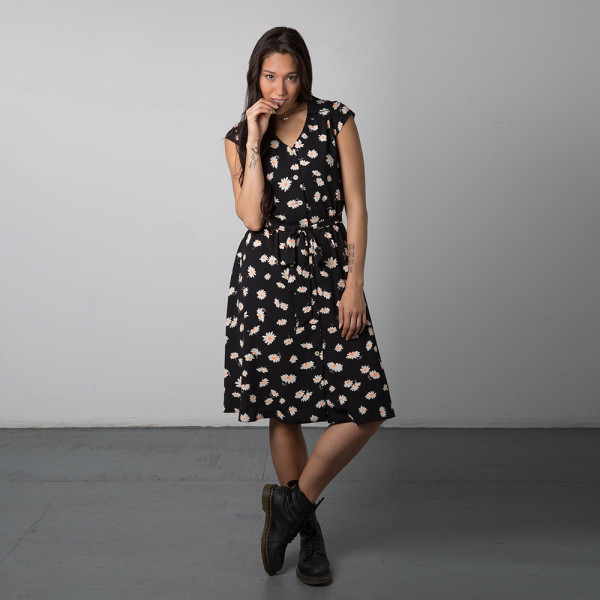 I love it, it turns a pretty, daisy-print dress into something cooler and edgier. Our model Jennifer's attitude and posture changed completely when she went from heels to boots!
Your choice of cap sleeves or long sleeves. The long sleeved version of Nicola is shown in a bamboo cotton twill for a fluid, elegant look.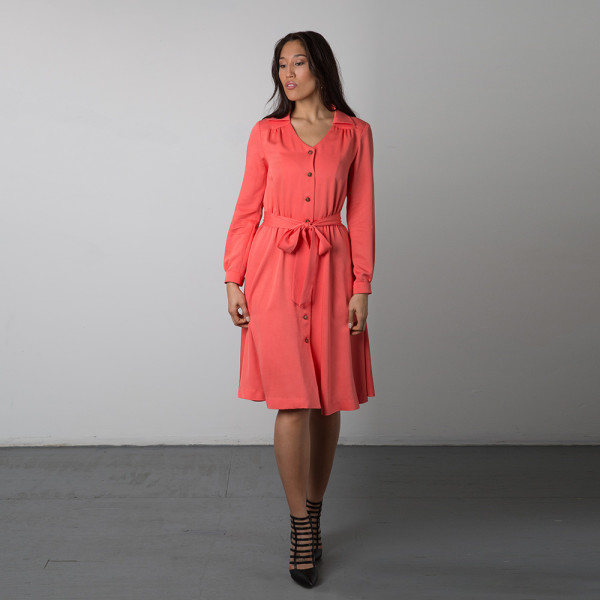 Check out more photos, and order your copy of the Nicola dress here!
Harwood Dress
What started out as a View C option for the Nicola Dress evolved into its own pattern as the Harwood Dress. The pattern pieces for the bodice are different enough with the yoke that it made sense to offer it as a stand-alone design. Doing this meant we could construct the yokes and facings differently, choosing the approach that best suited each pattern.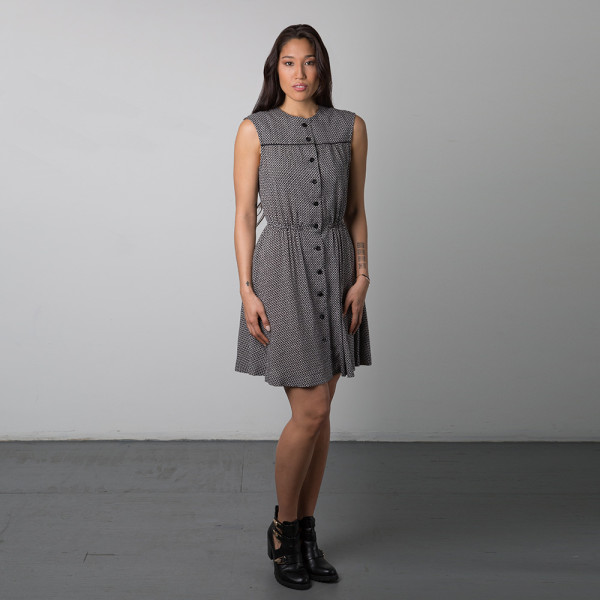 When sewing this black-and-white print version, I wanted the yoke lines to appear more defined from far away. Adding contrast piping is an easy way to do that! The pattern calls for optional piping or trim for this look. We've used flat piping here but either flat or corded piping works.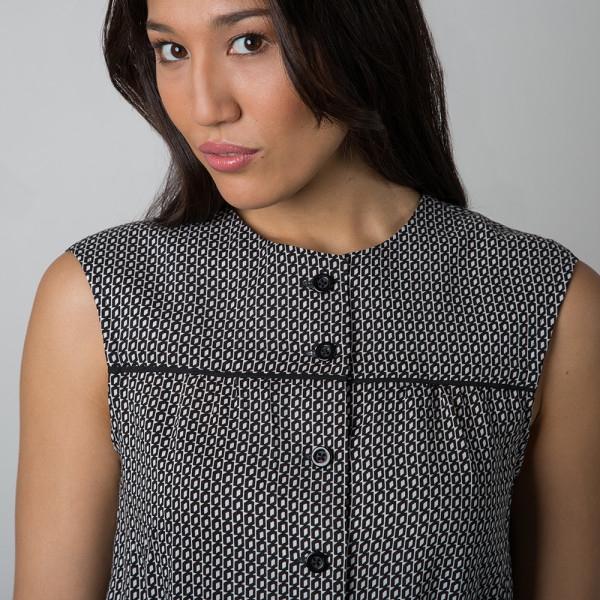 Back views are equally important, and I love how the back view of the Harwood turned out.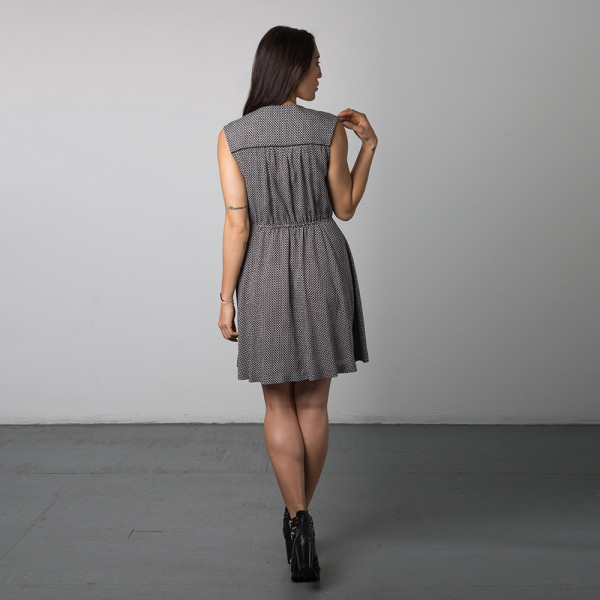 You can see the silhouette of the dress in this side view photo. That elastic pulls it in nicely for a curvy shape!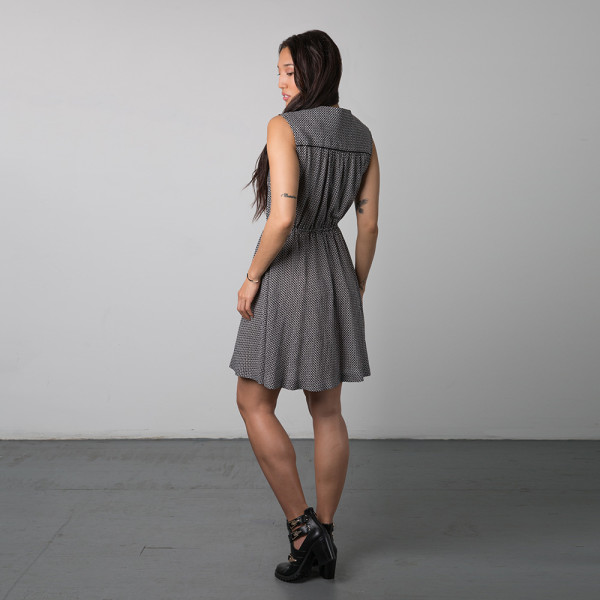 If you like both dresses and are wondering which one to start with, the Harwood Dress is slightly simpler to sew than the Nicola. No collar or sleeves make it faster to construct.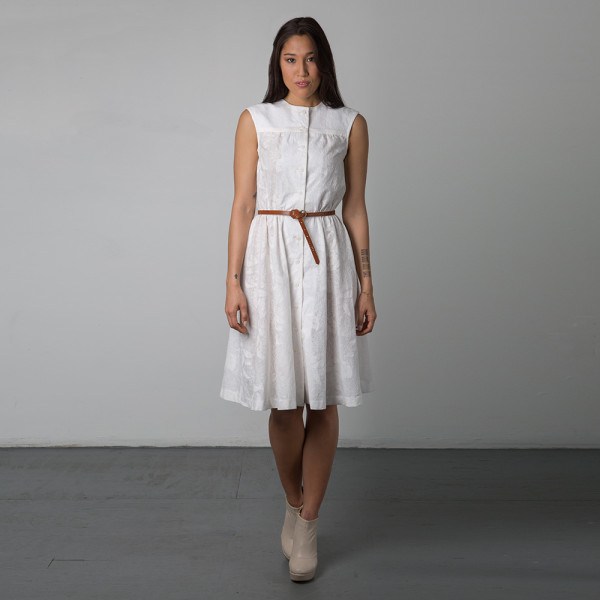 It's so pretty in white embroidered cotton. Choosing a more delicate fabric and a longer skirt length makes it look quite different from the first dress!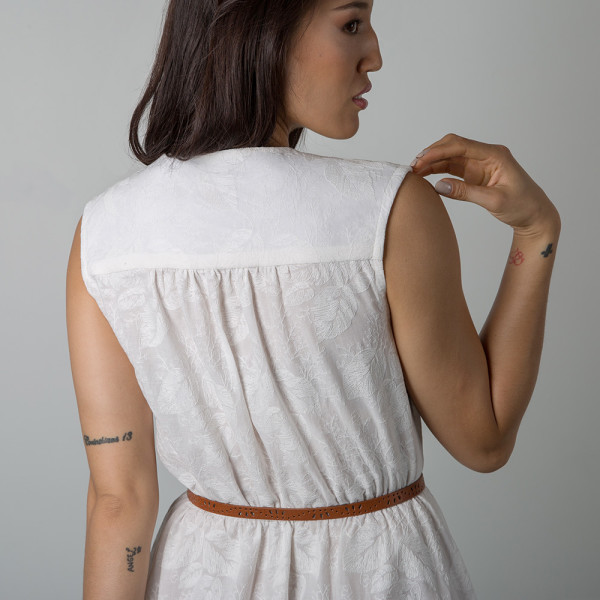 Add matching buttons if you want them to blend in, or pick contrasting ones to make an impact! In the confetti-print version below, the black buttons create a vertical line and add interest.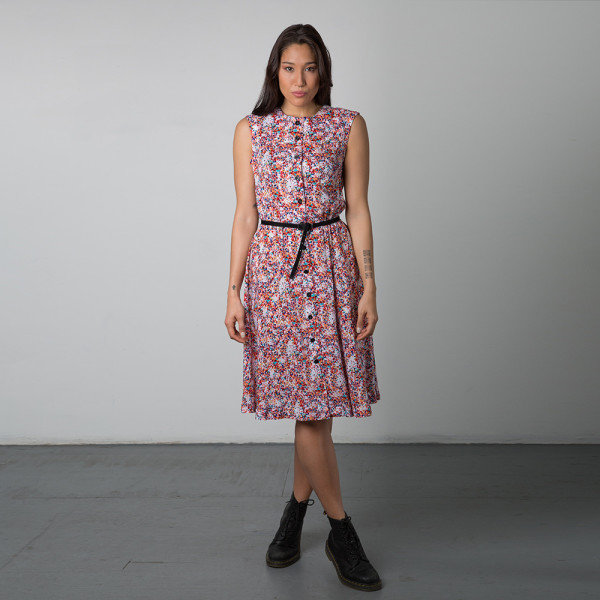 Here's a side view of the Harwood Dress. It's great in lightweight fabrics like this rayon voile. The skirt drapes nicely, the waistline isn't bulky and yet the yoke adds a bit of structure to an otherwise light and floaty dress.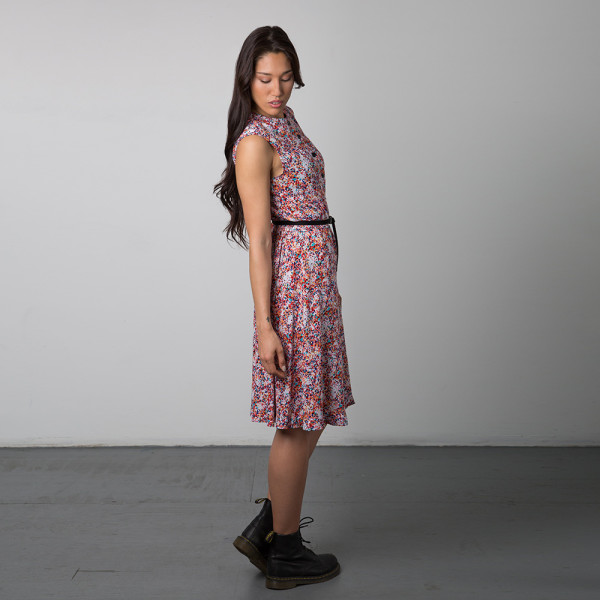 Check out more photos, and order your copy of the Harwood dress here!
We're working on free translations for Harwood and Nicola in Spanish and French (and Dutch – surprise!) which will be available in a few days. I'll let you know once they are ready to download! They're just a little behind but I did want to let you know they were coming. You can see them in the shop listed as 'Coming Soon.'
Fabric Details
Photos by ImageryWorks – Leanne Scherp and Susannah Street
Harwood and Nicola are both street names in downtown Vancouver. They're close by each other and intersect so I felt they were perfect names for these two dresses.
Pick up your copy of the Harwood and Nicola patterns today! Here are quick links to the shop:
I hope you like the new patterns. We'd love to hear what you think of them. Thanks for your support!