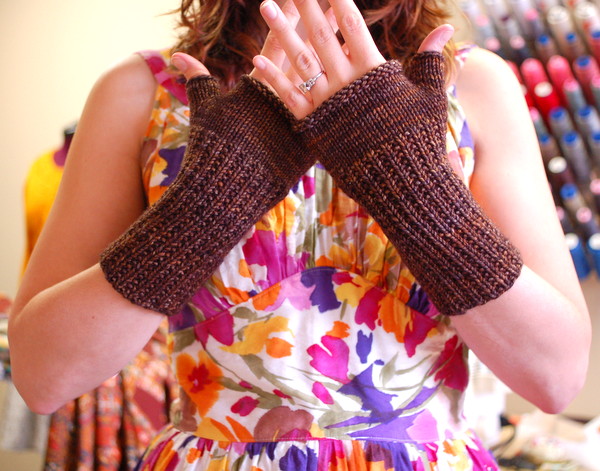 Aren't these fingerless mitts cute? They're from Jane Richmond's new book of knitting patterns, Island. I bought the book at Knit City in October. In fact, I bought the book on Saturday, started the mitts when I got home, and finished one by the time I went back to Knit City on the Sunday!
(There's somewhat embarrassing proof that I went back to the Jane Richmond booth with my single mitt in hand, all like 'look what I made! Check out Jane Richmond's blog here – scroll down till you see me…)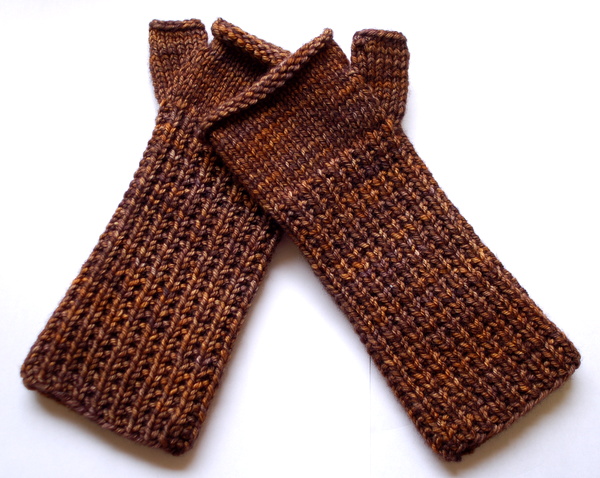 Here's a link to my Ravelry notes if you're interested. Pattern is Rathtrevor, yarn is Madelinetosh DK in Fig. These mitts look wonderful in a solid that's not too solid like this, so you can see the beautiful shades of brown in the ribbing.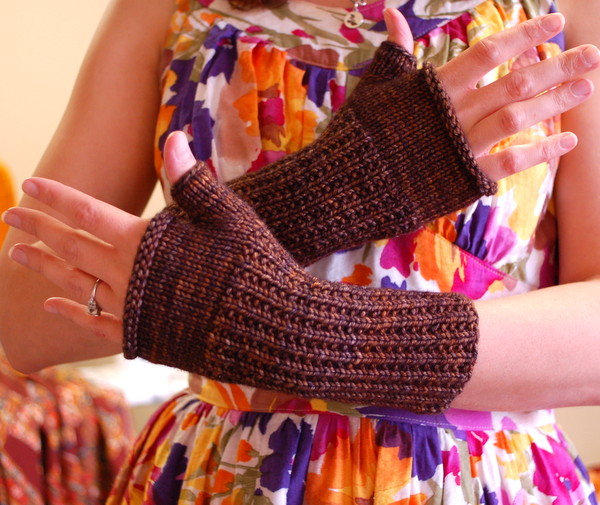 I'm not wearing a sleeveless dress in winter – well, I am, but I have a jacket and scarf too. In order to show off the long cuff of the mitts, I had to de-layer for the photos.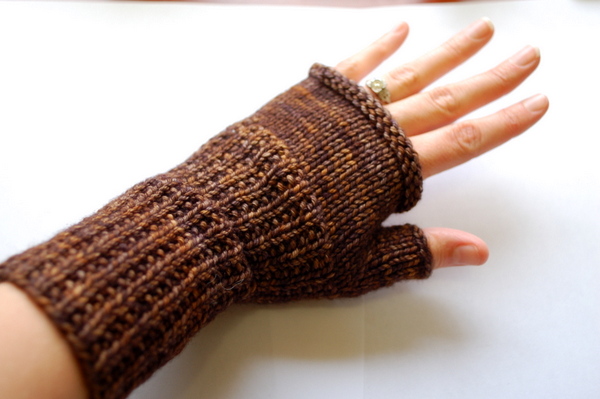 These are very easy, very quick mitts. I started them on a Saturday night and finished on Monday night, and I did a lot of things in between! If you can knit and purl and make 1, you can make these mitts. The beauty is in the simple ribbed pattern and of course, the yarn. For a project as small as this, splurge on a beautiful yarn! I used less than one ball of Madelinetosh DK, probably close to 2/3 of the ball.
I was in the middle of socks and a cardigan when I started these. Sometimes you just need a quick and easy project for a break! (I'm guessing that other people take an actual break from making stuff, rather than fill that break with easier projects.) Two nights of knitting later, I have cute mitts, and I'm ready to go back to the bigger projects. Whatever works, right?
PS. If you like this pattern, the book is available on Jane Richmond's website here. There's a lovely cardigan pattern in there that I'm dying to try!