This is a first for me – tracing off a vintage pattern. Usually, I cut right into the pattern. (Sorry to all of the vintage-pattern lovers that just choked on their coffee!) I make my alterations directly onto the tissue, even if I slash and spread the pattern.
But for some reason I just can't do that with Vogue 8769. It was a present, and it feels special. I shouldn't hack up history like that. Plus, because of the slightly more fitted skirt, I'm going to have to alter the hips. And I usually add to the bodice length, too!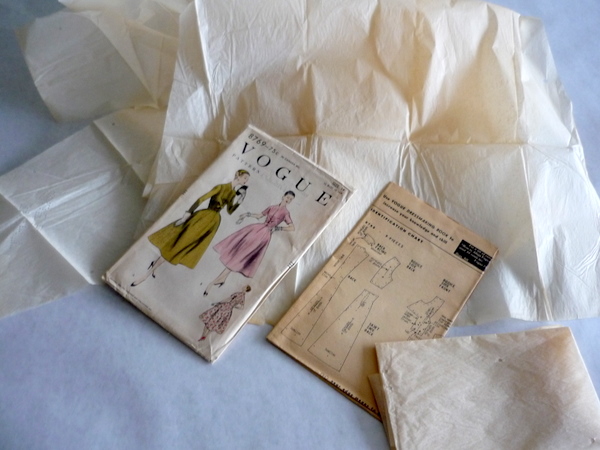 So today, I'm tracing it off to preserve the original pattern. Why? It feels like the right thing to do. I'm becoming a fan of trusting my instincts and when it feels right, then I know it's right. Especially because it's an unprinted pattern, so any alterations I make will be really confusing.
Here's what an unprinted pattern looks like – all perforations, no printing!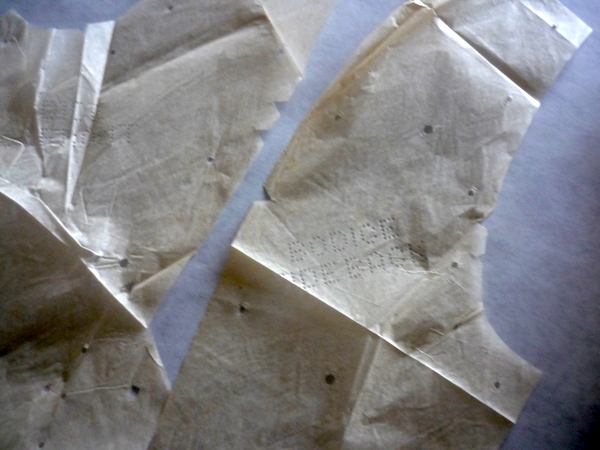 So let's trace! This way we can write all over our own pattern pieces, make alterations to them, and handle them however we like without destroying the original pattern.
You'll need:
vintage pattern: tissue, envelope, instruction sheet
pencil (perhaps an eraser, too!)
ruler (curved ruler too, if you have one)
paper scissors
heavy things to hold down the pattern pieces
a large sheet of paper to trace onto.
On the heavy things and the large sheet of paper:
For heavy things, you can use proper pattern weights. Or, you can use just about anything that's clean and slightly heavy! I use soup cans, my sewing scissors, my magnetic pincushion, my camera or cell phone, whatever I can reach and find easily. It does the same thing!
I have a huge roll leftover from school that I use. I've seen people use sew-in interfacing, swedish tracing paper (not sure exactly what that is or where to find it though!) or lots of pieces of white paper taped together. Sarah from Grey's Fabrics mentioned using coloured wrapping paper. Whatever works for you, or whatever's on hand! The main goal is to preserve and protect the original pattern.
Let's start!
First, iron your original tissue pieces, using a cool dry iron. I put my iron on the highest setting I can before the steam kicks in, which is around the cotton blends or wool setting. (I mention this because at Spool of Thread, their irons are set by fibre content. You dial it up to cotton or dial it down to polyester. It reminded me we all have different-looking equipment we're working with!) Unfold the pieces very gently, and smooth them out with your hands, then press them carefully with the iron.
Flatten them all out, and then take them back to your rolled-out piece of large paper. Start with one piece at a time. Lay out your first piece on the paper and weigh it down with weights.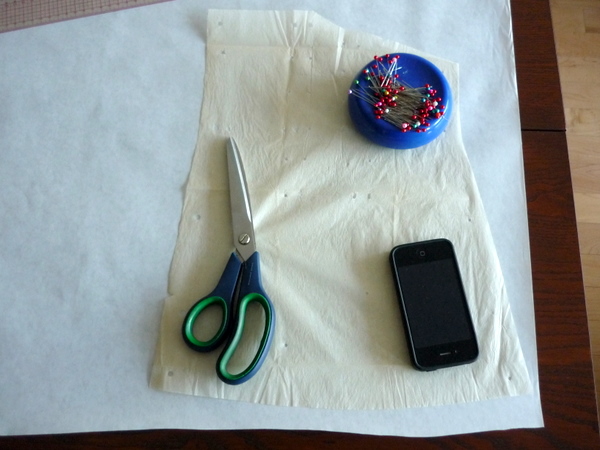 Now, take a pencil and start tracing gently around the edges. Draw lightly, as we'll fix the lines after the tissue's removed.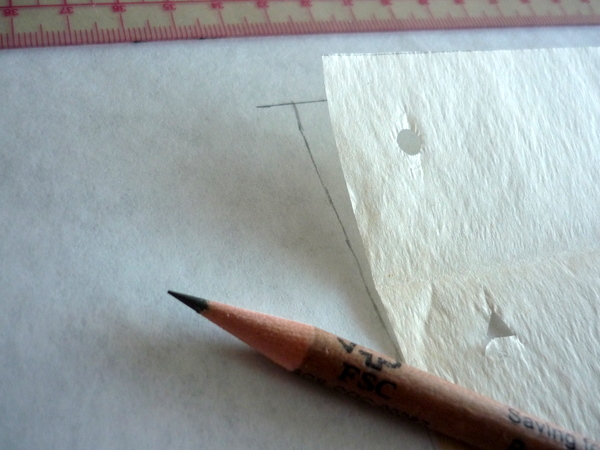 Sketch in the notches, which are usually 'V' shaped cut outs along the pattern edge.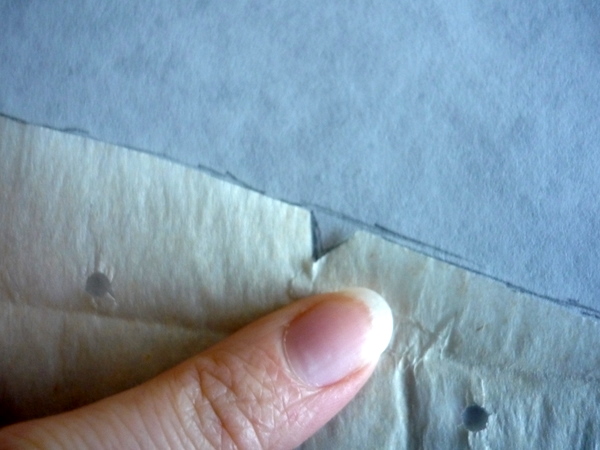 Trace any perforated markings as well. Circles, triangles, squares – copy the shape of the perforation.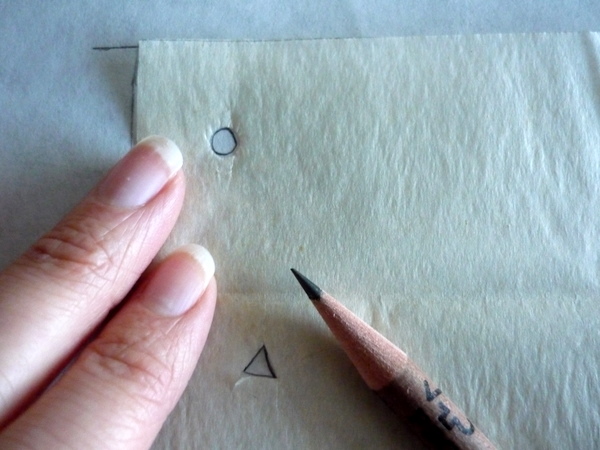 Once you're sure you've marked everything, and traced the entire piece, lift off the tissue. Do a quick check to make sure your tracing looks just like the original.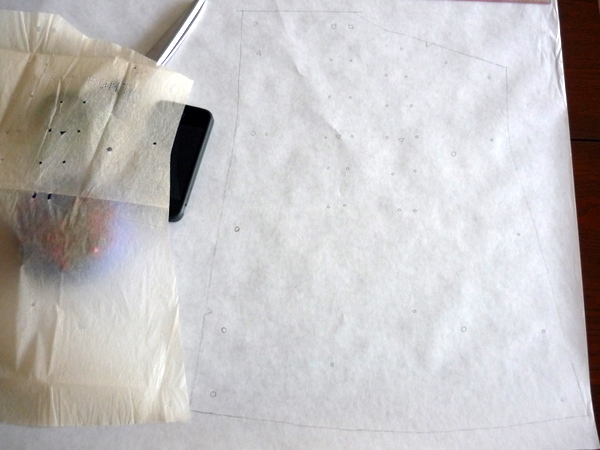 Now, let's fix up our traced lines. Take a ruler, and straighten out all of the straight lines. Refer to the original tissue to see if the lines are meant to be straight or curved.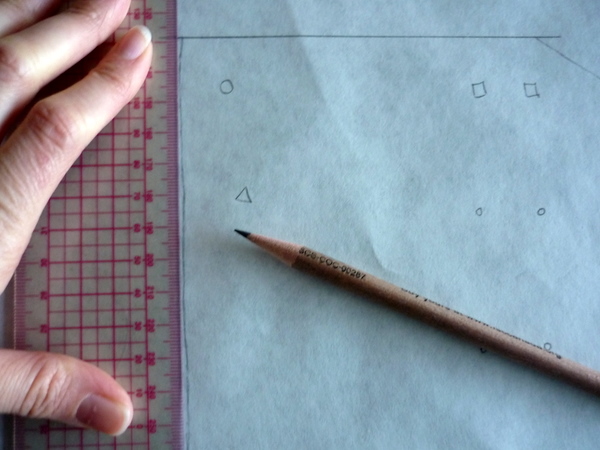 Label your traced pattern piece with the brand, the pattern number, the name of the piece and how many to cut.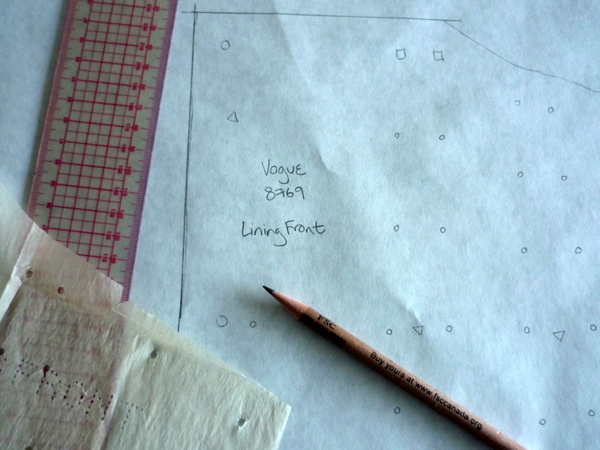 Take a look at the instruction sheet for clues. With unprinted patterns, there's often a little illustration showing what all the markings are for.
Label your pattern piece according to the diagram. Most importantly, find the two dots for the grainline and connect the dots.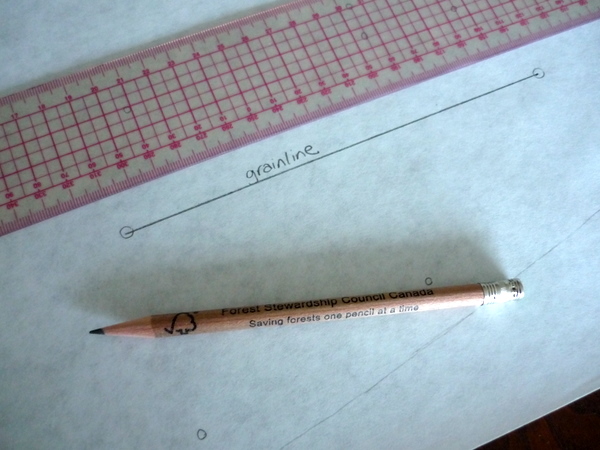 Label anything else you might need. I labelled centre front, just in case. Sometimes vintage patterns are a bit confusing! With this one, the belt and tab detail looks complicated. I'll label as much as I need, to make everything just a little easier to construct!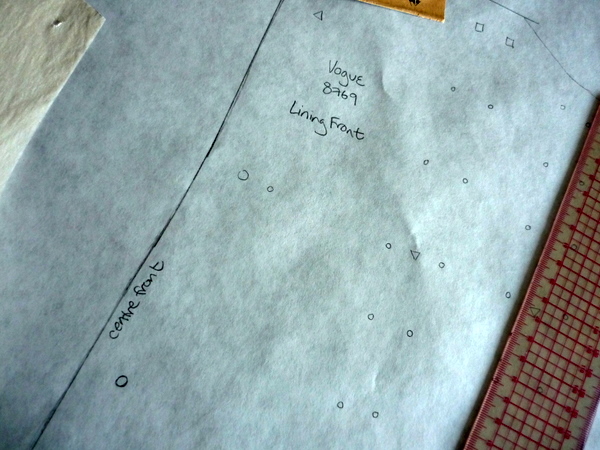 Cut out the pattern along the outside line.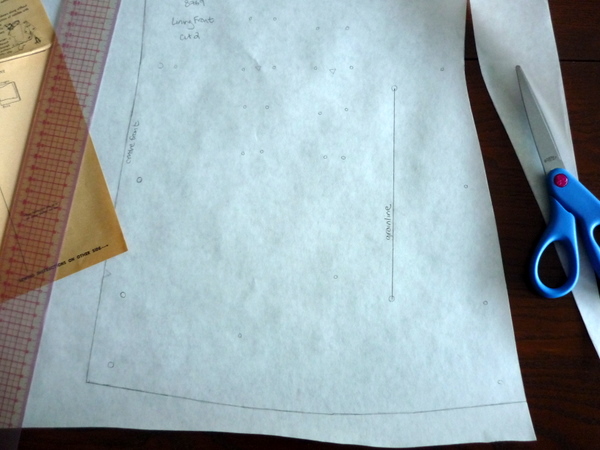 As an afterthought, I traced the outline of each dart. Just in case I need to make any alterations, the dart lines will be helpful. All you need to do is connect the dots!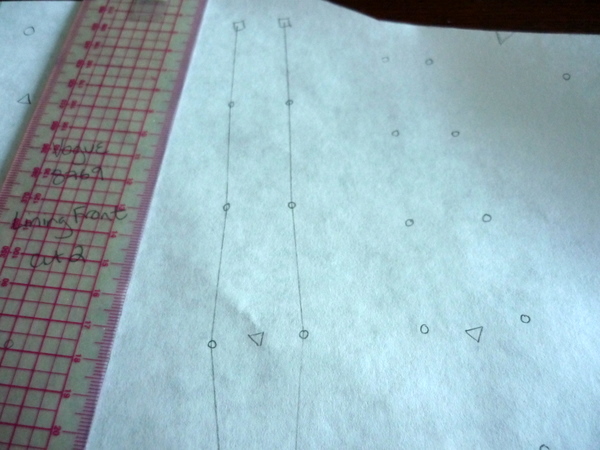 And you're done! You've traced your first pattern piece.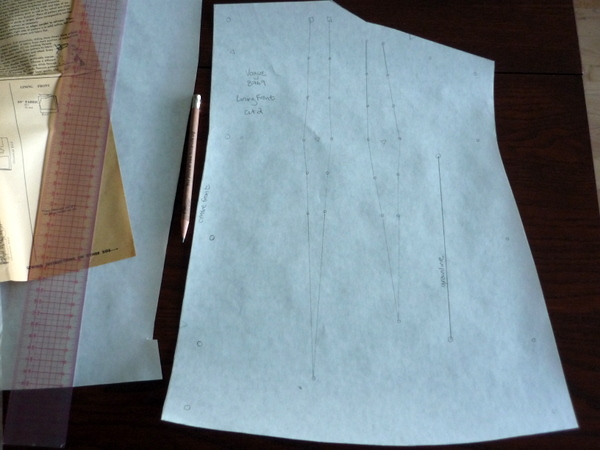 Fold up the original tissue and put it back in the pattern envelope.
Repeat with the rest of the pattern pieces. One thing to suggest, is to lay out all of your pieces loosely on the tracing paper, to make sure you get the best layout and waste the least amount of paper. I did the first piece for the demo, but then laid out the rest of my pieces at once, shuffling them around to save paper.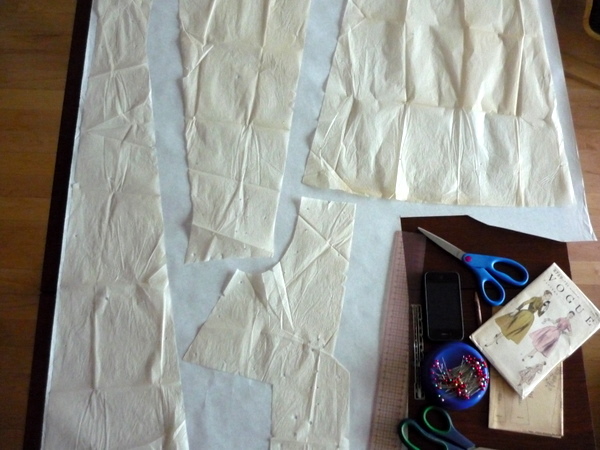 Another good tip is to leave enough room on your white paper for alterations. If there certain places you always need to add to, such as the hip width in my case, then leave extra space around that area.
How do you store your traced vintage patterns? The tracings definitely won't fit back into the original envelope, that's for sure. I used a manila envelope to store the pattern pieces and instruction sheets. To make it easy to store and find, I photocopied the envelope front and back and taped it to the outside.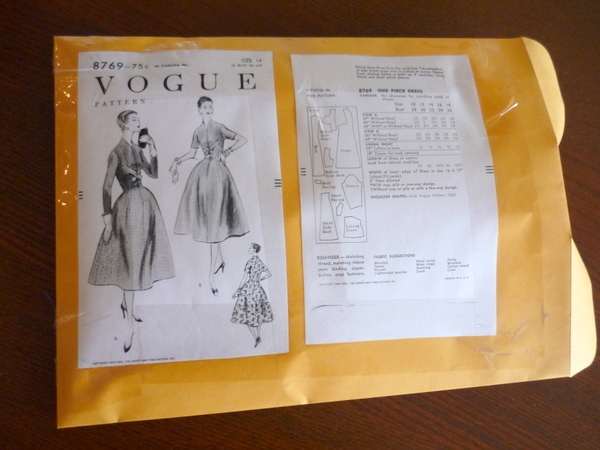 I'm definitely leaning towards the long sleeve version. It's more dramatic!
Any tips, things to add to this demo, or ideas on how to store patterns? Leave a comment below!