I bet you know exactly what striped fabric we're talking about today! (Mr Sewaholic's shirt fabric, of course!) Striped fabric is a little tricky to cut, but not as hard as cutting plaid fabric. If you're dreaming of sewing plaid fabrics but worry about the cutting stage, stripes are a good way to practice your cutting and matching skills before tackling plaids!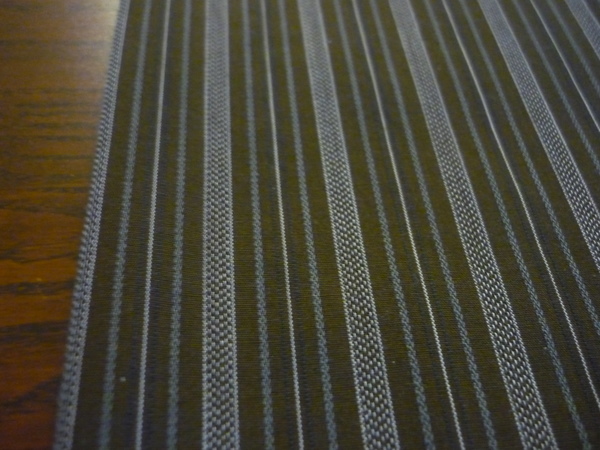 You may have missed yesterday's post – something strange happened and my RSS didn't update itself! So your Google Reader and email updates showed nothing from me. Here's the link to yesterday's post on altering the collar and hemline, in case you missed it. (I thought I'd written the world's most boring post, as there was only one comment!)
Ok, here we go! We've made all the alterations to the shirt pattern and we're ready to cut. I've prewashed this fabric already and pressed it, but I'm going to give it another thorough press. We want to make sure there are no wrinkles when we cut, or our pieces will end up larger than planned when we finally do press and sew them!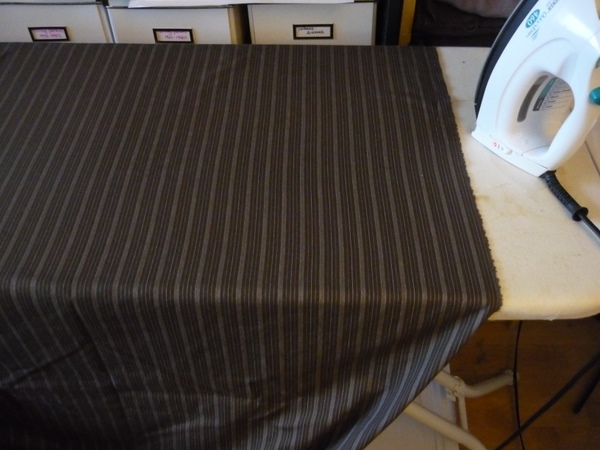 Once the fabric is pressed as flat as we can get it, it's time to lay it out for cutting.
There are two ways to approach cutting stripes (or any fabric, for that matter):
cutting open, with a single layer of fabric, and cutting the 'Cut 2' pieces twice
folding the fabric in half and cutting two layers at once, which is the standard ways in your pattern instructions
There are pros and cons to both. If you cut the fabric open in a single layer, it's more accurate and easier to make sure each piece is perfectly lined up. The con is it takes way longer! Also, if you cut each sleeve separately, they may not be exact duplicates of each other. And there's a chance you might forget to cut 'right side up' when you're cutting a single layer of fabric.
For this project, I'm going to use both methods. Where I can, I'll cut two layers. But where I really want the stripes to be perfect, I'll cut it open one piece at a time.
One thing to note is that I don't need to match my stripes. This shirt doesn't have any seamlines where the stripes need to match – the cuff, collar and yoke are cut with the stripes changing direction. So I won't be talking about matching stripes today (but I do have plans to talk more about matching in the future!)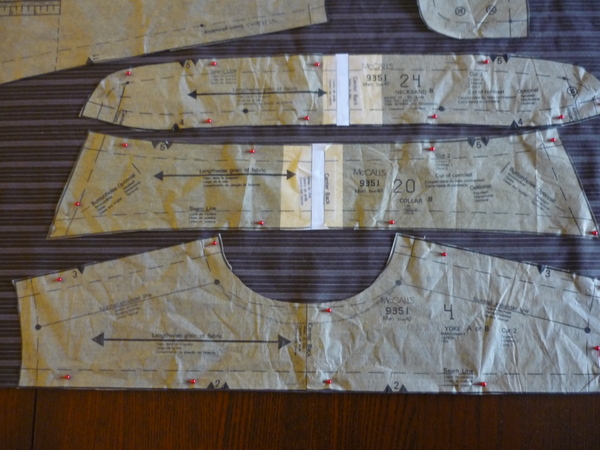 When to cut two layers, on a fold:
Where the pattern piece asks you to cut on the fold
Where the pieces don't have to be identical in stripe pattern. For example, the collar in the photo above. They need to be straight, but they don't need to have the exact same stripe placement. One will be underneath the other so it doesn't matter if they have the main stripe in the same place. Same for the placket, the collar stand, the yoke.
When the stripe is fairly subtle, and you're not concerned about having big bands of colour ending up in strange places. (Like mine! The photo below is zoomed in, each wide white stripe is about 1″ (2.5cm) apart.)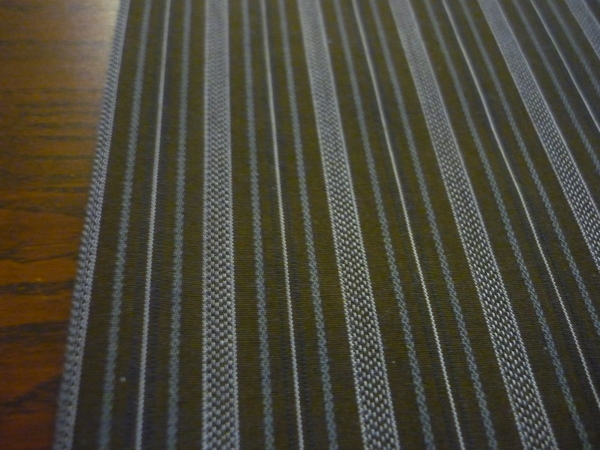 When the fabric is completely on-grain. If you can fold the fabric in half and be certain the stripes are straight on the bottom layer, then you can cut two-at-a-time with confidence!
Cut the on-the-fold and double-layer pieces first, then open up the fabric to cut pieces from a single layer.
When to cut as a single layer:
On really important pieces. For example, the fronts of the shirt, I want to make sure the stripes are perfect!
The pattern piece asks you to. For example, I have a right front to cut 1, and a left front to cut 1, so I will open up the fabric to cut each single piece. Also, there is only one front band, so I'll cut it when I open up the fabric.
If your stripe is really bold, large or distinct. Cutting on a single layer lets you choose where the bright yellow section lands. It also lets you choose the most flattering placement. Don't like orange next to your face? Don't cut the collar out of the orange section.
When you are short on fabric! Cutting from a single layer saves fabric and wastes less.
Other tips on working with stripes:
Buy extra fabric, to make sure you can line up the stripes where you want them. The extra fabric will be handy in case you need to re-cut smaller pieces. For example, it's hard to visualize how the collar will look once it's cut out. If you hate the stripe placement when it's cut, just re-cut it!
When you cut, cut along the stripe, not the pattern piece. That way if the pattern piece shifts, your stripes will still be straight. Look at the scrap I cut off in the photo below – I cut along the blue stripe.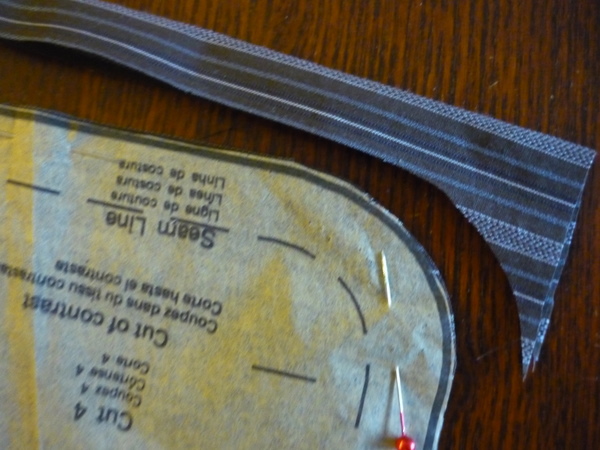 Consider where your seamlines will intersect. Will you match them, or purposely change stripe direction?
If your bottom layer slips when you cut on the fold, sometimes one of your pieces will look straighter than the other. That's OK in a lot of cases! Use the nicer-looking piece where it will show, and the not-as-nice piece underneath. This works for yokes, for collars, for collar stands. One of the pieces will be hidden, so you can hide less-than-perfect cutting!
Grainlines are not the only way to line up your stripes. Yes, you can use the grainlines to make sure your stripes are straight! But you can also use the pattern edges instead of the grainlines to make sure your stripes are straight. I used the edge of my cuff piece to line up along the stripes, instead of the grainline itself.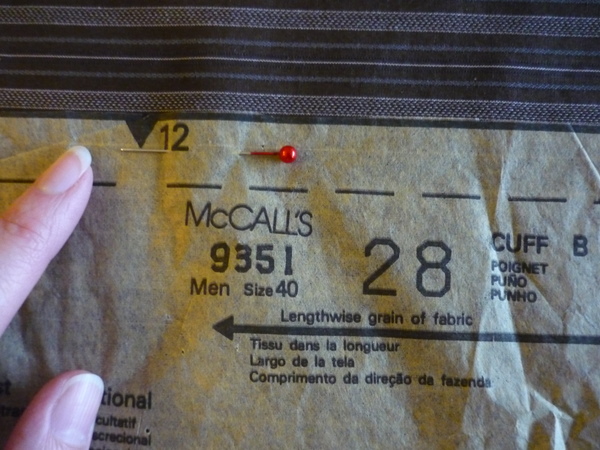 If your edges aren't cut yet, cut just one side of the tissue to use in lining up the stripes. Cut the rest after the piece has been lined up.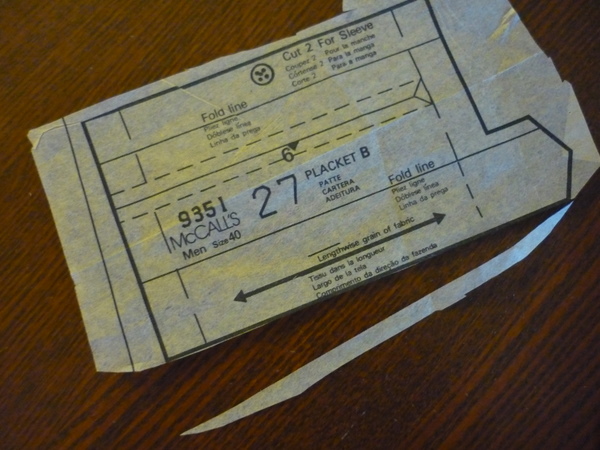 On that note, you can create neat effects when you change the direction of the stripes. Especially using stripes on the diagonal – seamlines will meet to form a V or chevron effect. Get creative! Just as long as the grainlines aren't integral to the fit or drape of the design. (Bias skirts have to be kept on the bias, or they won't fit right!)
There are way more exciting and creative things you can do with stripes, so I'll definitely be revisiting this idea in the future! For this project, my goal is to use the stripes to create a polished, tailored look.
A couple of project notes:
We've decided to skip the cufflinks on this shirt. Mr Sewaholic and I agree that this shirt will look nicer with buttons, as cufflinks are a little too fancy for the brown stripes.
Does anyone have tips on interfacing for men's button-front shirts? Shirtmaking by David Page Coffin recommends using bleached muslin as sew-in interfacing. Shirt experts, what would you suggest?
Any other tips on cutting and working with striped fabric? Leave a comment!