Hey, everyone! I've read all of the comments on last week's post  – Who Loves Taking Finished Project Photos? and I really enjoyed hearing your thoughts. It's rather surprising that many sewing bloggers don't enjoy getting their photo taken. Don't you think that's interesting? It's the sort of blogging that requires photos, and photos of yourself most likely. Yet you don't love posting your photo online!
So I thought I'd compile some of the useful tips from the comments of the original post, in case you missed them. If you have anything to add, leave a comment!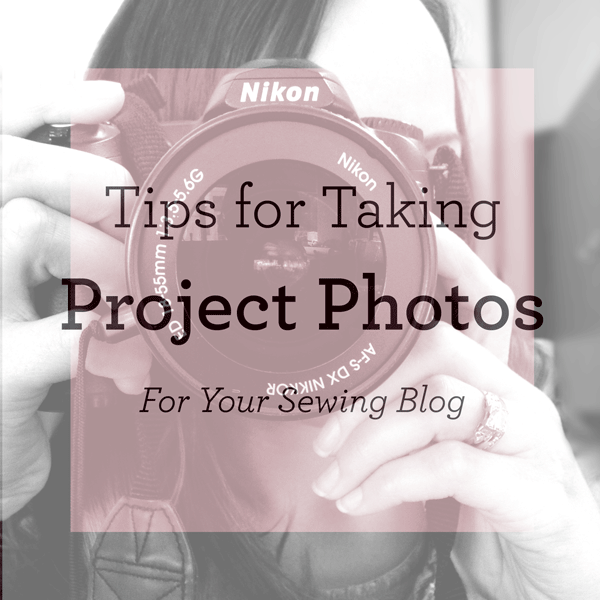 Tips for Taking Blog Photos
Location
Rebecca: I try to schedule a set day each week when I take my pictures, usually when I'm at my mother's house, the park, the gardens or the beach since I prefer shooting outdoors.
Anneke: I try to make my photos interesting to look at so me and my boyfriend always look for nice locations, but I still feel awkward getting my picture taken. In fact, the preference for desolate industrial landscapes or nature as backdrops isn't just the cool factor but also the lack of other people there!
Liliana: I do feel very akward photographing myself when other people are around – I prefer 'abandoned' places or just ask my sister to snap some photos, because then it's obvious what we are doing and noone really stares (as if anyone would really care about what we are doing!).
Carlee: I feel really awkward when taking photos so I usually get my hubby to take a few at one of the empty downtown spots we know about or while out on a hike.
Choose what you show
Nita: It doesn't have to be a full portrait, either…you can focus on the outfit or even just bits of the outfit (bodice, sleeve, cuff) and crop out things like your head, legs, etc. then you can still have the outfit but not the portrait. And it looks fine to do that. And if you're going to do that, you don't even have to smile at the camera.
Scuffsan: On my blog I never post pictures of my face, so I never had to consider my facial expression or bad hair days.
Get help from people who like taking photos
Katryna: I actually like taking the finished photos. I like to get a little extra dressed up and play with the concepts a little bit to keep it interesting. I am lucky to have a boyfriend who usually doesn't mind spending the time to shoot with me. In the beginning I had to teach him tip #2 – he would just snap a single image and go 'okay, next location!" and I was like…yeah, no, take 20 more haha. If he's there with me I feel less weird taking photos in the wild.
Sewn by Ashley: I take most of my blog photos with my friend Amy, who is also a sewing blogger.
Kaoru Marie: I'm too self-conscious to take photos of myself in the wild so I limit myself to my sewing room and patio. If I'm visiting my parents, then I can get my photo taken in their backyard, which is a nice change of scenery and my dad enjoys practicing his camera skills ;)
Sarah: I find if I get a friend to do it, it's so much more easy to smile naturally.
Think outside the box, improve a little at a time, and make the most of your photo day
Karen: I don't mind taking the photos of my projects as long as I'm not the person wearing them. Luckily my daughter will usually oblige me but it means several projects get finished and have to wait until she has an hour or so free to put them all on and model them. I always use both my phone and a camera (35mm film type) so I have a backup copy of everything.
Anne: I'm slowly equipping myself: I bought my daughter's camera when she got a new one, I got a dress form, then I bought a cheap tripod… got myself a nice corner in the house and now, from time to time, I have pictures I'm happy with :-)
Deanna: I find that taking photos in bulk bundles works well for me. It just requires planning!
Motivation & final thoughts on the whole process
Gillian: I actually quite like taking blog pictures! Over the years, taking all those blog pictures has actually made me like my looks more, and feel way more confident in front of the camera! I think the big difference for me is that when I take blog pics, I take TONS, which helps me feel like, "Hey, I look bad in that one shot bc I'm blinking/slouched/moving…but there's one where I look great!" instead of "I looked bad in the one pic so I must be ugly." I've tried having people take my pictures, but I prefer a remote and tripod – that way i can take my time, be silly, try things out, and not feel rushed or self-conscious.
Diane: I don't have a blog for my sewing, and I don't know if I'd feel comfortable taking my photo for it, but I will say how much I have appreciated seeing what others are sewing. To see these creations on 'real' people is also encouraging…it gives me confidence to sew the garments and feel that I, too, can wear them and look good.
Jennifer: I agree that a mediocre photo is much better than no photo! And I think we should never feel the need to apologise for the quality of our photos – unless you've declared 'I'm an awesome professional photographer', no one has a right to expect great photos! Most readers care about the sewing, not the photography itself. It only needs to be good enough to show off your sewing. So I guess that's my tip: make it easy on yourself, do it quickly and don't worry about it being perfect, and don't apologise to your readers when it isn't!
Agreed! Thanks to everyone who shared their tips and thoughts. Have an awesome weekend, everyone!