Dear readers, I just wanted to let you know, I'm not a perfect seamstress. No, really. And I get very easily distracted. Not because I'm slow or unfocused, I just usually have a few things on the go at once, and float from task to task. Computer's on, laundry's on, and there are at least two different projects in various stages of completion.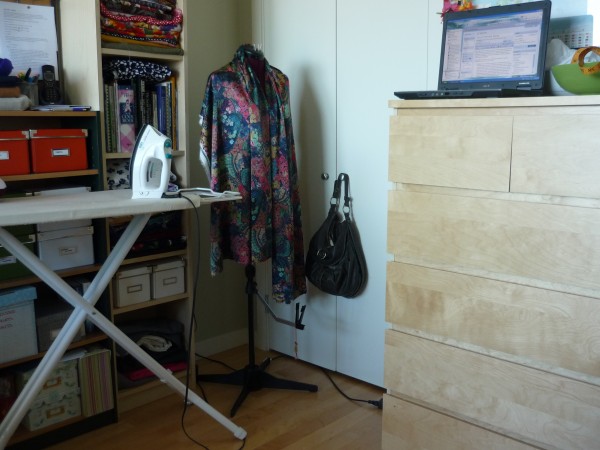 So I thought I would share some of my tips for productivity, even if it's somewhat of a 'do as I say, not as I do' list:
Number one, turn OFF the computer! I'm so easily distracted by my computer when I'm sewing. It's usually on, and nearly every time I walk by I can't help but stop. Oooh, emails! Oooh, comments! Oooh, beautiful things for sale on Etsy! It's a major time-suck and eats into my sewing time. If you want to have more sewing time, keep the computer out of it.
Don't watch TV, either. I've found myself making cutting, pinning, and ironing mistakes because the TV's got more of my focus. Plus, then I start only sewing on the commercial breaks, and pinning or trimming during the show. TV = bad! Another time waster.
On to the 'do's' – put on fun music! Whatever floats your boat, just make sure you've got enough tunes to last, and that you won't have to get up and change every second song. Make a playlist that gets you going, and then get to it!
Have all your supplies ready for your project! Don't forget the little annoying ones like interfacing, twill tape, seam binding. If you have time beforehand, read through the instructions as well as the back of the envelope. Sometimes there are hidden requirements in the instructions, especially when sewing from vintage patterns. They expect you to be stocked up on essential supplies – so make sure you're ready! Nothing like finally getting a night to sew, and running out of white thread. Argh!
Prep your workstation: fill the water in your iron, grab your scissors, pins and marking tools. If you're anything like me, clean up a little. Get rid of dishes or anything that's going to irk you while you're trying to get creative. (Is that just me? Please, make me feel better and tell me you can't work if there's a dirty cup in the room, too…)
Now if I actually followed my own suggestions, I'd be so much more productive! When I finally get some quality sewing time, it sure helps to be prepared a little, and find the best ways to work without (too many) distractions.
I'm sure there are more tricks to getting more out of our sewing time. Does anyone have tips for being more productive? What works best to keep yourself on track? Share them in the comments! (I'm looking forward to coming back from vacation and reading your comments… hopefully I'll learn new ways to be more focused!)