I love checking out thrift-stores. I like the randomness of secondhand shopping – you never know what you might find! And, because I can sew, I can see the potential in garments that others might pass up, simply because they're missing a button or other simple fix!
A while back I found this olive military jacket. Cute, right? (Plus, it's something I might not want to sew, with all those seams and pockets and details.)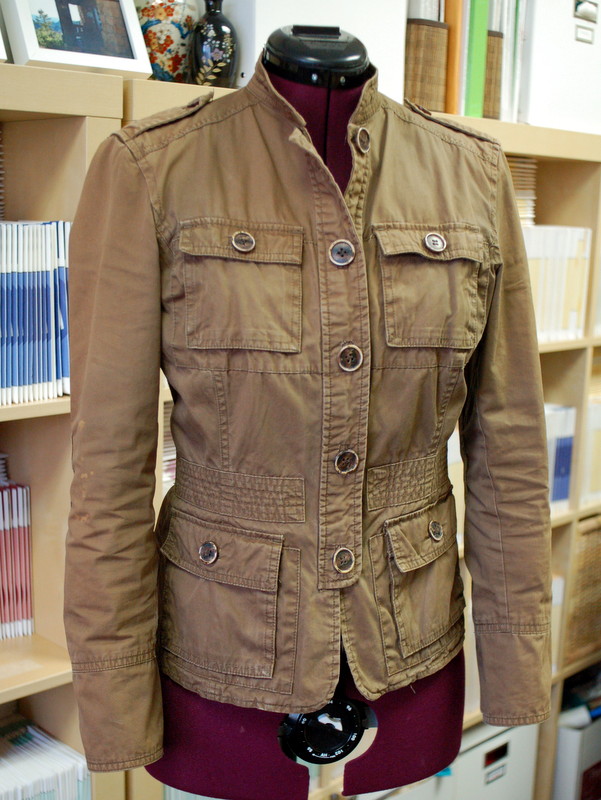 For $6, it's in great shape, and it's the kind of style that looks even better with age as it becomes well worn in. The only problem? A little tear in the lining. (Which is probably why its previous owner passed it on, but I can fix that!)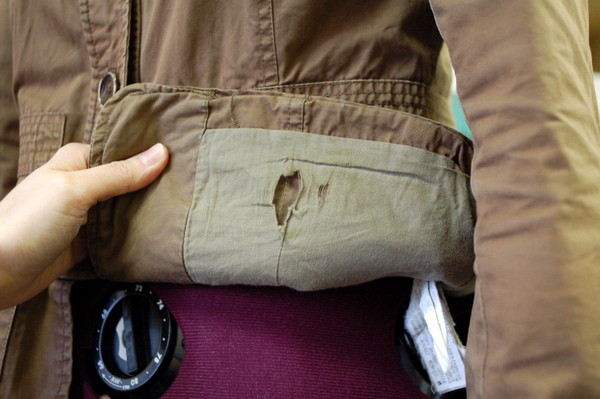 There are three things I could do: replace the whole lining, patch just the small section, or ignore the tear and hope it doesn't get worse.
I chose to patch the lining. Why? Because I didn't want it to tear any more, but I certainly didn't want to replace the entire lining. (I've done that before and it was a lot of work. Here is a post if you are wanting to try replacing a full lining!) I figured patching was a quick and easy way to fix it up before the rip could grow. Plus, the rip was in a flat place (not the armhole) and a hidden place (not the back neck, or the hem of a long coat). Also, the patch wasn't going to be in an area you could feel while wearing it – like on a skirt. Ripped lining on a skirt is not worth patching in my opinion. It's better to replace the lining entirely or remove the lining.
I used to own a jacket that had a trendy patched lining, with contrast patches sewn on intentionally. It looked pretty neat, and if designers are adding patches to lining for interest, why not add a legitimate patch to my jacket to extend its life? A patch is better than a hole, anyways.
Here's what I did:
Search the scrap bin for an appropriate patching material. You don't need a lot! This is a good way to use up those scraps in the scrap bin.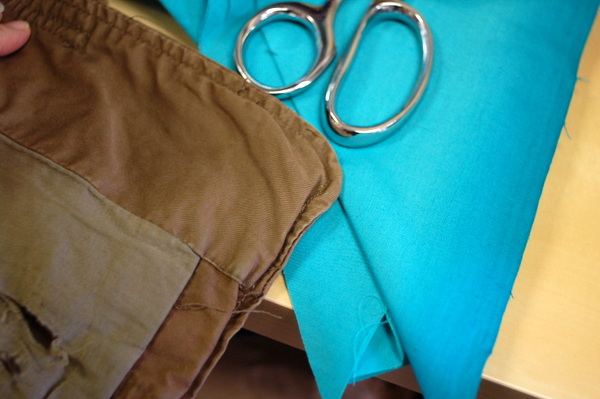 I picked this turquoise cotton because I love the colour, and I like how it looks with olive. (I figured if I couldn't get a perfect match, an interesting contrast was better than black. And no one will see it anyways!) The lining in the jacket is a cotton or cotton blend, so the patch fabric is a close enough match in weight and thickness. If it were silky lining fabric such as polyester or rayon, I'd look for something similar to patch with.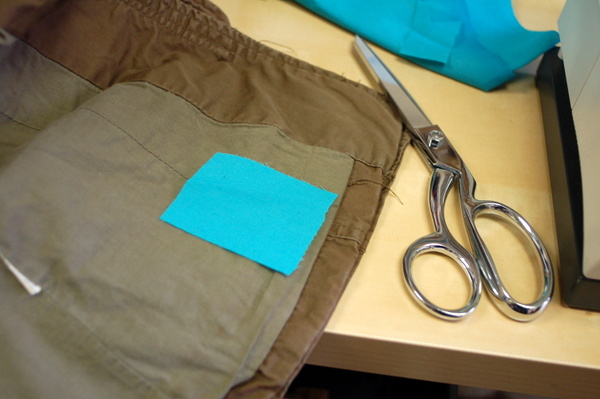 Cut a rectangle about 1/2″ (1.3cm-1.5cm) larger than the ripped area. (I was going to try something cute, like a heart-shaped patch, but thought it would be easier to sew around a rectangle.)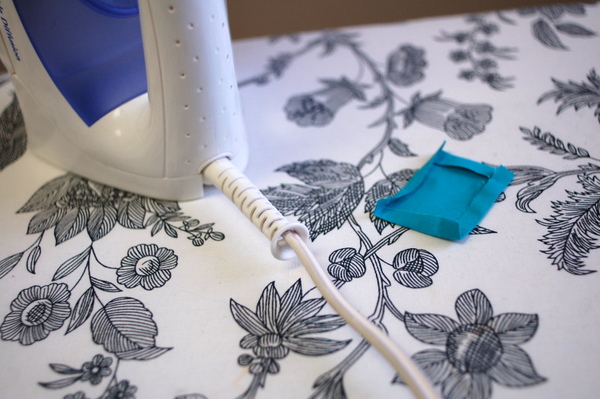 Press under the edges of the patch. It doesn't have to be super accurate, as long as the patch is still larger than the area to be patched.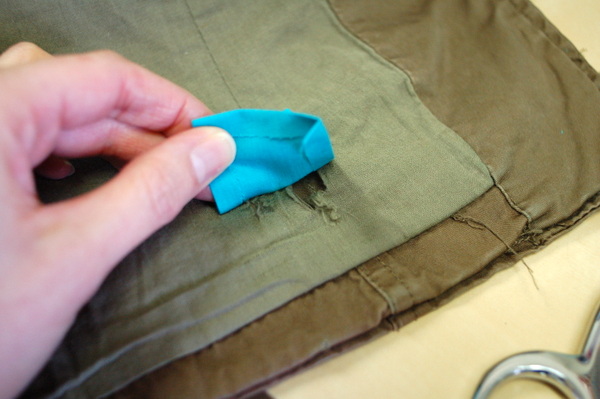 Pin the patch over the torn lining. You can pin through all of the layers, just don't sewn through them all!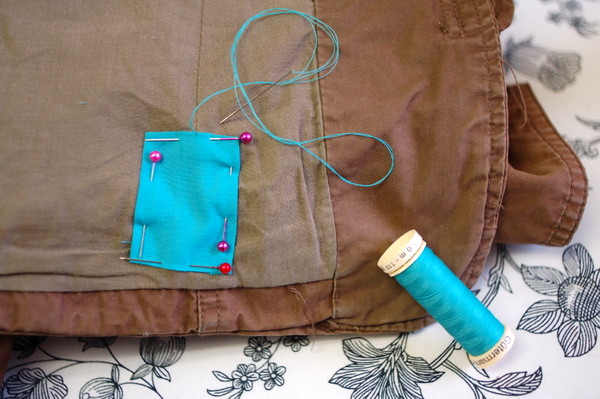 Now, because the jacket's lining is sewn in by machine, I'm going to hand-stitch the patch. If the lining was left open, hanging freely in the garment, I could machine-stitch the patch and it would be much quicker to repair! (I don't mind the hand-stitching though. I've been doing a lot of computer work as I write this, so it's a welcome break to handstitch in between long sessions at the computer.)
I'm hand-stitching the patch using a blanket stitch, so it's a little bit more decorative than just sewing a straight running stitch. (Because, why not? Might as well make it look intentional, plus it will be more secure.)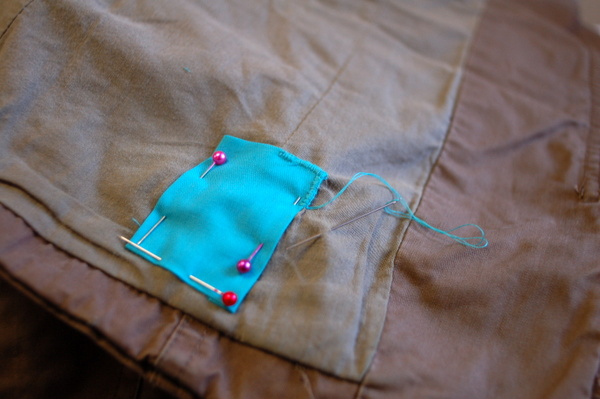 Once it's done, I can wear this jacket and not worry that the hole in the lining will grow. (I'd already worn it out a few times before mending the hole, but now I'll be able to stop thinking about the hole.)
Is it perfect? Well, no. If I wanted it to be perfect, I'd have searched out matching fabric to patch with. Most importantly, it is done and it didn't cost a thing to fix. When it comes to mending, I can put it off forever. I don't enjoy mending or altering so I have to force myself to do it!
It got dark before I finished, so this isn't the best-looking photo, but it's done! (My trick to getting it done? Wearing the jacket to the office so I have to finish the mending in order to leave!)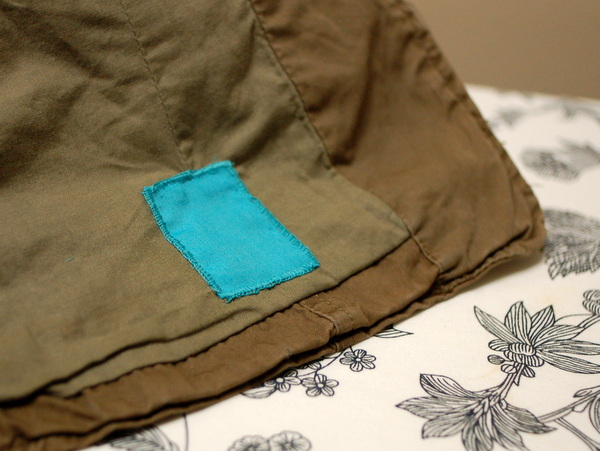 Have you ever patched a lining? Would you do it like this, would you prefer to replace the whole lining or would you wear it as-is, holes and all? What do you think of trendy, intentional patches as part of a garment's design? If you saw the inside of this jacket would you think it was weird, or cool?