It occurred to me last week that I've been writing this blog for three years. Three years! It's hard to believe that what started as a little personal journal  (basically, me talking to no one) has turned into a real blog that people read and subscribe to, then evolved into a real business.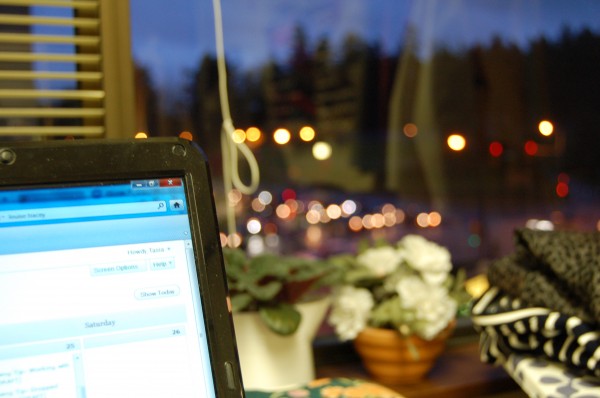 (can't remember what this photo was from but this is what I find when I search my photos with 'blog' – looks about right!)
I talk a lot on the blog, so I will try not go on too much about it here. Just wanted to mark the occasion and say "wow, three years later and I haven't run out of things to say about sewing." And give you some interesting numbers about sewing blogging. I love numbers, so here you go!
In the past three years:
I have written 640 blog posts
You've posted (and I've read) over 18,000 comments!
That 18,000 does not include over 95,000 spam comments
Nearly 1.5 million people have visited the blog, with half of that coming from just last year (Feb 2012 to Feb 2013)
I have designed and published 10 sewing patterns
These patterns are sold in over 70 retail stores
I figured out what to do if the blog disappears
I have 'met' hundreds of very cool people who also love to sew!
Before this turns into something too long that you won't read, let me say thank you for visiting my little online journal all about sewing. You're the reason I wake up in the middle of the night to see if there are any new comments. (Just kidding – kind of!) You guys make every post better and more interesting with your smart and thoughtful commentary.
Also, you inspire me to try new things, because it's more fun when you have a bit of an audience that cares!
That's all! Thank you for being the greatest blog readers in the world. Back to regularly scheduled blog posts soon. Have a wonderful week!