Whenever we have a good discussion post, the same thing happens! I get too wrapped up in approving and reading all the responses to get a post together for the next day. It's getting dark here so early – this photo was taken before 4pm! Looking outside my window and watching it get dark puts pressure on me to get home quick! I feel like drivers are grumpier when it gets dark early.. and I cycle past a popular mall so it's busier than normal. (All those distracted, stressed-out shoppers texting while they drive home – scary! You might think I'm being dramatic but when I bike, I can see what they're doing in their cars…)
But on the other hand, packing up and leaving while it's light outside would leave too many things unfinished. I'm looking forward to long, summer nights again!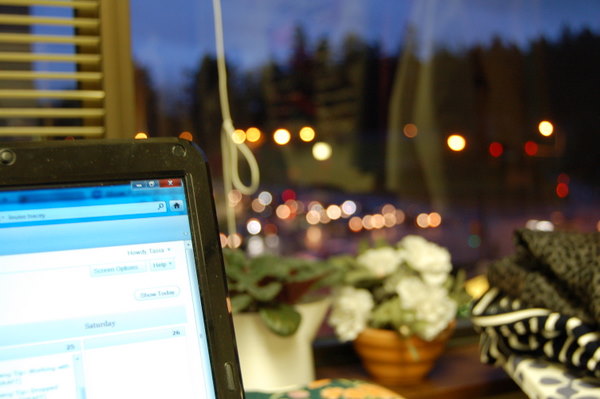 (this photo turned out pretty, with the traffic lights in the background. only one of those plants is real and it's not the one with flowers!)
So here I am, writing a quick post before another dark bike ride. (Because once it's already dark out, what's the point in rushing home?) Although I am looking forward to the ride home, there's a lot on my mind tonight!
I loved reading about your partners and their support of your sewing hobbies. There were so many nice stories and cute things your spouses have done to support your hobby! And for some of you, it's more of an issue. I'm thrilled to hear that for the majority, your partners understand that sewing's important to you, even if they don't quite share the same fascination. I was actually thinking there would be more complaints in the comment section!
I enjoyed this comment from Marie, that is interesting whatever your situation is!
My husband's pretty good at spotting fit issues, though not that great about verbalizing them ("it's kind of weird – there").  He's also good at talking me down from sewing rages ("no, don't cut it all to pieces, put it down and look at it tomorrow").  His computer and my craft/art/sewing space are in the same room so we spend a fair amount of time together.

That said, flipping through all the comments made me think of something.  I once dated a guy who had an obsessive hobby.  Nothing wrong with the hobby (car stuff), but it was seriously obsessive.  Nearly every night he worked on cars and whole weekends were swallowed by track days.  What was at first really fun came to seriously suck.  I was bored and felt neglected and despite being interested in cars (and doing some stuff of my own with them) ended up completely sick of sitting through dinners where that was all that was discussed.  Maybe if I had been as into cars or had an equally engrossing hobby to spend time at things might have worked out.  But I didn't and I don't and it really just killed things.

I'm sharing this because I think it's important to be able to step back and assess how much time you're spending with your hobby.  Husband and I have a variety of hobbies – some we share and some that are our own.  Nothing, however, is allowed to overwhelm everything else.
An excellent reminder for someone like me, who tends to obsess and let my love of sewing take over my thoughts, all the time. And work all the time, and feel like I can never get enough done. Don't let it overwhelm everything else – step back and assess how much time you devote to any one part of your life!
Ok, now it's really dark. Time to pack up and face the rainy ride home!