That's something I never thought I'd be able to say six months ago! Knitting is the perfect complement to sewing. It gets me excited to think of all the beautiful things I'll have the skills to knit, one day!
Since I moved my sewing machines to the office, knitting is my new creative at-home activity, and I'm loving it! It's fun, it doesn't require a lot of prep time or clean-up, and you can do it in front of the television! (Some projects knit up more smoothly without the distractions of TV though – best to save the TV-knitting for easy projects.)
Here are some of the things I've knit recently! In the order I made them, more or less..
Hats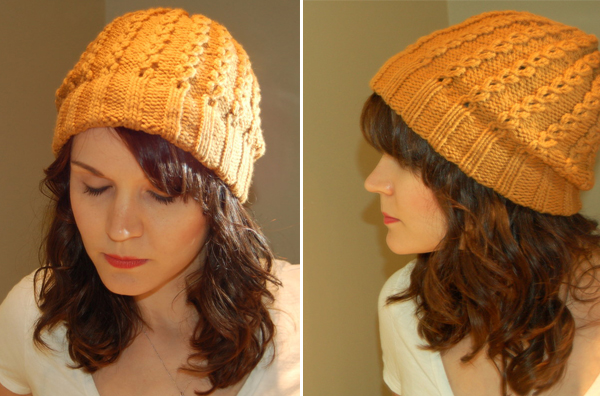 Thanks for the suggestions to make a hat next. I'm so glad I tried hats! I've always wanted to make hats (see Beach Hat Fail post) and they're surprisingly satisfying. They only use a small amount of yarn, they are reasonably easy for a beginner once you've mastered the neck-loop, and I like the outfit coordination possibilites. I like than I can make a cute knitted hat for every outfit if I wanted to for under $10 (not including buying knitting needles!)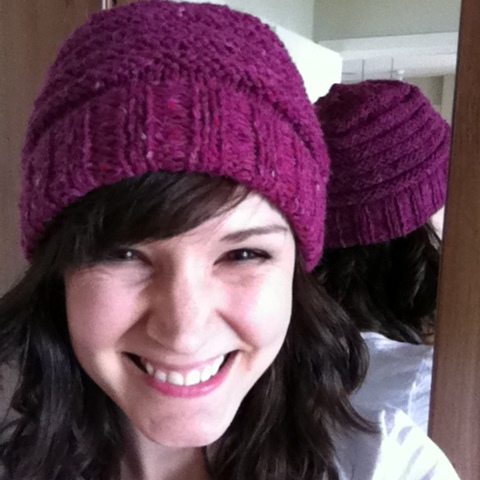 My mother liked this pink one so much I gave it to her! The yarn is a tweedy, woodsy yarn with mohair and angora – it's rough to work with, but softens up after washing. There were literally bits of twigs stuck in the yarn, which threw me off. Apparently that happens sometimes!
This next one was for Mr Sewaholic's birthday – I actually wrapped up balls of yarn as his present to make sure he liked the colour choice, before starting to knit! (That's something my mother has done for my dad many times – wrapped up fabric and a picture of the pattern as a gift! Like mother, like daughter…)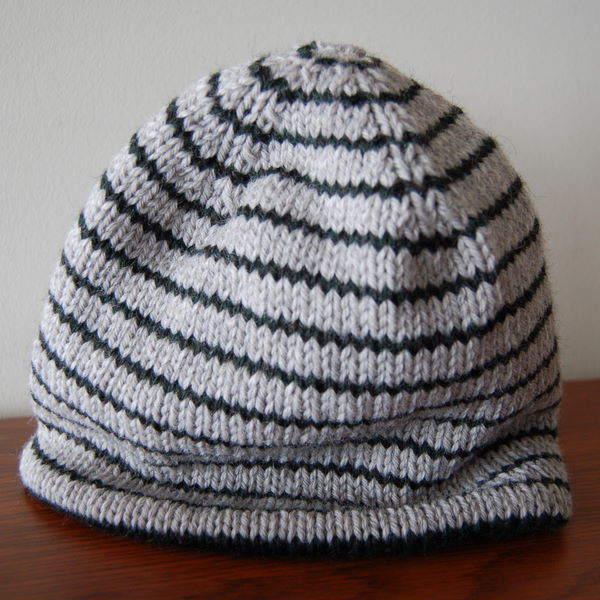 It's reversible! Inside is a dark green hat, and the outside is striped as you can see. The double-layer makes it super warm and fits his head like a glove. (Click here for Ravelry notes and pattern info.)
This one looks cooler in photos than it does when it's worn. It may just be my own personal preference, but it's a bit floppy and round, like a mushroom! Like Strawberry Shortcake – didn't she have a big round saggy hat? It sure looks neat when it's flat though.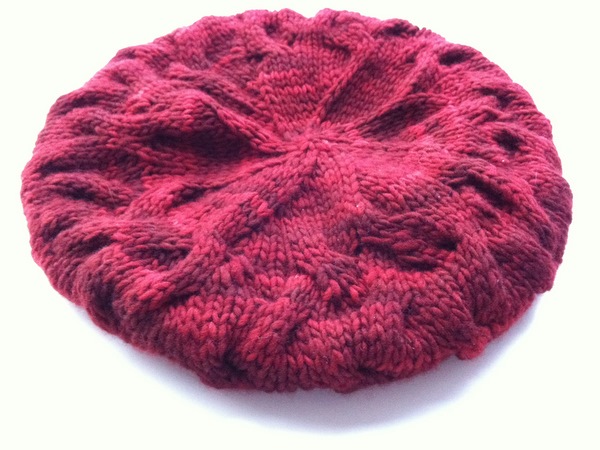 Taking photos on a white background makes the knitting really stand out!
Mittens
I made these to go with the cabled beret – the last one of the hats pictured above! Now these look really impressive. I really like the look of cables, and they're not as tricky as they look! The pattern on these mitts was pretty hard though, I think it's because I couldn't seem to memorize it, so every row I had to stop and re-read the pattern.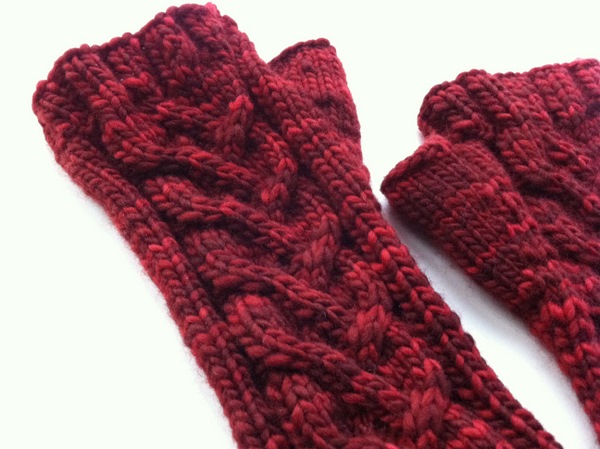 The most impressive part of these was the gusset – they were my first pattern modification! I looked at several other people's projects and their notes and put two and two together. I did have to figure out the left hand glove all on my own, because the modifications only explained how to do it for the right glove. I bet I'll be wearing these all the time on my bike once the weather cools down!
Scarves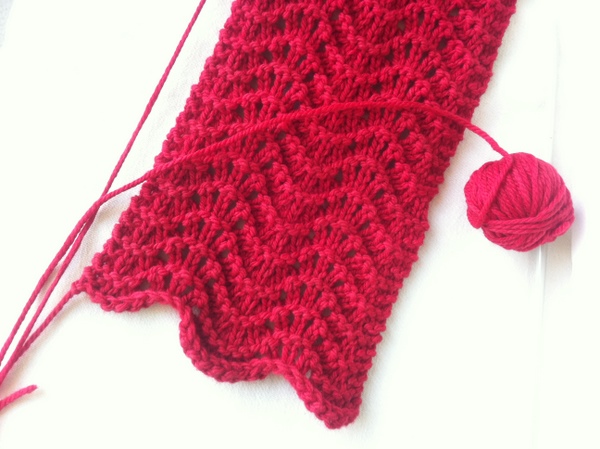 Isn't the pattern on the red scarf so pretty? It look hard but it's not! It's made of super soft, squishy wool like my Sunset Cowl, and it's for my sister who's spending her first winter in Montreal. To say it gets cold there is an understatement – minus 30 or 40 degrees!
Ravelry links with patterns and project notes here: yellow hat, pink hat, red scarf, white hat.
Socks!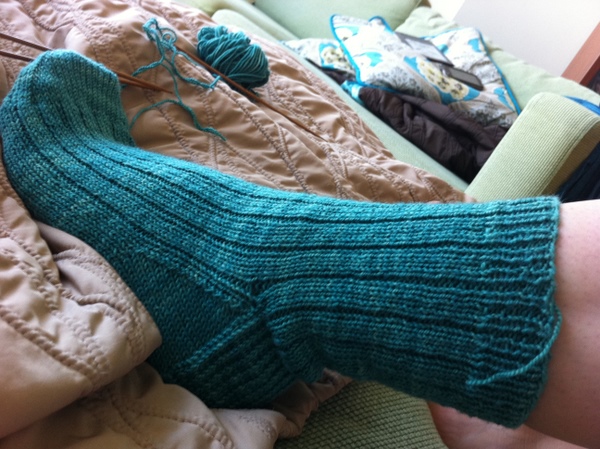 Yes, I made socks! Socks use small, thin needles – way different than the hats, which used needles the thickness of a pencil or fatter. The teeny-tiny needles were hard to control at first, but it gets easier. Starting is the hardest part! Ravelry notes on the sock here.
Apparently with sock knitting, a phenomenon occurs called Second Sock Syndrome – where you end up making only one sock! I can see why, after making one I wanted to move on to something new and exciting, not make a whole second sock. Imagine if we had to sew things like that, repeating the exact same steps twice?
I started a second pair of socks, but I've come down with Second Sock Syndrome and don't want to make its pair right away!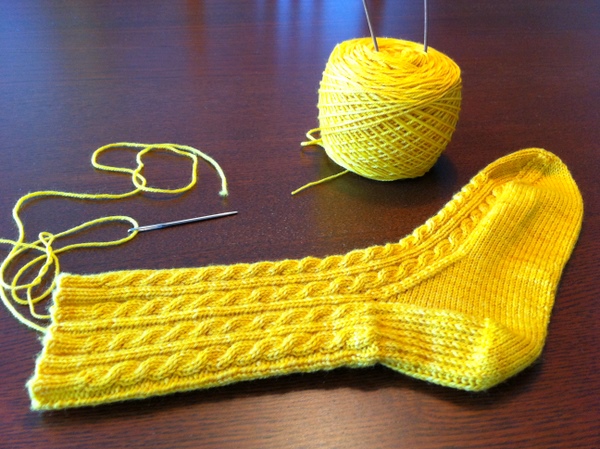 These socks are just as bright in real life as they look in this photo! Scary yellow. I kind of love the brightness! Won't they be ridiculously cheerful on a grey winter day? (Ravelry notes on the lonely yellow sock here.)
Next, I want to make a wrap to go with the Lonsdale dress. I love the elegance of a wrap rather than a jacket or cardigan. Plus, a wrap or shawl always fits, no matter if you lose or gain weight! The pattern I've picked has a leaf motif, so it's perfect for transitioning summer dresses into fall. You can already see the leaf pattern in the photo below!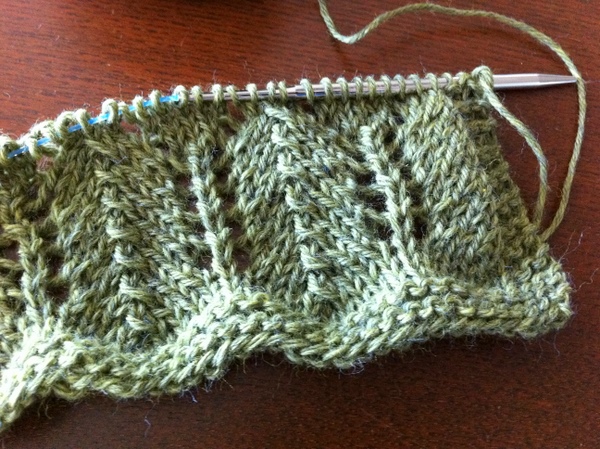 If you've always wanted to try knitting, I'd totally recommend it! It's easy to learn with the amount of free resources out there – YouTube and Ravelry were awesome! YouTube is especially great because you can watch someone do exactly what you're about to do. Just type in 'join in the round' or other mysterious knitting term and find a video showing you how. Just like sewing, there are knit-a-longs, too! In fact, Kristen and Sarah are leading a beginner's knit-a-long called The Newbie and The Knitter, which is a great opportunity to learn from real people at your own pace. If I can go from dreaming of knitting in April, and making real things five months later, you can too!
More project notes, pattern links and yarn information on my Ravelry page here. (Be my Ravelry friend too – I'm TasiaKnits!)
Happy sewing and knitting!