Hey everyone! I wanted to share a really excellent post by the Slapdash Sewist with you today. If you use Flickr for photo sharing, then keep reading! I never knew about activity feeds until yesterday, much less the danger of creepos saving my photos to their favourites folder. (Yes, there are people out there that use these tools for unsavory purposes. Gross, I know!)
Take a look at her tutorial on:
how to find and check your Flickr activity feed
how to spot the creeps,
and how to block them.
A must-read if you post photos of yourself on Flickr! Click here for the full post and her awesome step-by-step photo guides.
First off, I didn't know there was an activity feed! It's a great way to see comments on your photos, and see if anyone's added you to their contacts. So my apologies if you've commented and I missed it! Sorry!
Second, EW. My photos were added to all kinds of gross collections! I'll spare you the worst of it, but it appears that certain people 'collect' photos of girls, usually based on a theme. Skirt photos, back-view photos (to put it nicely), and much, much worse collections. It's kind of like a train wreck! When you find a potential creepo and click their name, Flickr warns you that the person's collection isn't Safe, and yet I still clicked.
On a funny note – Flickr does realize it's sent you somewhere disgusting! There's an escape button that says "Seen enough? Take me to the kittens!" Which pulls up a ton of kitty photos, and you can rest your eyes on cute fluffy kittens after all that grossness.
But really, I'm a little frustrated! I worked on Sunday, trying to get caught up on things. It's been really hectic, what with school, and the Crescent Skirt launch, and balancing the rest of life. The last thing I want to spend a morning on is protecting my photos from the creeps out there – and yet I had to! I ended up blocking 9 Flickr users, all with varying degrees of offensive material. Ew.
Overall, I really like Flickr. I like that I can post lots and lots of photos there. You'd be bored if I started posting 25 garment photos in each post. But this way, I can post them there if you did want to read more and see more of the details – back views, close-ups, and more. I like that you can comment directly on photos, and I like how you can search to find finished project photos of patterns I'm thinking of making. Oh, and I love that we have a Sewaholic Patterns Flickr Group! And it's all free – or low-cost, if you do decide to subscribe.
One other tip to add to the Slapdash Sewist's post: you can subscribe to your Flickr Activity Feed. At the bottom, there's an option to subscribe by RSS (and add it to your Google Reader). For me, I like to have all of my updates in one place, so that's what I did!
Take a look at where the black arrow is pointing in the photo below: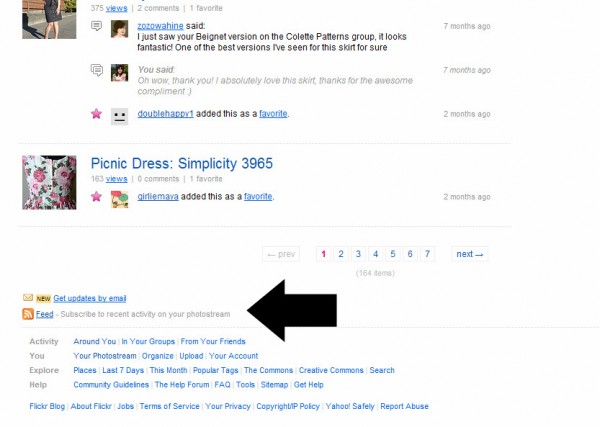 Now I'll be able to spot and block the creeps sooner, without having to constantly check my Flickr account. I was really bothered to discover my sewing projects were being collected and stashed in creepy folders. So I had to tell you about it, in case you use Flickr too!
Take a minute and check out your activity feed. Read the Slapdash Sewist's post. Let's keep the creeps away from our sewing project photos!
Happy Monday, everyone! Don't let a few gross individuals ruin your day.