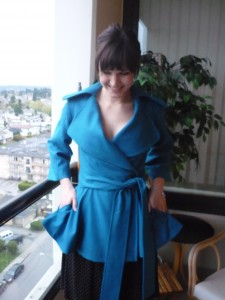 Yay! My Statement Coat is finished. Not only can I FINALLY check something off my Top 10 Sewing Projects list, but I'm thrilled with how it turned out.
It seems I have veered away from completing projects on the Top 10 list, and instead made floral skirts and dresses, and stocked up on vintage patterns. No wonder I'm lacking Me-Made wardrobe basics for May.
After my lovely readers gave their feedback, I decided on the Lady Grey pattern from Colette Patterns for this pretty turquoise wool. (Thanks again to everyone who sent me their suggestions!)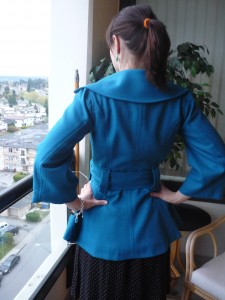 On the night I checked the mail after work and the pattern was in my mailbox, I got so excited I started cutting right away!
I debated making a muslin, or at least a test coat, but impatience won and I cut directly into the wool. Yes, I like to live on the edge when it comes to sewing. Mostly I don't have enough time to sew as it is, and wanted to get started!
And look – it turned out just fine! More than fine, I think it's so beautiful. This coat is the most flattering style, and it sews up so nicely.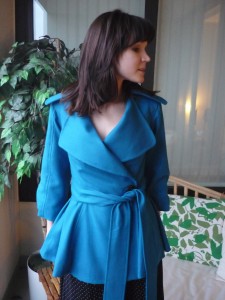 I even did bound buttonholes! There were only two to contend with, and one is hidden, so I went for it. I'll do a bound buttonhole how-to guide in a future post. It's not as hard as you might think, and results in a professional, tidy buttonhole.
The wide tie belt is awesome, it uses a ton of fabric but totally worth it for dramatic effect. I love that it cinches in for a hourglass silhouette, perfect over dresses and skirts!
I'm even happy with the lining I chose – a printed satin polyester with the exact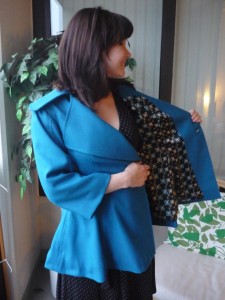 colour of turquoise in the squares.
Love the wide collar, love the flared skirt, love the bright colour! I'm really happy with the results.
This coat will get lots of love during Me-Made-May!